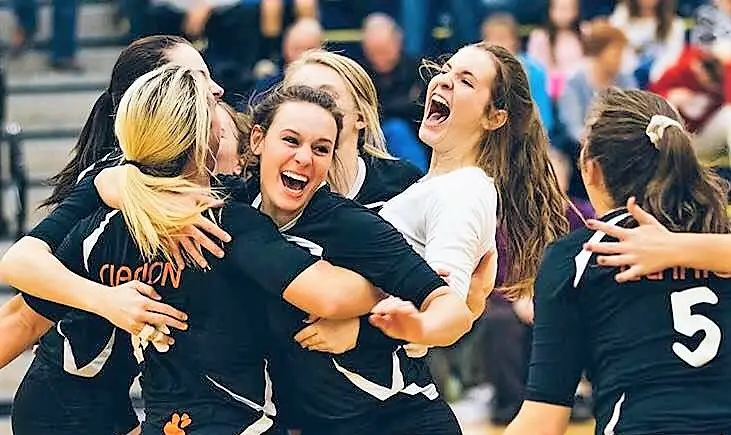 Two of the three District 9 Class 1A volleyball teams in the PIAA playoffs advanced to the second round with wins Tuesday, as D9 champion Otto-Eldred beat Frazier, 3-1, and third-place Clarion stunned WPIAL champion Bishop Canevin, 3-2. D9 runner-up A-C Valley nearly climbed out of a 2-0 hole before falling to Northern Cambria 3-2.
(Cover Photo of Clarion celebrating. Photo by Bri Nellis. Check out more of Nellis' work here)
Here is a closer look at the matches:
CLARION 3, BISHOP CANEVIN 2
NORTH HUNTINGDON, Pa. – Using a 5-0 spurt at the start of the fifth set thanks to three Sydney Kiser kills, Clarion won the set 15-6 stunning the WPIAL champion Crusaders, 3-2 (25-19, 23-25, 25-18, 20-25, 15-6).
Kiser had a strong match with 15 kills and 13 digs. She talked about the win.
Kiser was one of three Lady Cats in double digits in kills with Maya Thornton and Hailey Sintobin each recording 11 kills. Thornton added 16 digs and four aces and Sintobin two blocks. Maddie Schill also had seven kills, while Alexis Constantino paced the defense with 27 digs and added three aces. Lexi Lauer chipped in 12 digs and Brenna Campbell ran the offense with 35 set assists.
Alexa Malloy paced Bishop Canevin with 13 kills and three aces, while Tamara Blue had six kills and two blocks and Kylie Airesman six kills, two aces and a block.
Clarion will take on Northern Cambria, the District 6 champion, in the quarterfinals Saturday at a site and time to be determined.
Watch Clarion's final point.
OTTO-ELDRED 3, FRAZIER 1
ST. MARYS, Pa. – Camryn Thomas and Allison Cousins combined on 42 kills to lead Otto-Eldred to the 3-1 (20-25, 25-21, 25-18, 25-20) win over WPIAL third-place finisher Frazier.
Thomas led the way with 26 kills, three blocks, nine digs and an ace, while Cousins added 16 kills, four blocks and 16 digs.
Harlee Van Scoter chipped in nine kills, 10 digs and three blocks for the Lady Terrors, who also got 22 digs, six kills and three aces from Alyssa Shelander and 57 set assists and eight digs from Emily Smith.
Otto-Eldred faces District 10 champion Maplewood in the quarterfinals Saturday at a site and time to be announced.
NORTHERN CAMBRIA 3, A-C VALLEY 2
COMMODORE, Pa. – Despite strong matches from Olivia Boocks and Josey Terwilliger and a valiant comeback attempt from a two-zero hole, District 9 runner-up A-C Valley dropped a 3-2 (25-21, 29-27, 19-25, 20-25, 15-10) decision to District 6 champion Northern Cambria in the PIAA Class 1A first round at Purchase Line High School.
"I am so proud of my team," A-C Valley head coach Doug Knox said. "They aren't called the comeback kids for no reason. I couldn't ask for a better team than this.
The difference in the match might have some late in the second set with the Lady Falcons down 1-0 but holding a 26-25 lead. But the set point wasn't able to be found, and Northern Cambria rolled off three straight points for the victory.
Then, in the fifth set, A-C Valley got behind quickly thanks in part to four service errors.
"It's hard to overcome four service errors in the fifth set," Knox said.
Boocks led the way with 20 kills and a block, while Terwilliger added 19 kills, four aces and two blocks. Syd Rankin (26 set assists) and Emily Wetzel (17 set assists) ran the offense, Cassie Schwalm chipped in eight kills and two blocks and Kylee Eaton had six kills and two blocks.
SERRA CATHOLIC 3, KANE 0
ST. MARYS, Pa. – WPIAL fourth-place finisher Serra Catholic had no trouble rolling past District 9 champion Kane, 3-0 (25-7, 25-14, 25-14) at St. Marys High School in the PIAA Class 2A first round.
No other information was available.
MONTOUR 3, DUBOIS 0
PUNXSUTAWNEY, Pa. – Montour, the WPIAL runner-up, topped District 9 champion DuBois, 3-0 ((25-20, 25-22, 25-14) in the opening round of the PIAA Class 3A playoffs at Punxsutawney High School.
No other information was available.