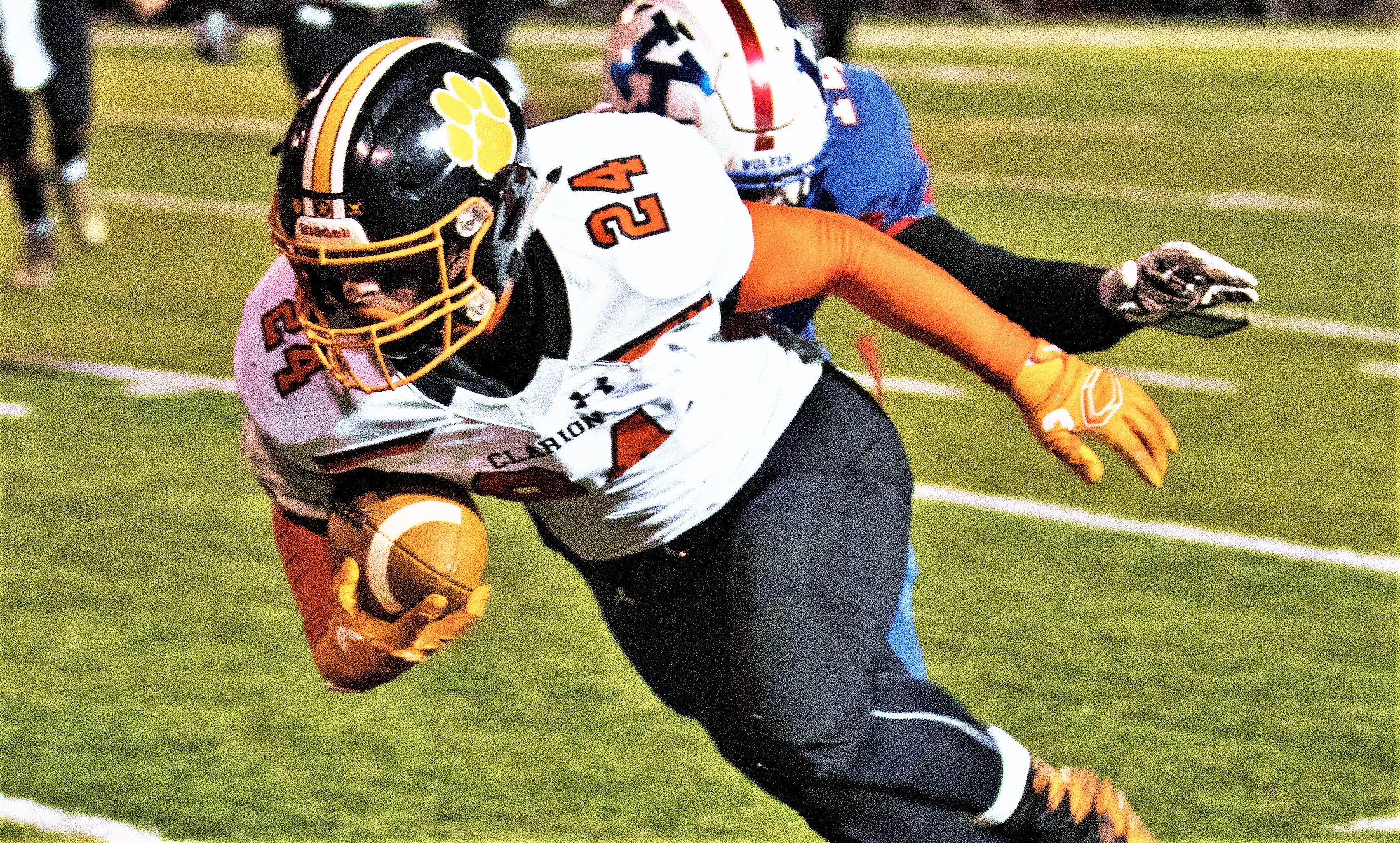 WINDBER, Pa. – Back in the PIAA playoffs for the first time since 2013, the Clarion football team looks to stay unbeaten when it takes on District 5-8 champion Chestnut Ridge in the opening round of the 2A bracket at 7:30 p.m. Friday at Windber High School.
(Cover photo of Logan Minich. Photo by Kyle Yates www.facebook.com/YatesPhoto)
The Bobcats (11-0) are coming off a 28-21 win over Kane in the District 9 championship game, the fourth D9 title for Clarion and the first in 2A, while Chestnut Ridge (10-1) won its second straight District 5-8 2A championship with a 52-17 win over Berlin Brothersvalley that ran the Lions record over their last 18 games to 16-2 with one of those losses coming in the opening round of the PIAA bracket last year to Kane, 34-12.
Chestnut Ridge, which averages 43.6 points per game, is led by senior quarterback Logan Hauck, who pretty much does everything for the Lions.
Hauck has passed for 1,633 yards and ran for 1,155 while completing 66.9 percent (117 of 175) of his passes with 16 touchdowns and six interceptions and running for 23 scores. He averages 9.2 yards per carry on 125 totes. In last week's title game against Berlin, Hauck ran for 189 yards and three touchdowns while throwing for 75 on 6 of 9 passing. That was one game after he shredded Tyrone for a season-best 315 yards through the air with three touchdowns.
By evidence of the passing yards and touchdowns, Hauck isn't a one-man show.
Three Chestnut Ridge receivers have at least 24 catches paced by Justin McCory who has 35 grabs for 451 yards and six touchdowns. Levi Snyder adds 24 catches for 310 yards and two touchdowns, while Jared McGill has 24 for 276 yards and three scores. Two more receivers are in double digits in catches with Seth Harbaugh (11 catches, 211 yards, 2 TDs) and Phillip Dull (11 catches, 194 yards, 2 TDs) giving Hauck five legitimate threats to catch the ball.
Noah Dillow keeps teams from focusing just on Hauck in the run game with 91 carries for 729 yards and 13 touchdowns.
Defensively, the Lions are solid allowing 15.3 points per game.
Dillow leads the defense with 8.8 tackles per game and is tied with McGill for the team lead with four interceptions. Levi Hobson adds 8.1 stops per game.
Clarion, which has won 20 of its last 22 games with the only losses being a seven-point loss to Kane in last year's D9 title game and a 2016 regular-season loss to Karns City, a team that went to the PIAA 3A quarterfinals a year ago.
The Bobcats have been explosive on offense themselves averaging 43.7 points per game and have been a tad stronger stats wise on defense than Chestnut Ridge giving up 10.7 ppg with the 21 Kane scored last week being the second most Clarion has given up in a game this year.
The Clarion offense is run heavy averaging 338.9 yards per game on the ground compared to 67.2 passing.
Four runners have gained at least 400 yards led by junior Logan Minich, who hails from North Clarion as part of the co-op with that school, and senior Colton Rapp.
Minich has rushed 122 times for 872 yards and 12 touchdowns, while Rapp has added 103 carries for 870 yards and 11 touchdowns despite missing three games in midseason with an injury.
Quarterback Spencer Miller, another senior who missed last year's playoffs with an injury, has chipped in 543 yards and 10 touchdowns, and Brendan Zerfoss, the 2017 District 9 Class 2A 100-meter champion, has run for 404 yards and six scores on just 27 totes. Sam Minich, Logan's twin brother, (181 yards, 4 TDs) had the game-winning touchdown with just under three minutes to play in the title game last week, while Keeven Weaver (310 yards, 6 TDs), another North Clarion product, and Camden Boggess (229 yards, 4 TDs), a transfer from Keystone, are also running threats for Clarion.
Miller hasn't been asked to throw a ton this season, but he is completing 56.9 percent (58 of 102) of his passes for 767 yards, eight touchdowns and five picks.
Weaver is his top target with 16 catches for 141 yards, while Logan Minich (6 catches, 122 yards), Thomas Hearst (5 catches, 107 yards, 1 TD) and Rapp (6 catches, 84 yards, 3 TDs) are also involved when Clarion goes to the air.
Senior linebacker Zak Bauer, the KSAC Large School Defensive Player of the Year, leads the Bobcats on that side of the football with 10.2 tackles per game to go with eight sacks, two interceptions and two fumbles caused.
Miller has a team-best four interceptions while also ranking second on the team in tackles (8.5 per game), while Colt Stimmell (6.9 tackles per game, 9 sacks) and Nick Porciello (4.5 tackles per game, 12 sacks) get after the quarterback while anchoring the defensive line.
EXTRA POINTS
The winner plays the winner of the District 10 title game between Wilmington and Greenville in the PIAA quarterfinals Nov. 24 or 25 at a site and time to be determined.
Clarion is 1-3 all-time in the PIAA playoffs with all the games coming in Class 1A. The Bobcats lone win was a 35-20 victory over Lakeview in the 2013 quarterfinals. Clarion then lost to North Catholic, 39-12, in the semifinals. The Bobcats also lost to Farrell, 19-14, in the 2009 first round and to Sharpsville, 27-6, in the 1997 first round.
Chestnut Ridge has been to the PIAA playoffs four times – three were actually subregional games – losing to Kane last year and to Karns City in three subregional games, 35-29, in 2012, 35-14 in 2013 and 23-14 in 2014.