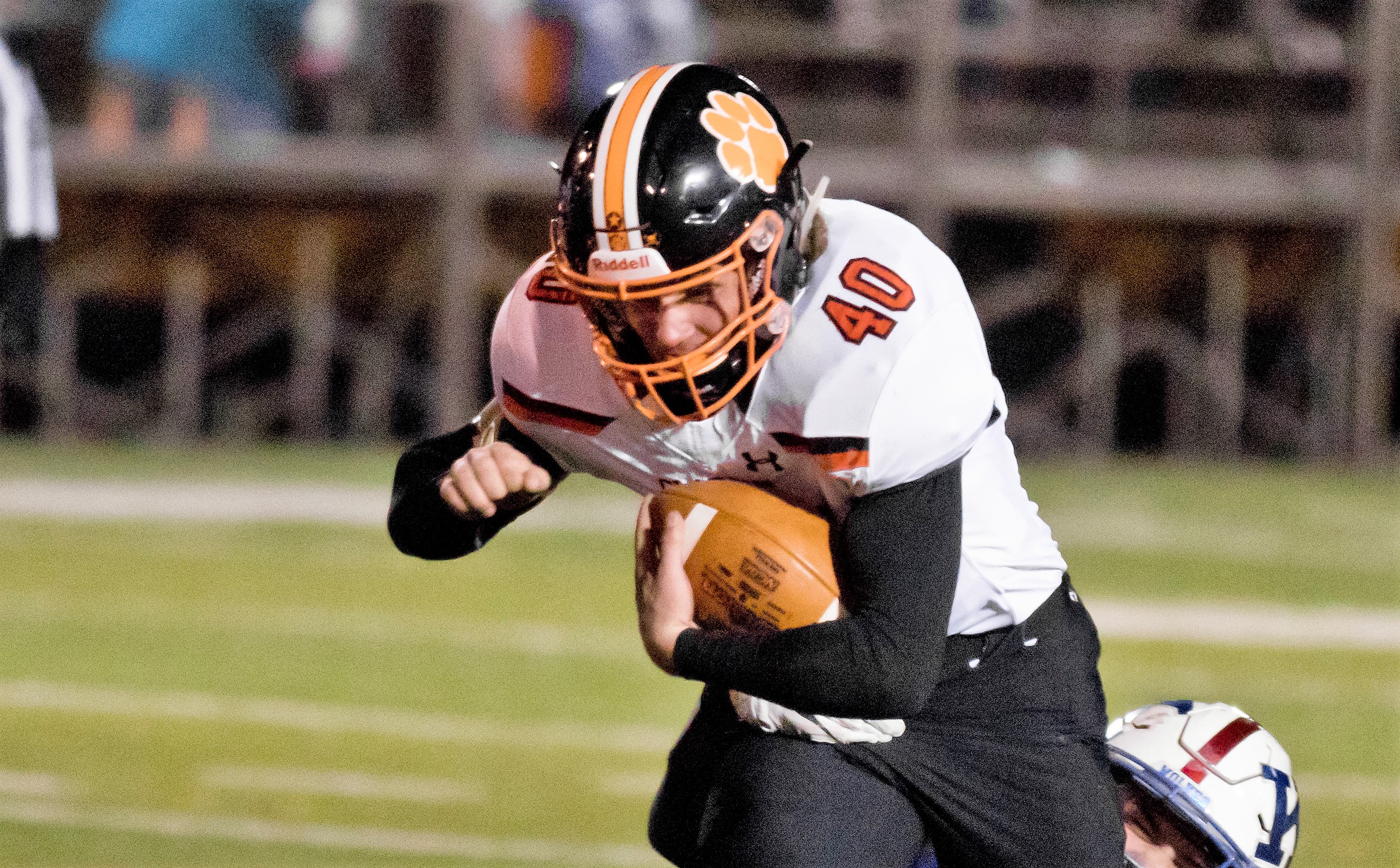 CLARION, Pa. – It's safe to say there isn't much that Wilmington head coach Terry Verrelli and Clarion head coach Larry Wiser haven't seen happen on a football field, not when you consider the duo have combined for a record of 529-222-4 in a combined 69 years as head coaches.
(Cover photo of Colton Rapp of Clarion. Photo by Kyle Yates www.facebook.com/YatesPhoto)
Verrelli, a 1965 Curwensville High School graduate, has coached at Wilmington for 48 years, the last 40 as the head coach, and has compiled a record of 312-129-3 with 14 district titles, a PIAA Champions (2008 in 2A) and a state-runner up finish (1988 in 2A).
Wiser, meanwhile, is in his 38th year on the Clarion sideline and his 29th as the head coach – he was the head coach from 1988 through 2009 and took over the reigns again in 2011 – and has put together a record of 217-93-1 with four district titles.
But the two legendary coaches have never met on opposite sidelines, well until 1 p.m. Saturday at Clarion University's Memorial Stadium that is.
That is when the two 12-0 teams coached by the legends will square off in the PIAA Class 2A quarterfinals with Clarion having the unique advantage of playing on the same turf it calls home during the regular season in a stadium that the Bobcats have won 10 straight games dating back to the start of last season and are 35-5, including 5-1 in the postseason, since Wiser returned to the sideline in 2011.
Offensively, the two teams mirror each other in the fact they would rather run the football than throw the ball and they run by committee.
Wilmington is averaging 285.8 yards per game on the ground and 65 through the air while throwing the ball just 81 times all season.
Clarion runs for an average of 325.1 yards per contest while throwing for 75.6 and has thrown the ball 122 times on the year.
The Greyhounds have three rushers who have each gained 800 yards on the year, while Clarion has a pair of 900-yard rushers and a 575-yard rusher.
Jack Patton (103 carries, 889 yards, 14 TDs), Bryson Verrelli (99 carries, 868 yards, 14 carries) and Cameron Marett (100 carries, 820 yards, 15 TDs) give Wilmington a three-headed rushing attack. Verrelli is the grandson of the head coach.
Colton Rapp (122 carries, 965 yards, 14 TDs despite missing three games and the vast majority of a fourth), Logan Minich (126 carries, 908 yards, 12 TDs) and quarterback Spencer Miller (58 carries, 577 yards, 10 TDs) make the Bobcats offense roll.
Miller may be the more dangerous of the two quarterbacks considering his dual-threat ability and has completed nearly 60 percent of his passes (70 of 118) for 937 yards and eight touchdowns while tossing six picks.
Robert Pontius is just over 50 percent on his completions (42 of 78) for Wilmington tossing for 751 yards, eight touchdowns and four picks.
Basically, the same guys who run the ball also catch the ball for Wilmington.
Bryson Verrelli has a team-high 16 grabs for 290 yards and five touchdowns, Colton Marrett has 13 catches for 214 yards and a score and Cameron Marett adds six catches for 178 yards and two touchdowns.
Logan Minich leads Clarion's receiving corps with nine catches for 231 yards and a touchdown. Keeven Weaver chips is a team-high 21 catches for 163 yards, and Thomas Hearst has six grabs for 128 yards and a touchdown.
Clarion is coming off a come-from-behind 20-14 win over Chestnut Ridge in the opening round of the PIAA playoffs. The Bobcats trailed 14-0 at halftime before rallying for the win.
Wilmington topped Greenville, 31-13, in the District 10 title game last week. It was the second win of the year for the Greyhounds against Greenville, who they beat, 14-6, Oct. 6. It was just the third time this year Wilmington has given up at least 10 points in a game, but all three have come in the last four games. The Greyhounds defense allows a partly 4.8 points per game with six shutouts.
Clarion's defense, led by Zak Bauer's 10.3 tackles per game and Miller's 8.8 tackles per game and five interceptions, gives up 11 points per contest.
EXTRA POINTS
Clarion is 58-22, including 57-17 under Wiser, since moving from its high school field to Memorial Stadium in 2004 including 9-3 in postseason games – Wiser is 9-2. This isn't the first time the Bobcats have played a "neutral site" game at Memorial Stadium. They lost to Coudersport, 31-7, in the 2005 District 9 title game. That night, Clarion was the "road" team and was on the far sideline, the only time they have been on the far sideline since moving to Memorial Stadium.
While rare, it isn't without precedent for teams to play a "home" game in the PIAA playoffs. Every time a Pittsburgh City League (District 8) team plays a playoff game at Cupples Stadium it is technically a "home" game even when it is a "neutral" game because the City League only has one stadium. Teams from Erie have also played at Veterans Stadium over the years.
It should be noted that while Clarion plays its home games at Memorial Stadium, the Bobcats don't practice at the facility and don't dress for home games and instead practice on the old high school field behind the high school and dress at the high school a short walk from the stadium.
This is the 13th time Wilmington has been the PIAA Playoffs and the 12th time the Greyhounds have represented District 10 – they were a member of the WPIAL in 1987 and 1988 winning WPIAL titles both years and going to the PIAA Playoffs in 1988 as a 2A team despite winning the 1A title. Wilmington is 15-11 all-time in PIAA Playoff games including winning six of its last eight PIAA Playoff games. Last year, the Greyhounds beat Kane, 42-0, in the quarterfinals before falling to eventual state champion, Steel Valley, 49-13, in the semifinals.
Clarion is making its fourth appearance in the PIAA Playoffs and won its second PIAA postseason game last week with the 20-14 victory over Chestnut Ridge. The Bobcats are 2-3 all-time in PIAA games also beating Lakeview, 35-20, in the 2013 Class 1A quarterfinals before falling to eventual state champion North Catholic, 39-12, in the semifinals.
Verrelli was an outstanding athlete at Curwensville and was the quarterback for the Tide as a sophomore and a senior. He missed his junior year because of "doctor's orders" according to a story in the Clearfield Progress from August 1964. He scored five touchdowns as a senior.
Verrelli was also the sixth-leading scorer in the Moshannon Valley/Clearfield area in basketball as a senior averaging 16.5 ppg in 21 contests for the Golden Tide while being named an All-League Honorable Mention selection.
The winner plays the winner of the WPIAL title game between Steel Valley, the defending PIAA champion, and Washington, Pa. That game is being played at 6 p.m. Saturday at Robert Morris University.