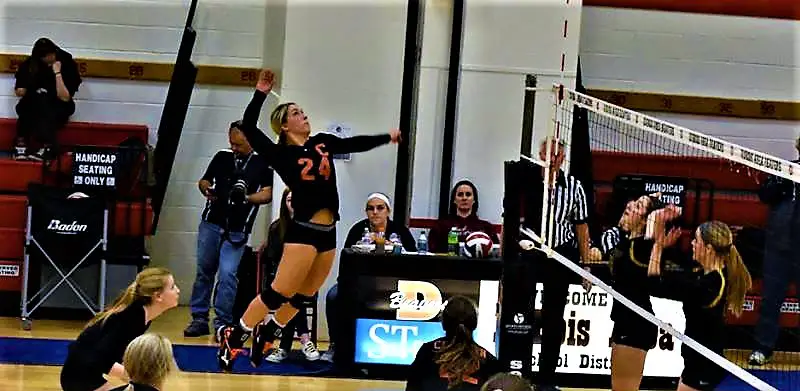 SLIPPERY ROCK, Pa. – Sometimes you can have a good game plan, and the other team is just better.
(Cover photo, Maya Thornton. Photo by Kim Constantino)
That is what happened to the Clarion volleyball team in a 3-0 (25-17, 25-21, 25-20) loss to District 10 champion Maplewood in the PIAA Class 1A semifinals at Slippery Rock High School Tuesday night.
"They put a lot of pressure on us," Clarion head coach Shari Campbell said. "Our errors were definitely forced errors. They are a good team."
The Lady Cats (16-4), who finished third in District 9 before beating a pair of district champions – the WPIALs Bishop Canevin and District 6's Northern Cambria – to reach the semifinal contest, had little in the way of an answer for Maplewood's two big middle hitters – 5-foot-10 junior Sophia Varndell and 5-foot-11 sophomore Maggie Thomas.
Varnell and Thomas combined for 25 kills and four blocks with Varnell leading the way with 14 kills and all four of the blocks and Thomas adding 11 kills.
"We tried to match up as best we could," Campbell said. "But I definitely think that is where you saw them have an advantage against us."
The size differenence meant that when the two teams matched offenses, Maplewood had an advantage and that showed with the Lady Tigers recording 35 kills in the match to Clarion's 26.
"We played some great defense and I thought we passed fairly well in serve receive and we served tough with very few service errors," Campbell said. "I think what you saw was our offense against their offense was probably really where we had a hard time. They are a great program, and they play a little bit more mature on the court that we do. I think that is what you saw."
Making things more difficult for Clarion was Maplewood's ability to place its shots where it wanted. The Lady Tigers were able to find the holes in the Clarion defense and went crosscourt a lot to score during the match.
"From watching them, they are very good at ball placement," Campbell said. "They kind of think about where they are putting it, and that kind of puts you back on your heels about which way to lean."
The Lady Cats were also having a hard time timing their block.
"Our block timing had a rough time," Campbell said. "We were a little bit early at times, and we were coming down. That is a little hard when the ball is coming over the block and the ball is on top of you. I think they caught up to that a little bit at times. I think you saw (Sydney) Kiser and (Maya) Thornton at the end digging a little bit on those crosscourt balls."
Clarion actually played pretty even with Maplewood at the start of the first two sets and led 5-1 in both the first and second sets before the Lady Tigers used runs towards the end of the sets to claim victory.
In the first set, Clarion still led 16-14 following a Hailey Sintobin block, but Maplewood went on a set-ending 11-1 run that saw Varndell with two kills and two blocks.
Then, in the second set, with the Lady Cats ahead 12-11 following a Thornton kill, one of a team-high eight kills for her, Maplewood answered with a 10-2 run that saw two more kills and a block from Varndell to take a 21-14 lead.
A 4-0 run following a timeout that featured a pair of Kiser kills and a Sintobin block got Clarion back within three, 21-18, but after a timeout from Maplewood, Thomas had a kill to start a set-ending 4-3 spurt.
It was more of the same in the third set with Clarion grabbing a 10-8 lead following a block by Thornton and Sintobin and a kill by Thornton, and the set was tied at 14-14 after a Lexi Lauer kill. But Maplewood scored the next four points, including a pair of Thomas kills, to take a lead it never relinquished, and Varndell scored the 24th and 25th points for the Lady Tigers to send them to the state title game against Marian Catholic, a 3-1 winner over Bishop Carroll, in the other semifinal.
"I honestly can't be more proud of a bunch of seniors who know how to play defense and serve lights out," Campbell said of her four seniors – Thornton, Kiser, Alexis Constantino and Maya Miller. "They decided to lead this team and teach these young kids what it takes to make a run like this. I couldn't be more proud of that."
Of Clarion's four losses, all came against PIAA qualifiers including three against district champions – Northern Cambria out of District 6, who Clarion then beat in the PIAA quarterfinals, Otto-Eldred in District 9 and Maplewood. The other loss was to District 9 runner-up A-C Valley, which lost twice all season.
"I think you're going to see at the end of the run that those (teams) end up being some of the best teams in the state and they are going to stay in the coaches' association poll, high," Campbell said. "We are a young team, and I think we do better after we have proven ourselves against someone and get a go-around again. That's what we were hoping for (in the semifinals to play Otto-Eldred, who lost in the quarters to Maplewood). We hadn't seen Maplewood at all this season. We typically do. We were kind of going on just our scouting we had done. I think we were a little bit hesitant."
Thornton chipped in three blocks to go with her team-high eight kills, while Kiser had seven kills and a block, Lauer five kills and Sintobin four kills and three blocks.