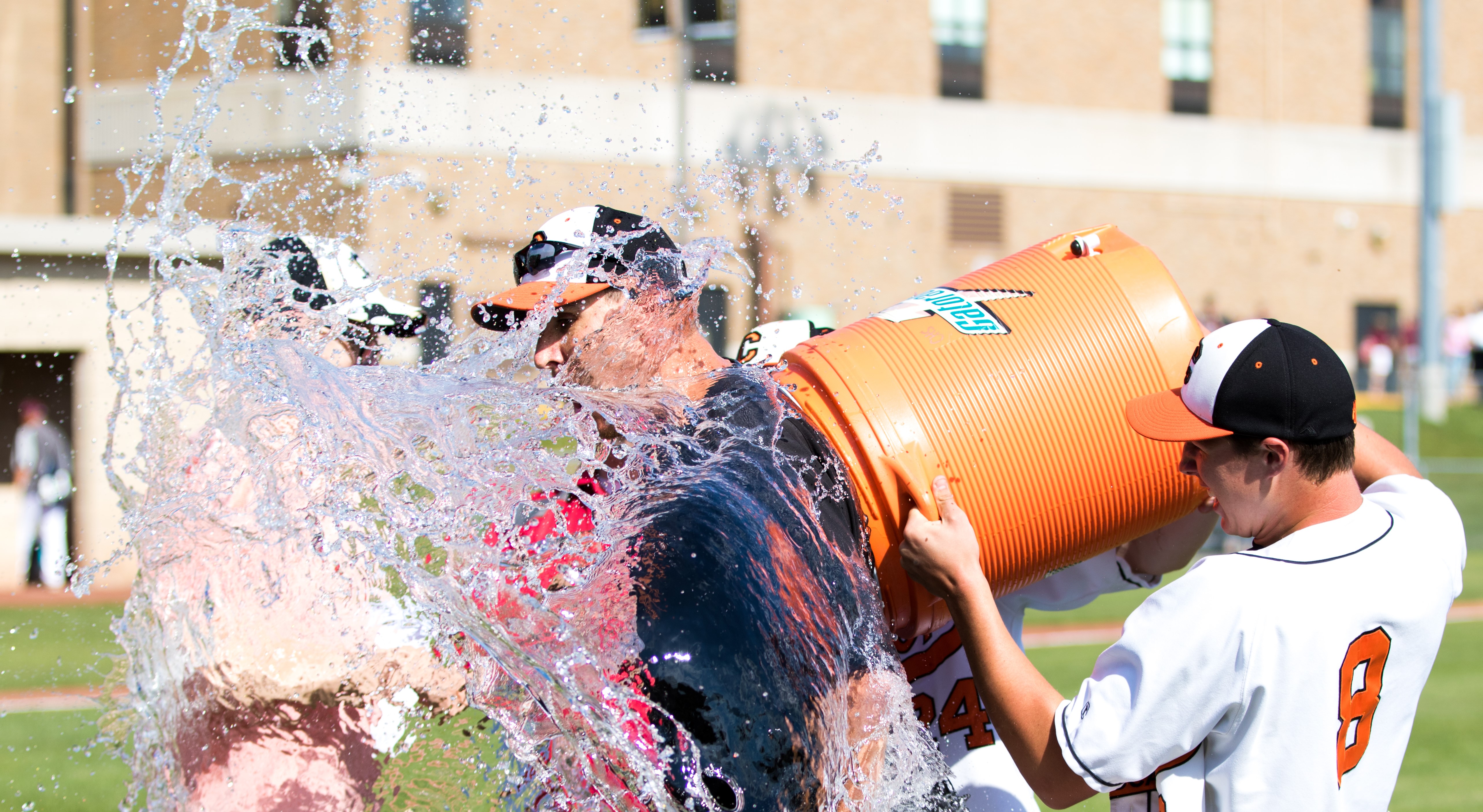 WEXFORD, Pa. – Reed Anthony didn't even know he had just sent Clarion to its first-ever PIAA title game in baseball.
(Cover photo – Clarion manager get an ice-water bath after Monday's win from Dominic Fleming (No. 8) and a couple of identified players. Photo by Bri Nellis Check out more of Nellis' work here)
Listen to the game:
Anthony, Clarion's senior pitcher/first baseman, hit a two-out chopper in the bottom of the seventh inning of a scoreless game that Greensburg Central Catholic third baseman Nicolas Ruggeri couldn't handle cleanly allowing Kyle Patterson to score from third base to give the Bobcats a 1-0 win and a trip to Thursday's PIAA Class 1A title game at Medlar Field at Lubrano Park on the campus of Penn State University.
"(I knew) when I looked at coach (Andy) Waugaman at first base and he had his hands up and was screaming," Reed Anthony said. "(Until then) I didn't know. I had my head down. I still don't know what happened. But luckily it worked out. I had no idea."
Patterson, like something out of Babe Ruth calling his own shot, started the inning by getting hit by a pitch, just like he predicted to manager Rob Jewett would happen before he went to the plate.
"Kyle came up to me (before the innings) and say 'I hope he hit me,'" Jewett said. "They next thing you know he is getting hit. He loves to get hit by pitches."
Dominic Fleming moved Patterson to second with a sacrifice bunt, and Greensburg Central Catholic, the second-place finisher out of the WPIAL, elected to intentionally walk Spencer Miller, who ended up the winning pitcher throwing a scoreless seventh.
"I thought (that) was a great coaching move," Jewett said. "He's been hitting the ball really well."
Ryan Anthony then moved the runners up 90 feet each with a slow roller to second that left GCC second baseman James Rice with no other choice than to take the out at first bringing up Reed Anthony to face reliever Antonio Cavallo, who had replaced ace Neal McDermott with two outs in the sixth when McDermott reached 100 pitches.
Swinging at the first pitch, Reed Anthony chopped the ball towards third with Ruggeri trying to cut it off only to have the ball go off his glove leaving him with no play at first.
"Thank God he bobbled it," Jewett said. "Reed is not the fastest of kids."
The game was still scoreless in the seventh thanks to an incredible catch by centerfielder Sterling Conner in the top of the sixth.
GCC didn't threaten much against Reed Anthony in his six innings of work, but it finally got something going against the lefty with two outs in the sixth when McDermott flared a ball over the head of Fleming at first base that eventually got to second baseman Ryan Anthony, who had no play when his twin brother Reed failed to cover first.
Reed Anthony then walked Jason Hoover giving the Centurions their first and only runner in scoring position on the day bringing up Ohio University-bound Jack Liberatore, who missed a large chunk of the season with an injury only to return for the start of the PIAA playoffs.
Liberatore quickly got behind in the count 0-2 but fouled off a couple of pitches before taking ball one. He then ripped Anthony's next offering into the right-center field gap for what looked like a sure two-run double.
But Sterling Conner raced over and made a diving catch, probably saving the game and along with it Clarion's season.
"What a catch," Reed Anthony said. "Honestly, right off the bat, I thought it was in the gap. I was thinking, honestly, I was thinking holy crap there just went the whole game. But he's been making those types of play all year. Luckily, he did it for us one more time."
Watch Reed Anthony's full interview.
Jewett said he knew Conner had a good jump on the ball.
"I knew it was going to be full extension," Jewett said. "I didn't know if he had enough. He's been doing it all year, thought. It was tremendous. It was a game saver. Without that, you know it would have been different."
While GCC was mustering very little off Reed Anthony, who went six innings allowing three hits and a walk while striking out seven to be named the Hager Paving Player of the Game, Clarion had its chances against McDermott, the Centurions ace who is headed to Seton Hill next season.
McDermott, who entered the game with a 0.29 ERA in 47 ⅔ innings of work found himself having to work out of trouble in three of the first five innings.
In the first, Miller led off with a single but was caught stealing second before Ryan Anthony Walked and then Conner walked with two outs putting runners on first and second. A passed ball then gave the Bobcats an early golden opportunity, but Cam Craig was called out on strikes.
Then in the third, Miller led off by reaching on an error, and this time successfully stole second with no outs.
But McDermott, who went 5 ⅔ innings allowing two hits and three walks while striking out 10, struck out both Anthony's and Conner to get out of the jam.
Clarion threatened again in the fifth when Fleming singled to right with one out, went to second on a wild pitch and to third when Miller reached on another error. Miller then stole second putting runners on second and third with one out.
McDermott, however, got Ryan Anthony to pop up to second then struck out Reed Anthony swinging.
"That kid we faced was a top-notch pitcher," Jewett said. "He did mow us down. But we were able to work some counts and get in some situations. We just didn't have those timely hits. I just knew if we kept chipping away and our defense kept us in it, hopefully, it was bound to break at some point. And in the seventh inning, it did."
Clarion will play Meyersdale, a 2-1 winner over High Point Baptist in eight innings, in the title game at 12:30 p.m. Thursday, June 15. A Bobcats boys' ball team of any kind has never won a PIAA title (Clarion volleyball holds the school's lone ball-sport title). Clarion has won a pair of boys' track and field PIAA titles and has had individual athletes win state titles.
"I would have said you're nuts. That's what I would have told you," Reed Anthony said when asked what he would say if someone had told him Clarion was going to play for a state title. "After the tough (4-1, 8 inning) Oswayo loss (in the D9 title game), I didn't think we would even come close to this part because I knew that was not the toughest team we (would) face. This is a pretty special moment."
Clarion is the first Clarion County boys' ball (baseball, football, soccer, basketball) to reach the PIAA title game since Keystone football in 1989 and is trying to become the first county boys' ball team to win a state title since East Brady won the Class 1A basketball title in 1980.
CLARION 1, GREENSBURG CENTRAL CATHOLIC 0
Score by Innings
GCC 000 000 0 – 0
Clar 000 000 1 – 1
GREENSBURG CENTRAL CATHOLIC – 0
Nicolas Ruggeri 3b 3000, Neal McDermott p/cf 3010, Jason Hoover 1b 2010, Jack Liberatore ss 3010, Antonio Cavallo lf/p 3000, James Rice 2b 2000, Ethan Bailey dh 3000, Daniel Erdely rf 0000, Joel LoNigro cf/lf 2000, Paul Rice c 2000. Totals 23-0-3-0.
CLARION – 1
Spencer Miller ss/p 3010, Ryan Anthony 2b 3000, Reed Anthony p/1b 4000, Sterling Conner cf 2000, Cam Craig 3b/ss 3000, Nate Datko lf 3010, Skylar Rhoades rf 2010, Kyle Patterson c 1100, Dominic Fleming 1b/3b 2010. Totals 23-1-4-0.
LOB: GCC 4. Clarion 9. Errors: GCC 3. Clarion 0. SB: Miller (2). CS: Miller. SAC: Patterson, Fleming. HBP: James Rice by Miller. Patterson by Cavallo. PB: Paul Rice. DP Turned: Clarion 1 (Miller to Reed Anthony).
PITCHING
Greensburg Central Catholic
Neal McDermott – 5.2 IP, 2 H, 0 R, 0 ER, 3 BB, 10 K, 0 HP.
Antonio Cavallo – 1 IP, 2 H, 1 R, 0 ER, 1 BB, 0 K, 1 HP
TOTALS – 6.2 IP, 4 H, 1 R, 0 ER, 4 BB, 10 K, 1 HP
Cavallo intentionally walked Miller in the seventh
Clarion
Reed Anthony – 6 IP, 3 H, 0 R, 0 ER, 1 BB, 7 K, 0 HP
Spencer Miller – 1 IP, 0 H, 0 R, 0 ER, 0 BB, 0 K, 1 HP
TOTALS – 7 IP, 3 H, 0 R, 0 ER, 1 BB, 7 K, 1 HP
Winning pitcher: Spencer Miller
Losing pitcher – Reed Anthony
Records:
Greensburg Central Catholic 14-6
Clarion 21-3