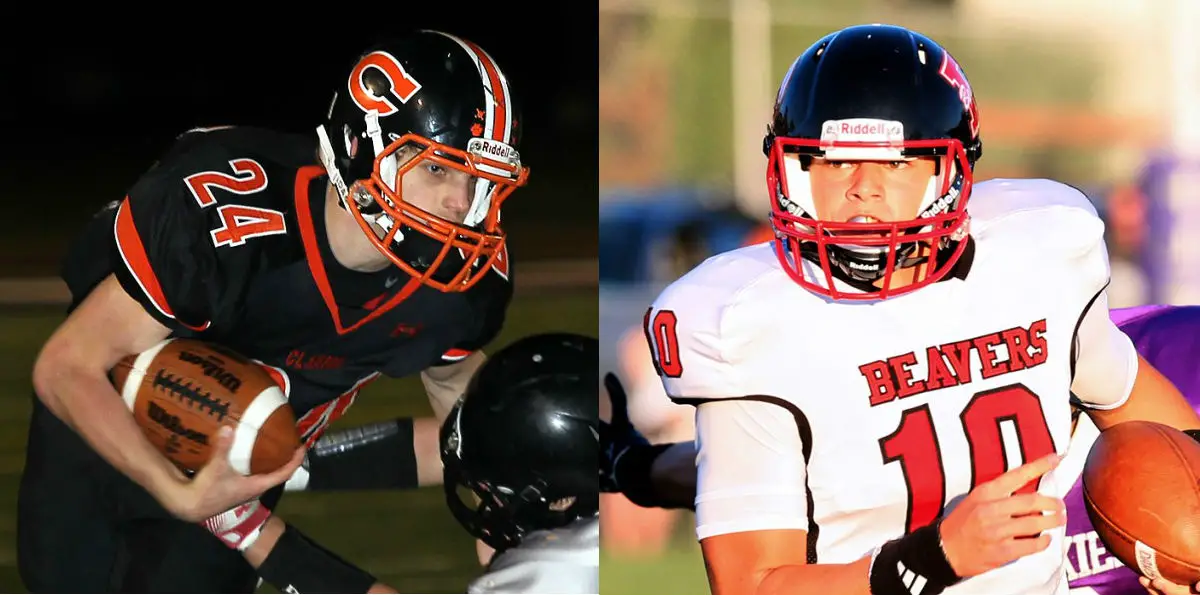 CLARION, Pa. – A pair of sensational performances by Ian Corbett of Clarion and Gabe French of DuBois make the duo the D9sports.com District 9 Co-Football Players of the Week for Week Six of the 2014 season.
Corbett scored five touchdowns while racking up 248 yards of total offense while also putting in a great effort on defense in a 56-21 win over Moniteau. He had 11 carries for 146 yards and three touchdowns and three catches with 102 yards and two touchdowns. On defense, he intercepted a pair of passes, had a sack and made six tackles.
French, meanwhile, continued his record-setting year going 12 of 16 passing for 408 yards and seven touchdowns while also rushing six times for 36 yards and a touchdown in a 70-22 win over Oil City.
Joining Corbett and French in being honored are 14 players on the Week Six 2014 District 9 Honor Roll.
The Player of the Week and Honor Roll will run through Week 10 of the 2014 high school football season and will be released at the conclusion of the week's games either Sunday or Monday.
Located at www.d9sports.com, D9Sports.com is in its 15th year of covering athletics within the PIAA's District 9. The site, which is not affiliated with the PIAA in any way, covers all 25 football playing teams playing in District 9. For more information on the site, please visit it or e-mail the staff at sports@d9sports.com. The site is also active on Twitter @D9sports and on Facebook at www.facebook.com/d9sports.
D9SPORTS.COM DISTRICT 9 PLAYER OF THE WEEK
Ian Corbett – Clarion: 11 carries, 146 yards, 3 touchdowns; 3 catches, 102 yards, 2 touchdowns; Intercepted 2 passes on defense while making 6 tackles with a sack – Clarion 56, Moniteau 21
Gabe French – DuBois: 12-for-16 passing, 408 yards, 7 touchdowns; 6 carries, 36 yards, 1 touchdown – DuBois 70, Oil City 22
D9SPORTS.COM DISTRICT 9 HONOR ROLL (in alpabetical order my team)
Kyle Langdon – Bradford: 25 carries, 180 yards, 4 touchdowns – Bradford 33, Franklin 28
Taylor Smith – Clarion: 5-for-8 passing, 142 yards, 4 touchdowns, 1 interception – Clarion 56, Moniteau 21
Erik Sellers – Clearfield: 17 carries, 176 yards, 4 touchdowns (111 yards rushing in second half) – Clearfield 41, Bellefonte 6
Hunter Johnson – Curwensville: 14 carries, 120 yards, 4 touchdowns -Curwensville 54, St. Joseph's Catholic Academy 20
Nick Stewart – Curwensville: 11 carries, 189 yards, 3 touchdowns – Curwensville 54, St. Joseph's Catholic Academy 20
Dante Dawson – DuBois: 4 catches, 212 yards, 4 touchdowns – DuBois 70, Oil City 22
Cole Kriner – DuBois: 5 catches, 168 yards, 2 touchdowns; Intercepted a pass on defense – DuBois 70, Oil City 22
James Lingenfelter – Kane: 18 tackles, 2 tackles for a loss; 7 carries, 16 yards – Kane 9, Brockway 7
Dillon Mattis – Kane: HIt game-winning field goal with 8 seconds left – Kane 9, Brockway 7
Bryce Altman – Keystone: Intercepted 2 passes on defense while making 4 tackles and breaking up two other passes; 3-for-3 passing, 15 yards; 9 carries, 17 yards, 1 touchdown – Keystone 35, Brookville 25
Dakota Thomas – Punxsutawney: 7-for-14 passing, 105 yards, 1 touchdown; 11 carries, 82 yards, 2 touchdowns – Punxsutawney 42, A-C Valley 7
Ben MacDonald – Ridgway: 4-for-9 passing, 72 yards; 12 carries, 44 yards, 3 touchdowns; Intercepted a pass on defense – Ridgway 35, Elk County Catholic 7
Kyle Glatt – St. Marys: 13 carries, 118 yards, 3 touchdowns – St. Marys 50, Clarion-Limestone 18
Adam Shunk – Smethport: 17 carries, 189 yards, 2 touchdowns; Tied the national high-school record with a 99-yard touchdown run – Smethport 32, Otto-Eldred 14