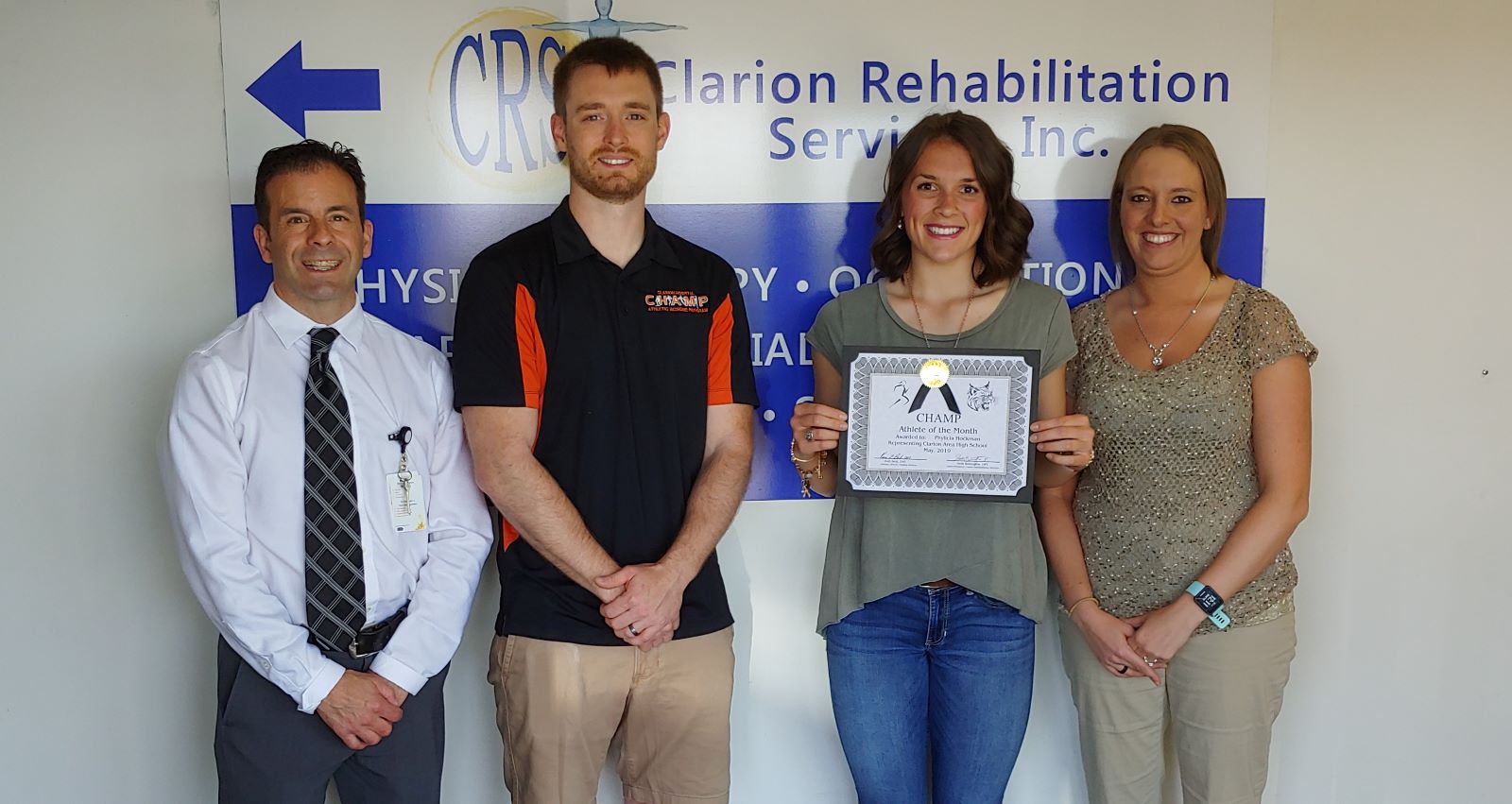 CLARION, Pa. – Phylicia Hockman is the May Clarion Rehab Services and CHAMP (Clarion Hospital Athletic Medicine Program) Student-Athlete of the Month.
(Photo from left: Seth Babington, Owner of Clarion Rehab Services/CHAMP; Rich Herron, Clarion Area Athletic Trainer; Phylicia Hockman; Kari Best, Director of Sports Medicine for CHAMP)
Phylicia recently graduated from Clarion Area High School where she participated in cross country and track. She also is a member of the National Honor Society where she held the role of treasurer, Student Council President, a member of the choir and Clarion singers, and helped with the American Red Cross blood drives, Food for Friends, and the Angel Tree Project.
Her hobbies include skiing, swimming, running, weight lifting, biking, reading, and traveling to new places, but her greatest fulfillment comes from serving others and trying to make a difference in someone's day.
Phylicia's future plans are to attend Shippensburg University to major in biology and eventually to go into the medical field to work with pediatrics. She will also be running cross country and track for Shippensburg.
"My favorite sports memories include when my cross country team placed second at districts and advanced to states," Hockman said. "This was my first year running cross country and it was such an amazing accomplishment to be able to be the first girls cross country team to make it to states in school history."
Phylicia said the most inspiring people in her life are her sister Phaedra and her "amazing" coaches, especially Brady Roth and Tammy Lerch.
"Phaedra has always believed in me and motivated me to be the best version of myself," Hockman said. "My coaches taught me to be humble and to never give up on my goals."
Hockman received gift certificates from both DE Sports, Inc. and Pizza Pub.
"I would also like to thank my athletic trainer, Rich Herron and Clarion Rehab/CHAMP for nominating me for this award," Hockman said.