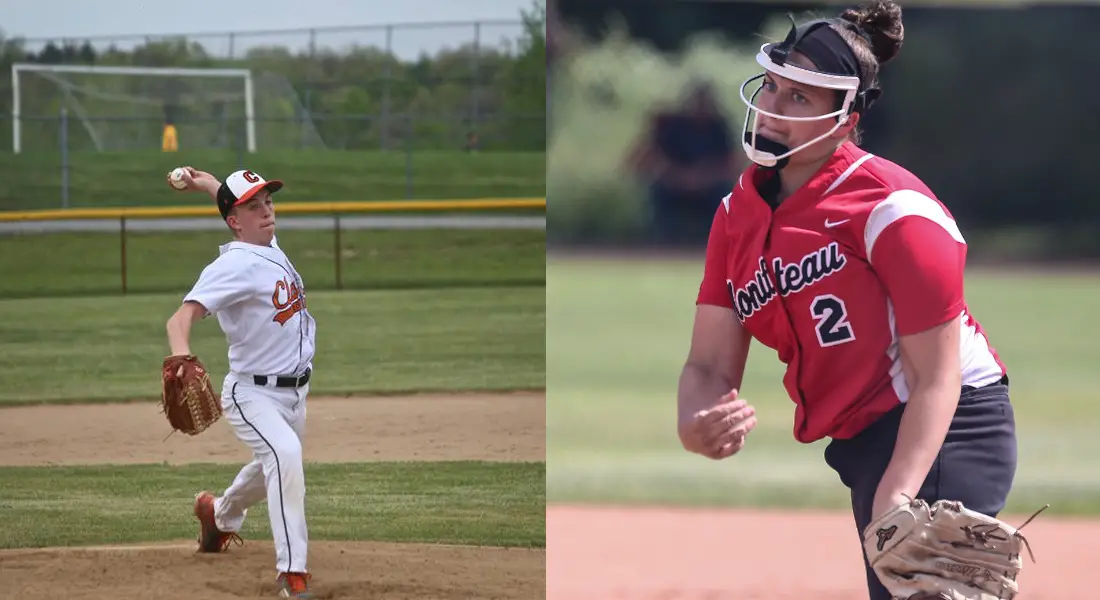 FRILLS CORNERS, Pa. – Clarion's Reed Anthony and Moniteau's Kennedy DeMatteis are the KSAC baseball and softball MVPs respectively, the conference announced Monday.
Anthony finds his way onto the all-conference team in two different positions earning first-team honors as a pitcher and second-team accolades as a first baseman.
The senior lefty has been almost untouchable on the mound for the Bobcats, the top seed in the District 9 Class 1A playoffs, going 8-0 with a 0.18 ERA. In 39 innings of work, he has allowed one earned run, five overall, while giving up 19 hits and 18 walks for a minuscule 0.95 WHIP. He has also struck out 49. At the plate, he is hitting .308 with three doubles, a home run and a team-high 17 RBIs. In 62 plate appearances, he has walked eight times and struck out six.
DeMatteis earns the softball MVP award for the fourth straight year after another dominating performance in the circle.
The senior, who is headed to Gannon, was 19-0 during the regular season with a 0.43 ERA. In 82 innings of work, she has allowed 36 hits and 29 walks while striking out 127. At the plate, she is hitting .500 (32 of 64) with 11 doubles, a triple and a home run while driving in 35 runs.
BASEBALL ALL-CONFERENCE TEAM
MVP
Reed Anthony – Clarion
FIRST TEAM
Pitchers: Reed Anthony, Clarion; Bryan Layton, Redbank Valley
Catches: Scott Toth, Redbank Valley
First Base: Christian Smith, Clarion-Limestone
Designated Hitter: Cullen Williams, Karns City
Infield: Spencer Miller, Clarion; Tyler Yough, Karns City; Sam Leadbetter, Clarion-Limestone
Outfield: Cameron Daugherty, Cranberry; Jake Jewart, Moniteau; Jace Ebbitt, Karns City
SECOND TEAM
Pitchers: Eric Dodd, Karns City; Nolan Brannon, Cranberry
Catches: Jacob Felmlee, Cranberry
First Base: Reed Anthony, Clarion
Designated Hitter: Jared Lominski, Moniteau
Infield: Bryan Layton, Redbank Valley; Colby Himes, Clarion-Limestone; Trevor Gladin, Cranberry
Outfield: Logan Minich, North Clarion; Nolan Brannon, Cranberry; Sterling Conner, Clarion
THIRD TEAM
Pitchers: Hunter Fitzingo, Moniteau; Ryan Anthony, Clarion
Catches: Luke Salvo, Union
First Base: Jonah Henry, Redbank Valley
Designated Hitter: Josh Craig, Clarion
Infield: Dana Logue, Union; Hunter Fitzingo, Moniteau; Andrew Gunn, Cranberry
Outfield: Skylar Rhoades, Clarion; Austin Ion, Keystone; Grayson Harman, Redbank Valley
SOFTBALL ALL-CONFERENCE TEAM
MVP
Kennedy DeMatteis, Moniteau
FIRST TEAM
Pitchers: Kennedy DeMatteis, Moniteau; Alyssa Burkett, Redbank Valley
Catches: Kristina DeMatteis
First Base: Sara Hull, Moniteau; Rachel McCauley, Cranberry
Designated Player: Cora Black, Keystone
Infield: Cortney Claypoole, Moniteau; Malliah Schreck, Cranberry; Emily Wetzel, A-C Valley
Outfield: Gabby Stewart, Moniteau; Kara Hicks, Redbank Valley; Jenna Huegel, Cranberry
SECOND TEAM
Pitchers: Natalie Barcina, Cranberry; Logan Byers, Karns City; Sadie Rudesyle, Clarion
Catches: Cami McNany, A-C Valley
First Base: Maya Thornton, Clarion
Designated Player: Sami Leasure, Redbank Valley
Infield: Lexi Holt, Redbank Valley; Dani Larrow, Keystone; Carly Best, Clarion
Outfield: Jessi Phillippi, Keystone; Emily Wolfe, Karns City; Sydney Kiser, Clarion
THIRD TEAM
Pitchers: MaKena Stiller, Keystone
Catches: Cora Zerfoss, Carion
First Base: Kylee Eaton, A-C Valley
Designated Player: Katie Stalker, A-C Valley
Infield: Alyssa Stitt, Karns City; Dolcey Shunk, Moniteau; Alexis Constantino, Clarion
Outfield: Kelsie Terwilliger, A-C Valley; Sydney Rankin, A-C Valley; Amanda Dailey, Moniteau