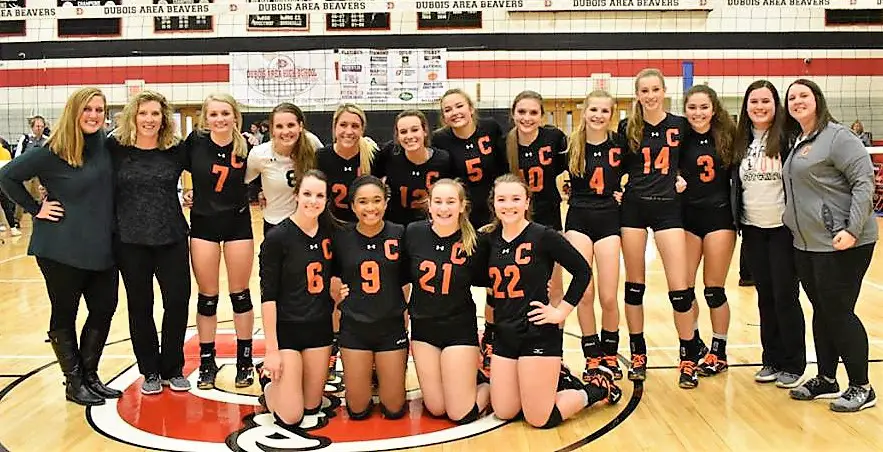 SLIPPERY ROCK, Pa. – There have been years for the Clarion volleyball team when people on the outside expected a deep run in the PIAA playoffs.
(Cover photo by Kim Constantino)
But this year? You'd be hardpressed to find many outside of the Clarion lockerroom who foresaw the Lady Cats being one win for a PIAA Championship match berth.
Not after they lost to A-C Valley in the regular season. Not after they fell to eventual District 6 champion Northern Cambria also in the regular season and surely not after they were swept by Otto-Eldred in the District 9 Class 1A semifinals.
But that semifinal loss a week-and-half ago seems like a distant memory, as Clarion prepares for its PIAA semifinal contest against District 10 champion Maplewood at 6:30 p.m. Tuesday at Slippery Rock High School.
"Each season is about the journey a team travels," Clarion head coach Shari Campbell said. "That's always what inspires me most. So, I try to make sure the team understands that each year."
Just to get to this point, the Lady Cats have had to win three win-and-move-on-lose-and-go-home matches.
It started with a 3-1 win over Coudersport, who was the defending District 9 champion and a PIAA semifinalist a year ago, in the District 9 consolation match Nov. 4. A match that was played at 9 a.m. in St. Marys over an hour away from home.
All that win did was get Clarion a matchup with the WPIAL champion Bishop Canevin and another long drive, this time over two hours away at Norwin High School halfway between Pittsburgh and Greensburg in the opening round of the PIAA Playoffs.
And again all the Lady Cats did was play their game, winning a fabulous back-and-forth affair 3-2.
That set up a rematch with Northern Cambria, which had taken care of A-C Valley in the opening round of the PIAA playoffs 3-2. Another game in which the Lady Cats were the underdog.
This time it was different than in the regular season. After losing a tight first set, 27-25, Clarion rolled to three straight set wins, the last two not all that close at 25-14 and 25-16.
"I think you are seeing a great group of young athletes that embrace the obstacles," Campbell said. "This team learns every day. The practice atmosphere is super. Hard work pays off. We have been working hard all year, so we have an expectation."
The next obstacle is another powerhouse team and another match that has the Lady Cats as the underdog.
Afterall, Maplewood just breezed past, 3-0, the same Otto-Eldred squad that took care of Clarion in easy fashion in that D9 semifinal contest.
The Lady Tigers are a strong, well-coached group that features 5-foot-10 junior middle hitter Sophia Varndell, who had 12 kills and a block in the win over Otto-Eldred. Angie King added six kills in that O-E match and Maggie Thomas, a 5-foot-11 sophomore middle hitter, chipped in five kills. Meanwhile, Maplewood also played a strong defensive game against Otto-Eldred that appeared to frustrate the Lady Terrors at times.
Clarion is no slouch itself and is paced by senior outside hitter Maya Thornton, who had 16 kills in the win over Northern Cambria after having 11 kills in the victory over Bishop Canevin and 15 in the consolation victory over Coudersport.
Hailey Sintobin, Lexi Lauer, Maddie Schill and Sydney Kiser have also taken turns in supporting Thornton with Kiser being the hero in the win over Bishop Canevin with 15 kills before adding eight in Saturday's win over Northern Cambria, Sintobin chipped in 11 kills in the first-round victory and nine in the quarterfinal win and Lauer added six kills vs. Northern Cambria and nine in the consolation victory over Coudersport. Schill, just a sophomore, had five kills in the win Saturday and six against Coudersport.
Defensively, senior Libero Alexis Constantino is steady and had 18 digs Saturday after recording 27 last Tuesday in the win over Bishop Canevin and 28 in the victory over Coudersport.
Freshman setter Brenna Campbell, the coach's daughter, keeps improving as the season goes on and had 38 set assists Saturday after recording 35 Tuesday and 45 in the win over Coudersport.
"It's always about playing our game, taking the good risks and ball control," Campbell said.
SIDEOUT
The winner will play the winner of the Marian Catholic/Bishop Carroll semifinal at 11 a.m. Saturday at Richland High School in Johnstown in the PIAA Title game. Marian Catholic is the District 11 champion while Bishop Carroll is the District 6 runner-up having lost to Northern Cambria in the D6 title match. The Marian Catholic/BC match is being played at 6:30 p.m. Tuesday at Big Spring High School.
Clarion is back in the semifinals for the first time since 2014 when the Lady Cats lost, 3-2, to Greensburg Central Catholic, who then beat Marian Catholic for the PIAA 1A title. The Lady Cats won the 2012 PIAA Class 1A title and were also PIAA runners-up in 2010 and 2011 when a pool-play system was used to determine the semifinalists. In both 2010 and 2011, Maplewood was a semifinalist as well.
This is the first time Clarion and Maplewood have met in the PIAA playoffs since Clarion toppled the Lady Tigers in pool play at the 2011 championships. The Lady Cats also beat Maplewood, 3-1, in the 2010 semifinals.
Clarion also lost in the pool-play semifinals in 2008 to eventual champion Holy Name.
Maplewood won the District 10 title last year as well before being knocked out in the second round of the PIAA Class 1A playoffs by eventual champion Greensburg Central Catholic, 3-2.
Maplewood has three PIAA title to its name. The Lady Tigers beat Elk County Christian (now Catholic) in the 1985 2A (two-class system) title match (2-1), Farrell in 1992 in 2A (two-class system), 2-0, and Richland in 2A (two-class system) in 1995 (2-0). The Lady Tigers were the 2A runner-up in 1993 losing to Farrell in the title match.
Clarion is the only District 9 team to win a PIAA volleyball title and is one of only three schools from D9 to reach the championship match. ECC lost in both of its title games in 1985 and 1986 and Kane lost in the title match in 1988 all in 2A under the two-class system. Last year, Coudersport lost to eventual champion Greensburg Central Catholic 3-1 in the semifinals held at DuBois High School.
This year marks the 14th time Clarion has been to the state playoffs since 2000, all under Campbell and it is the 11th time in the past 12 seasons the Lady Cats are a PIAA playoff team. Overall, Clarion has been the PIAA playoffs 16 times also qualifying in 1991 and 1993.