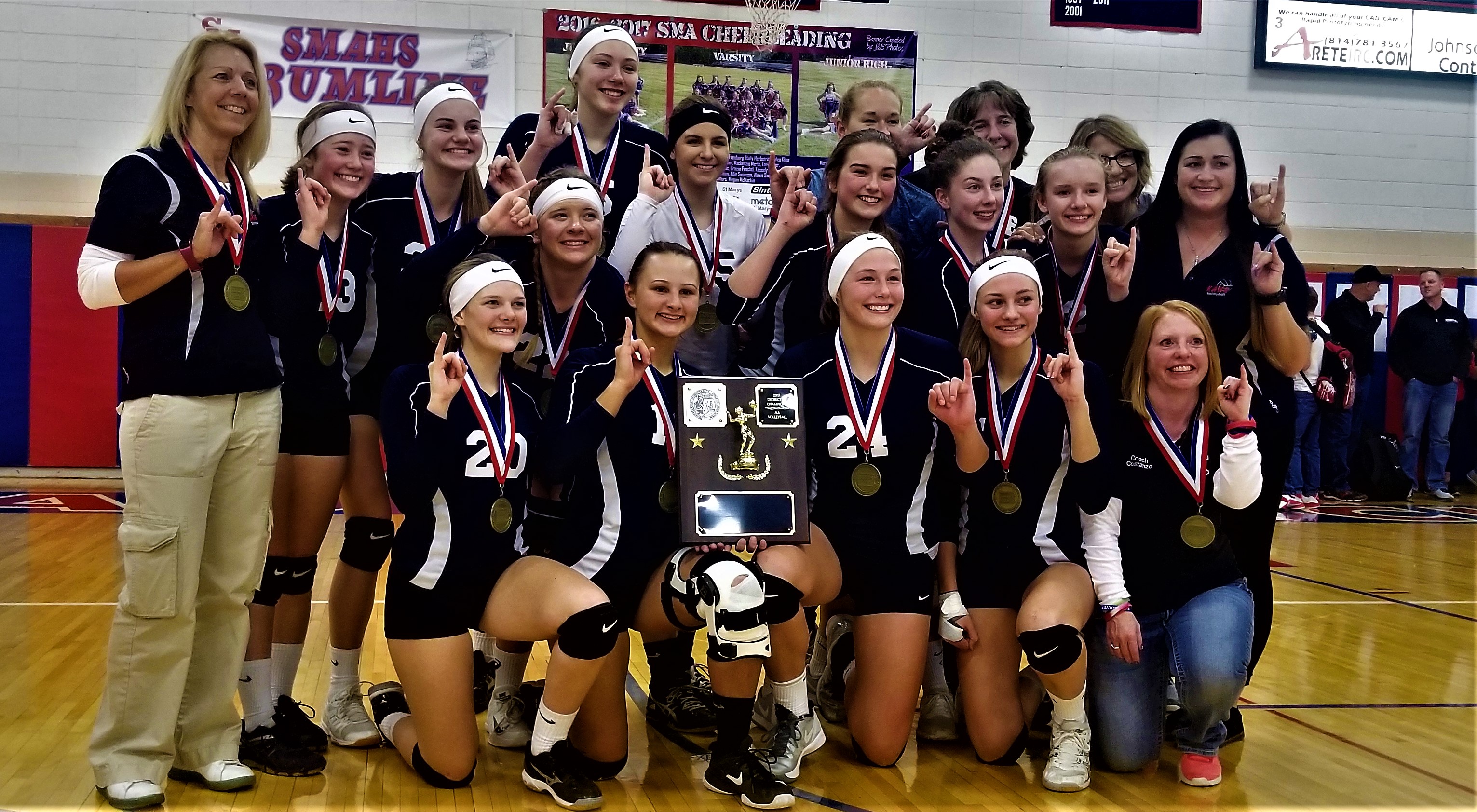 ST. MARYS, Pa. – Behind 16 kills from Trinity Clark, Kane avenged a District 9 Class 2A title match loss to Redbank Valley last year by topping the Lady Bulldogs, 3-0 (27-25, 25-17, 25-23), in the 2017 2A title game at St. Marys High School.
It is the first District 9 title for the Lady Wolves since 2004 and the fourth for long-time head coach Judy Kessler, who also won titles in 1990 (her first season as the head coach), 1997 and 2004. Kessler was also an assistant coach for Kane's 1988 title.
Clark talked about the title win.
Ella Marconi added eight kills for Kane, and while Hannah Buhl's exact assist total wasn't immediately available, the junior setter went over 1,000 set assists in her career. Audri Marconi chipped in four kills.
Watch Kane receive its championship plaque.
Emily Gourley and Josie Rupp led Redbank Valley with seven kills each with Kiana Shreckengost adding three kills.
SET THREE
After Redbank Valley built a 10-8 lead to start the third set, Kane went on an 11-1 run that saw Clark and Ella Marconi both with two kills to take control of the set with a 19-11 lead.
An ace by Ella Marconi then made it 21-12, but Redbank Valley tried to tally thanks to two aces and a kill by Jordan Milliron that pulled the Lady Bulldogs within four, 21-17.
But an Audri Marconi killed and an ace by Paige Niklas made it 23-17, and another Clark kill put Kane on the verge of the title up 24-19.
Redbank Valley didn't go away without a fight, as a kill by Rupp, an ace by Kiana Schreckengost an error and a block got the Lady Bulldogs to within one, 24-23. But Schreckengost's next serve went into the net setting off a celebration for Kane.
See the Wolves' championship point.
SET TWO
Redbank Valley started strong in the second set and led 11-8 thanks in part to two Rupp kills.
But Kane went on a 6-0 run fueled by two aces from Hannah Buhl and a kill by Clark to take a 14-11 lead.
The Lady Wolves still led by two, 17-15, after another Rupp kill but kills by Audri Marconi and Clark and then one from Ella Marconi and an ace by Audri Marconi put the set away.
SET ONE
In the opening set, Redbank Valley led 11-7 thanks to a pair of kills each from Gourley and Kiana Shreckengost, and the Lady Bulldogs continued to press forward building the advantage to 21-15 following an error om Kane.
But back-to-back kills by Clark helped steal the momentum back for the Lady Wolves, who got within two, 21-19.
Redbank Valley forged ahead by four again, 23-19, on back-to-back kills by Gourley, but a service error helped start a 5-0 run for Kane that saw Clark with two kills and Ella Marconi with another one to put the Lady Wolves on the verge of the set up 24-23.
But a service error tied the set at 24 before another Clark kill put Kane up 25-24. Another error on the Lady Wolves tied things at 25, but two errors on Redbank Valley allowed Kane the two-point win.