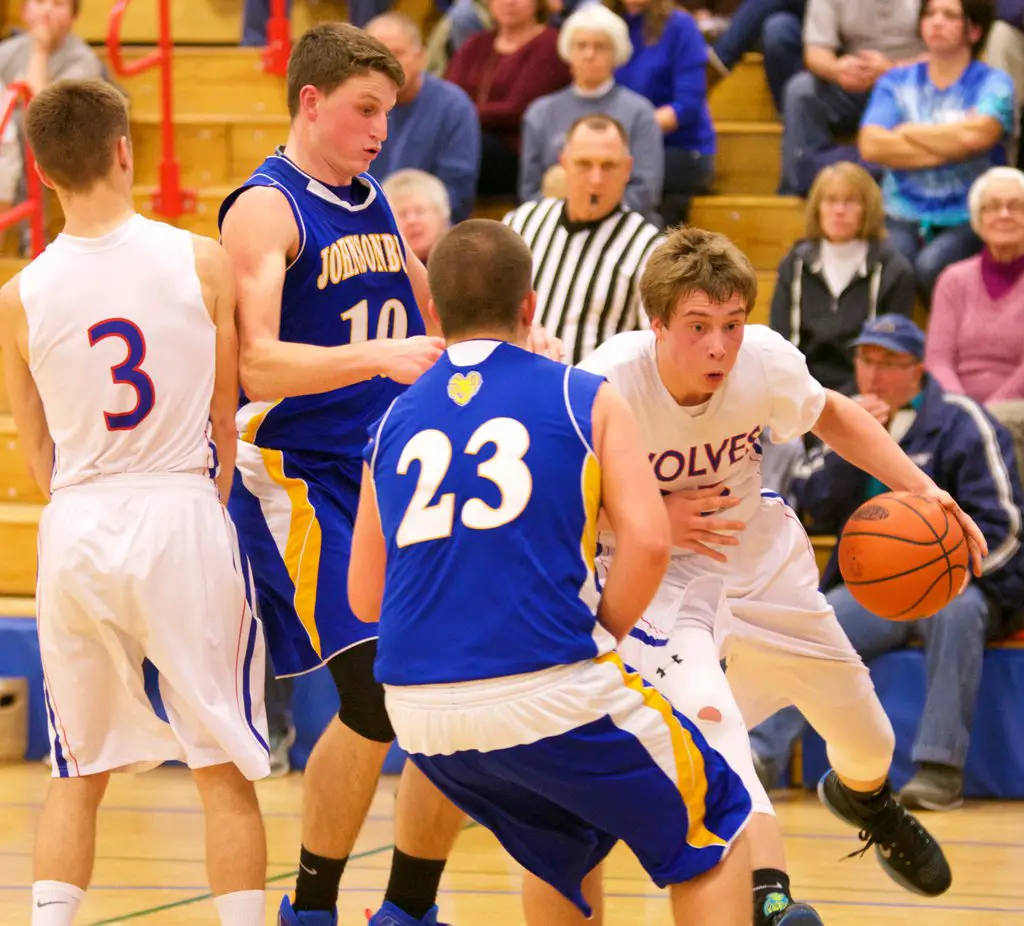 By Chris Rossetti
CLARION, Pa. – It's an all AML final in the District 9 Class AA boys' championship when Brockway takes on league-rival Kane at 4 p.m. Saturday at Clarion University's Tippin Gym.
This is the third meeting of the season between the fifth-seeded Rovers (12-12) and the second-seeded Wolves (13-10) with the teams splitting the first two meetings holding home-court advantage in each.
The first two games were tight contests with Kane winning 49-45 at Kane Jan. 15 and Brockway taking home a 47-44 overtime victory Feb. 2 in Brockway.
In the first matchup, Andrew Bucheit scored 20 points and grabbed 12 rebounds to lead the Wolves to victory offsetting a combined 20 points from Corey Carr (11) and Carter Adams (9) for the Rovers.  
The 6-foot-6 Bucheit missed the second meeting that saw Brockway outscore Kane 6-3 in the extra session. Adams had 14 points in that game to lead the Rovers, while Davis Gardner scored 13 points to pace Kane.
The second game between the teams was one of three games in a row Bucheit missed with an injury – the Wolves were 1-2 without their leading scorer.
Since returning four games ago against Curwensville, Bucheit has practically been unstoppable averaging 26 points per game while not scoring less than 23 in any of those contests. That has helped raise his season average to 20.7 ppg, and he is coming off a dominating 27-points, 13-rebound effort in a 52-32 semifinal win over Keystone Tuesday night.
Kane, which has had an amazing turnaround season after going 3-19 last year while winning just 10 games in the past two years and 20 in the last five, has three other players averaging at least seven points per game to compliment Bucheit.
Frank Truden score 8.0 ppg, Gardner adds 7.4 ppg and Chris Udovich 7.0 ppg.  
Brockway is a bit more balanced than Kane.
The Rovers, who started 5-12 but have won seven in a row, have only one player – Jake Wineberg – averaging in double digits but four other players averaging 5.8 ppg or higher.
Wineberg, who is coming off a 25-point explosion in a 53-42 semifinal win over top-seeded Cranberry, scores 10.8 ppg.
Adams chips in with 9.0 ppg and had 19 in a quarterfinal victory over Karns City. Carr chips in 8.6 ppg, while Quade Lundberg contributes 7.1 ppg and Jarrett Esposito 6.3 ppg. Adams has risen his average by two points per game to 11.0 during the seven-game win streak.
GAME NOTES – Brockway is looking for its third District 9 AA title in the past eight years. The Rovers beat Cranberry in both 2009 and 2013 … Kane, which is back in the championship game for the first time since losing to Brookville in 2010, hasn't won a title since 2007 … Kane and Brockway haven't met in the D9 playoffs since the 2008 District 9 semifinals when Kane beat the Rovers 56-42 in the AA semifinals … This is the first time Brockway and Kane have met in a D9 championship game … Kane has won 11 District 9 titles including in 1954 in what was then Class A in a three-class system – A, B, C – with A being the biggest classification that was a Best of 3 format over Clearfield. The Wolves also won the Class B title in 1949 when they went on to win the PIAA championship … Brockway has won seven D9 title … Both teams move into the PIAA playoffs with the winner taking on the third-place team out of District 6, Penns Valley, and the loser taking on the WPIAL (District 7) runner-up, either Lincoln Park or Aliquippa.
DISTRICT 9 TITLES BY KANE AND BROCKWAY
KANE (11)
2007 – Class AA (Four-class system A through AAAA)
2000 – Class AA (Four-class system A through AAAA)
1999 – Class AA (Four-class system A through AAAA)
1998 – Class AA (Four-class system A through AAAA)
1956 – Class A (Three-class system C through A) – Playoff tiebreaker over Punxsutawney
1955 – Class A (Three-class system C through A)
1954 – Class A (Three-class system C through A) – Won best of 3 series over Clearfield 2-0
1950 – Class B (Three-class system C through A)
1949 – Class B (Three-class system C through A) – Won PIAA title
1948 – Class B (Three-class system C through A)
1946 – Class A (Three-class system C through A)
BROCKWAY (7)
2013 – Class AA (Four-class system A through AAAA)
2009 – Class AA (Four-class system A through AAAA)
1995 – Class AA (Four-class system A through AAAA)
1994 – Class AA (Four-class system A through AAAA)
1993 – Class AA (Four-class system A through AAAA)
1991 – Class AA (Four-class system A through AAAA)
1975 – Class C (Three-class system C through A)