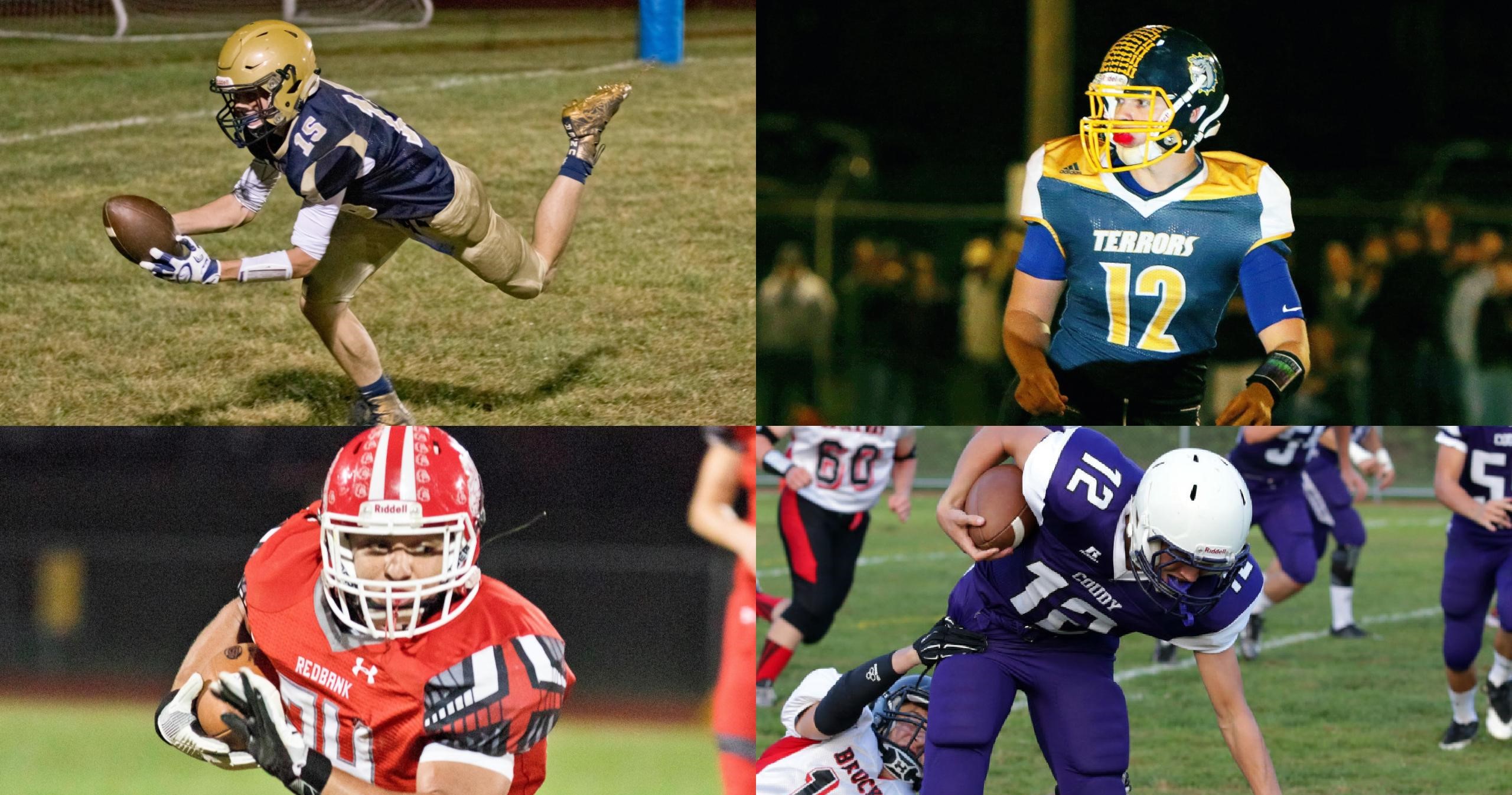 Six teams make up this year's District 9 Class 1A football playoff bracket with top-seeded Curwensville (8-2) and No. 2 seed Ridgway (7-3) receiving first-round byes this week.
That means there are just two quarterfinal round games pitting No. 6 seed Coudersport (5-4) at No. 3 seed Clarion-Limestone (6-4) and No. 4 seed Otto-Eldred (6-4) hosting No. 5 seed Redbank Valley (5-4).
Here is a closer look at both games:
(6) COUDERSPORT (5-4) at (3) CLARION-LIMESTONE (6-4)
The Set Up
It's the fourth postseason meeting between the Falcons and Lions and first since 2004 when the Lions won a semifinal matchup, 21-14. Coudersport won the first two matchups, both semifinal wins as well, 30-14 in 2001 and 11-6 in 1994.
The Lions are racking up big numbers offensively at 478 yards and 45.4 points per game as quarterback Brenden Makray has broken team records in season and career passing yardage. The key for the Lions will be holding on to the ball and getting big plays from their defense. Four straight losses to Redbank Valley, Clarion, Brookville and Karns City appeared to doom the team's season, but the Lions have rebounded with three straight wins including last week's mammoth 46-32 comeback win over Punxsutawney in a game they trailed 32-8 with under six minutes left in the third quarter.
Coudersport finished second to Otto-Eldred in the AML North Division, its only divisional loss to the Terrors while the Falcons went 1-4 against the AML South, it's only win coming against Elk County Catholic. The run-heavy Falcons lean on quarterback Jared Green and Stevie Kelly to do most of the work. In their last six games, five against AML North foes, the Falcons gave up just 10 touchdowns, three in the loss to Otto-Eldred.
The Falcons haven't won a playoff game since 2011.
The Stats
Coudersport:
Team Passing: 206.3
Team Rushing: 47.6
Top Rushers: Stevie Kelly (748 yards, 8 TDs), Jared Green (455 yards, 6 TDs), Hayden Keck (320 yards, 3 TDs)
Top Passers: Jared Green (38 of 70, 401 yards, 4 TDs, 5 Ints)
Top Receivers: Derek Keglovits (13 catches, 156 yards, 2 TDs), Stevie Kelly (11 catches, 99 yards).
Top Defensive Players: Jared Green (8.3 tackles per game), Hayden Keck (7.1 tackles per game, 3 Ints), Eli Ayers (6.0 tackles per game, 14 tackles for a loss)
Clarion-Limestone:
Team Passing: 255.3 yards per game
Team Rushing: 222.4 yards per game
Top Rushers: Riley Hummell (762 yards, 9 TDs), Ayden Wiles (653 yards, 11 TDs), Austin Newcomb (308 yards, 5 TDs)
Top Passers: Brenden Makray (131 of 215, 2,529 yards, 32 TDs, 10 Ints)
Top Receivers: Kyle Kerle (39 catches, 1,004 yards, 12 TDs), Riley Hummell (38 catches, 681 yards, 9 TDs), Colby Himes (18 catches, 327 yards, 6 TDs), Austin Newcomb (14 catches, 305 yards, 2 TDs)
Top Defensive Players: Riley Hummell (8.1 tackles per game, 14 tackles for loss, 4 sacks), Justin Goodman (6 tackles per game, 8 for loss)
(5) REDBANK VALLEY (5-4) at (4) OTTO-ELDRED (6-4)
The Set Up
It's the first-ever matchup between the Bulldogs and Terrors in the Terrors' first-ever home playoff game. Otto-Eldred, this year's AML North champion, lost its first-ever playoff game last year in the first round to Clarion-Limestone.
Two of the Terrors' four losses have come to unbeaten Kane, including last week's 33-0 loss in the AML Championship game. They were 1-3 against the AML South during the regular season with the only win coming against Elk County Catholic.
Much of the team's offensive success revolves around do-it-all quarterback Sawyer Drummond, who is close to being the fourth D9 quarterback over 2,000 yards this year. He also leads the team in rushing.
The Bulldogs won the KSAC's Small School Division title, their signature win coming in a 40-14 rout of Clarion-Limestone. But they were denied a home playoff game after last week's surprising double-overtime loss at Moniteau. Clint Thurston is the workhorse out of the backfield for the Bulldogs and he's 57 yards shy of tying the team's single-season rushing yardage record owned by Mark Strothers.
The Stats
Redbank Valley:
Team Passing: 89.8
Team Rushing: 293.9
Top Rushers: Clint Thurston (1,431 yards, 25 TDs), Keaton Kahle (439 yards, 5 TDs), Brock Barrett (403 yards, 5 TDs)
Top Passers: Keaton Kahle (60 of 133, 684 yards, 4 TDs, 6 Ints)
Top Receivers: Brock Barrett (37 catches, 403 yards, 3 TDs), Chase Wiles (12 catches, 121 yards, 1 TD)
Top Defensive Players: Logan Minich (7.3 tackles per game), Travis Crawford (7.1 tackles per game), Clint Thurston (4.7 tackles per game, 19.5 tackles for a loss including 10.5 sacks), Keaton Kahle (3 Ints)
Otto-Eldred:
Team Passing: 203.8 yards per game
Team Rushing: 137.2 yards per game
Top Rushers: Sawyer Drummond (433 yards, 2 TDs), Garrett Babcock (351 yards, 4 TDs)
Top Passers: Sawyer Drummond (139 of 231, 1,985 yards, 23 TDs, 16 Ints)
Top Receivers: Dylan Close (52 catches, 769 yards, 8 TDs), Cameron Magee (43 catches, 720 yards, 7 TDs), Garrett Babcock (16 catches, 231 yards, 3 TDs)
Top Defensive Players: Chris Connelly (8.4 tackles per game, 11 tackles for a loss), Sawyer Drummond (7.8 tackles per game), Charles Lee (7.3 tackles per game, 21 tackles for a loss with 7.5 sacks), Nick York (4 Ints)