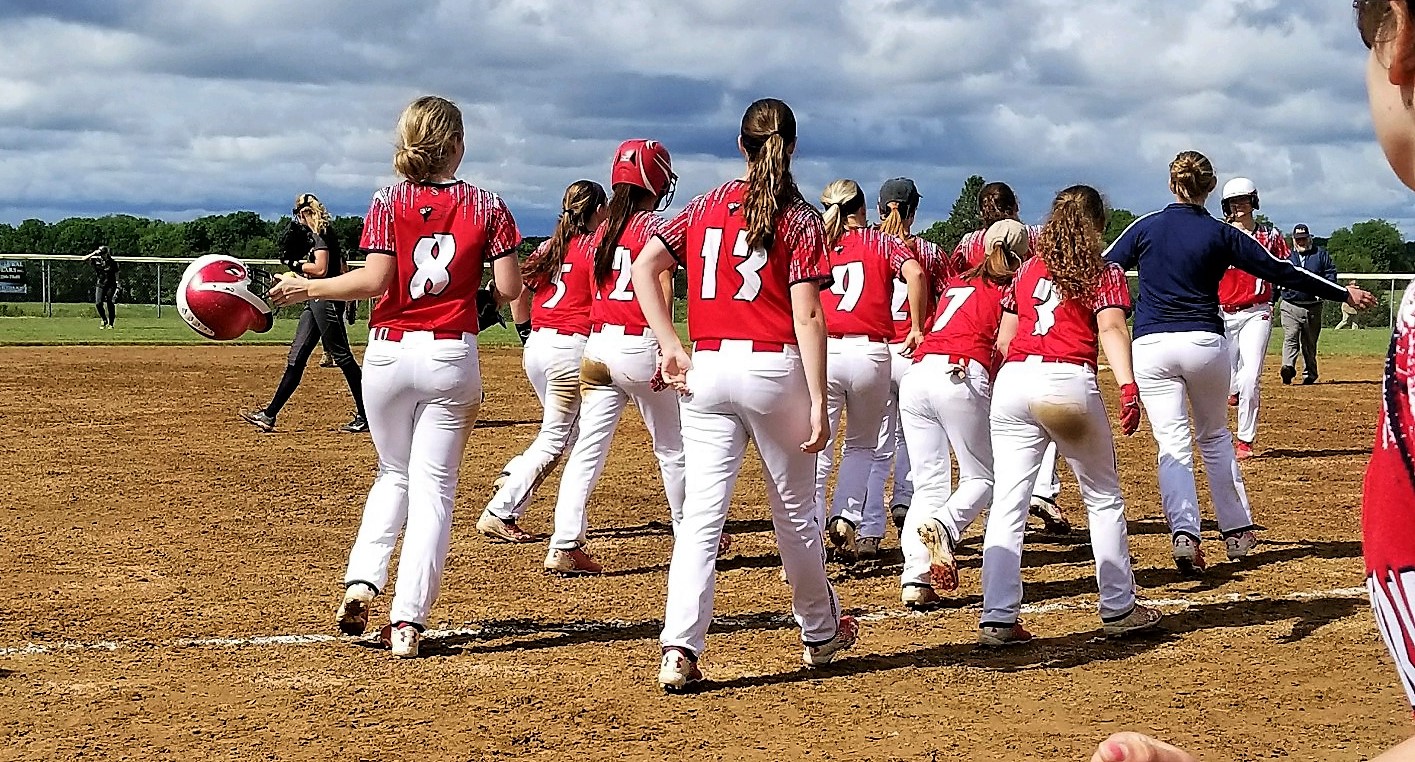 PIAA Class 1A softball first-round recaps of games involving District 9 teams.
(Cover photo: DCC celebrates win over Carmichaels. Photo courtesy of Michelyn Gulvas)
DUBOIS CENTRAL CATHOLIC 18, CARMICHAELS 3, 4 INNINGS
Read full story on ExploreJeffersonPa.com
STRATTANVILLE, Pa. – DuBois Central Catholic broke out the lumber Tuesday afternoon using 15 hits, including seven extra-base hits, to beat Carmichaels, 18-3, in four innings.
"The whole lineup squared up on the ball," DCC manager George Heigel said. "We spent a lot of time in the cages. Literally, we practiced four times in the last 24 hours because of the rain (that forced the postponement of the game Monday). Our kids are hitting the ball now."
DCC, which trailed 3-0 after a half inning, tied the game with three runs in the first and then broke it open with a seven-run second that was capped by pinch hitter Carly Semancik's two-run triple to right that put the lead at 9-3. She then scored a batter later to make it 10-3.
Heigel went with his instincts in pinch-hitting Semancik early in the game with the Lady Cardinals leading 7-3.
"I had an inkling Carly was going to square up one because she was killing it in batting practice," Heigel said. "I thought I would give her a chance."
DCC's offense was also very opportunistic taking advantage of eight errors by Carmichaels, the third-place finisher in the WPIAL, to score 13 unearned runs.
"Their nerves got the best of them," Heigel said. "That happens. I remember four years ago when we were here we gave up nine runs in the first round of our state playoffs. That happens when you have a real young team. That's a good team. We scouted them. They are a good team. They just didn't play very well today."
Macey Hanes led the DCC offense going 3-for-4 with a pair of doubles, three runs scored and an RBI. The senior talked about the victory.
Jordy Frank, Libby Maurer, Alyssa Bittner and Maia Cogley also each added a pair of hits.
Frank, the senior catcher headed to Division 1 St. Francis (Pa.) was 2-for-3 with a double, three runs scored and an RBI, Maurer was 2-for-4 with two RBIs, Bittner was 2-for-3 with a double and an RBI and Cogley was 2-for-3 with a run scored and an RBI.
Bittner and Cogley were part of the bottom third of the DCC lineup that went a combined 5-for-9 on the day with four RBIs and five runs scored.
"The last seven, eight, 10 games, the bottom of our lineup has been very effective," Heigel said.
Ashley Wruble chipped in with a triple, two RBIs and three runs scored, while Shay Gulvas also had double, two RBIs and three runs scored.
DCC actually trailed 3-0 after a half inning thanks to doubles from Megan Walker and Morgan Faddis and three Lady Cardinal errors.
"Giving up three runs in the first inning surprised me," Heigel said. "That hasn't happened all year. It hasn't happened in two years, frankly. That put us back on our heels a little bit.
"After the top of the first, I said there is no way three runs is going to beat us. I just said we don't have to score all of them right now. But we ended up scoring three runs in the first inning and kept adding to it."
DCC (23-1) will take on District 10 champion Commodore Perry, a 7-2 winner over WPIAL runner-up Monessen, in the quarterfinals at 2 p.m. Thursday at Hickory High School. The Lady Cards are looking for a second consecutive trip to the PIAA Class 1A semifinals.
(See box score at the bottom of the post)
MEYERSDALE 3, ELK COUNTY CATHOLIC 1
SOMERSET, Pa. – District 5 champion Meyersdale used a two-run fourth inning to break a one-all tie and get a 3-1 win over Elk County Catholic at Somerset High School.
Emily Schafer's two-run single to center with one out broke the tie scoring Shawna Leonard, who had started the inning with a single to left and moved to third on a double to left by Olivia Kretchman.
Meyersdale (23-1) grabbed an early lead with a run in the first when Isabella Miller doubled home Jordan Cerreta, who had singled leading off and moved to second on a sacrifice bunt.
The Lady Crusaders (15-9) tied the game in the third when they took advantage of a Meyersdale error.
After one out, Jenna Weisner reached on an error by the shortstop Leonard. She then stole second and went to third on an infield single to third by Brandi Clyde, who then stole second.
Emily Evers followed with a base hit to center scoring Weisner and moving Clyde to third with Evers going to second on the throw.
But Layne Deakins worked out of the jam by getting Maggie Dinsmore to pop out to Deakins and then Josie Smith to pop out to third baseman Cerreta.
It was the second time in the first three innings ECC had runners on second and third with just one out and failed to capitalize.
In the first inning, Clyde singled with one out and went to third on a double by Evers. But Dinsmore popped out to the second baseman Kretchman and Deakins got Smith to strike out swinging.
After Meyersdale retook the lead, the Lady Crusaders had their leadoff hitter on in the fifth – on a Brianna Weisner single – and the sixth – on a Dinsmore walk – but failed to score both times.
Then in the seventh, Clyde and Evers, who were each 3-for-4 in the game, had back-to-back singles with two outs but pinch hitter Emily Wolf struck out to end the game.
Deakins got the win going four innings allowing one unearned run on four hits while striking out five. Leonard picked up the save going three innings allowing three hits and two walks while striking out five.
Gerber took the loss going six innings allowing three runs on 10 hits and a walk while striking out two.
Meyersdale will play District 6 champion Glendale in the quarterfinals at noon Thursday at Mt. Aloysius College.
(See box score at the bottom of the post)
CLAYSBURG-KIMMEL 11, COUDERSPORT 5
BROCKWAY, Pa. – District 6 runner-up Claysburg-Kimmel built a 6-1 lead after 3 1/2 innings on its way to an 11-5 win over District 9runner-up Coudersport at Brockway High School.
Trailing 1-0 going to the third, the Bulldogs scored four times to take control of the game with the big hit being a run-scoring double from Justinna Brown, who was 2-for-2 on the day.
Claysburg-Kimmel added to that lead with two more runs in the fourth thanks in part to a run-scoring triple from Keyara Morgan to make it 6-1.
Emma Powell and Joplin Osgood answered for Coudy in the bottom of the fourth with each player recording an RBI double to cut the deficit to three, 6-3. Powell finished the afternoon 2-for-2 as well.
But Claysburg, thanks in part to another RBI by Morgan, put three more on the board in the fifth to take a 9-3 advantage.
Shae Black, who had three hits, answered back again for the Lady Falcons with a two-run home run in the fifth to get the game back to four, 9-5, but that was as close as Coudersport got.
The Lady Falcons started the scoring in the second on an RBI double by Annie Chambers.
Claysburg-Kimmel will take on WPIAL champion and 2016 PIAA runner-up West Greene in the quarterfinals Thursday at a site and time to be determined.
BOX SCORES
DUBOIS CENTRAL CATHOLIC 18, CARMICHAELS 3, 4 INNINGS
Score by Inning
Carmichaels 300 0 – 3
DuBois CC 373 5 – 18
CARMICHAELS – 3
Megan Walker c 2110, Kylie Sinn p 2100, Natalie McNett 1001, Gina Ranieri 1b 2111, Morgan Faddis cf 2011, Kaitlyn Wilson 2b 2000, Maddi Ewart rf 2000, Shelbee McCann 3b 2000, Emily Menhart 1000. Totals 16-3-3-3.
DUBOIS CENTRAL CATHOLIC – 18
Macey Hanes cf 4331, Jordy Frank c 3321, Riley Assalone p 3210, Ashley Wruble 2b 3312, Shay Gulvas 4312, Libby Maurer 3b 4022, Alyssa Bittner 1b 3021, Carly Semancik ph 1112, Maia Cogley dp 3121, Maddie Nasuti lf 0000, Sabrina Spencer rf 1100, Jordy Kosko 1100. Totals 30-18-15-12.
LOB: Carmichaels 2. DCC 5, Errors: Carmichaels 8. DCC 4. 2B: Walker, Faddis, Hanes (2), Frank, Gulvas, Bittner 3B: Wruble, Semancik. SAC: Spencer. SB: Wruble, Gulvas, Maurer. CS: McCann, Frank.
PITCHING
Carmichaels
Kylie Sinn – 3.2 IP, 15 H, 18 R, 5 ER, 3 BB, 0 K, 0 HP
Dubois Central Catholic
Riley Assalone – 4 IP, 3 H, 3 R, 1 ER, 1 BB, 2 K, 0 HP
Winning pitcher: Riley Assalone
Losing pitcher: Kylie Sinn
MEYERSDALE 3, ELK COUNTY CATHOLIC 1
Score by Innings
Elk Co. Cath. 001 000 0 – 1
Meyersdale 100 200 x – 3
ELK COUNTY CATHOLIC – 1
Jenna Weisner 2b 4100, Brandi Clyde 1b 4030, Emily Evers 3b 4031, Maggie Dinsmore dp 2000, Emily Wolf cf/pr 1000, Josie smith ss 3000, Michelle Gerber p 3000, Rosina Nero c 2000, Carly Renwick cr 0000, Sady VanAlstine lf 3000, Brianna Weisner rf 3010. Totals 29-1-7-1
MEYERSDALE – 3
Jordan Cerreta – 3b 3130, Jackie McKenzie cf 1000, Isabella Miller c 3021, Shawna Leonard ss/p 3110, Olivia Kretchman 2b/ss 3110, Katie Kretchman 1b 3010, Emily Schafer rf 3022, Kaitlin Fritz dp 1000, Stephanie Haer ph 1000, Maddie Walker lf 0000, Layne Deakins p/2b 3000. Totals 24-3-10-3.
LOB: ECC 9. Meyersdale 6. Errors: ECC 0. Meyersdale 1. 2B: Evers, Miller, O. Kretchman, K. Kretchman. 3B: Schafer. SAC: McKenzie, Fritz. SB: B. Weisner, J. Weisner. Wolf, Clyde. \
PITCHING
ECC
Michelle Gerber – 6 IP, 10 H, 3 R, 3 ER, 1 BB, 2 K, 0 HP
Meyersdale
Layne Deakins – 4 IP, 4 H, 1 R, 0 ER, 0 BB, 5 K, 0 HP
Shawna Leonard – 3 IP, 3 H, 0 R, 0 ER, 2 BB, 5 K, 0 HP
TOTALS – 7 IP, 7 H, 1 R, 0 ER, 2 BB, 10 K, 0 HP
Winning pitcher: Layne Deakins
Losing pitcher: Michelle Gerber
Save: Shawna Leonard