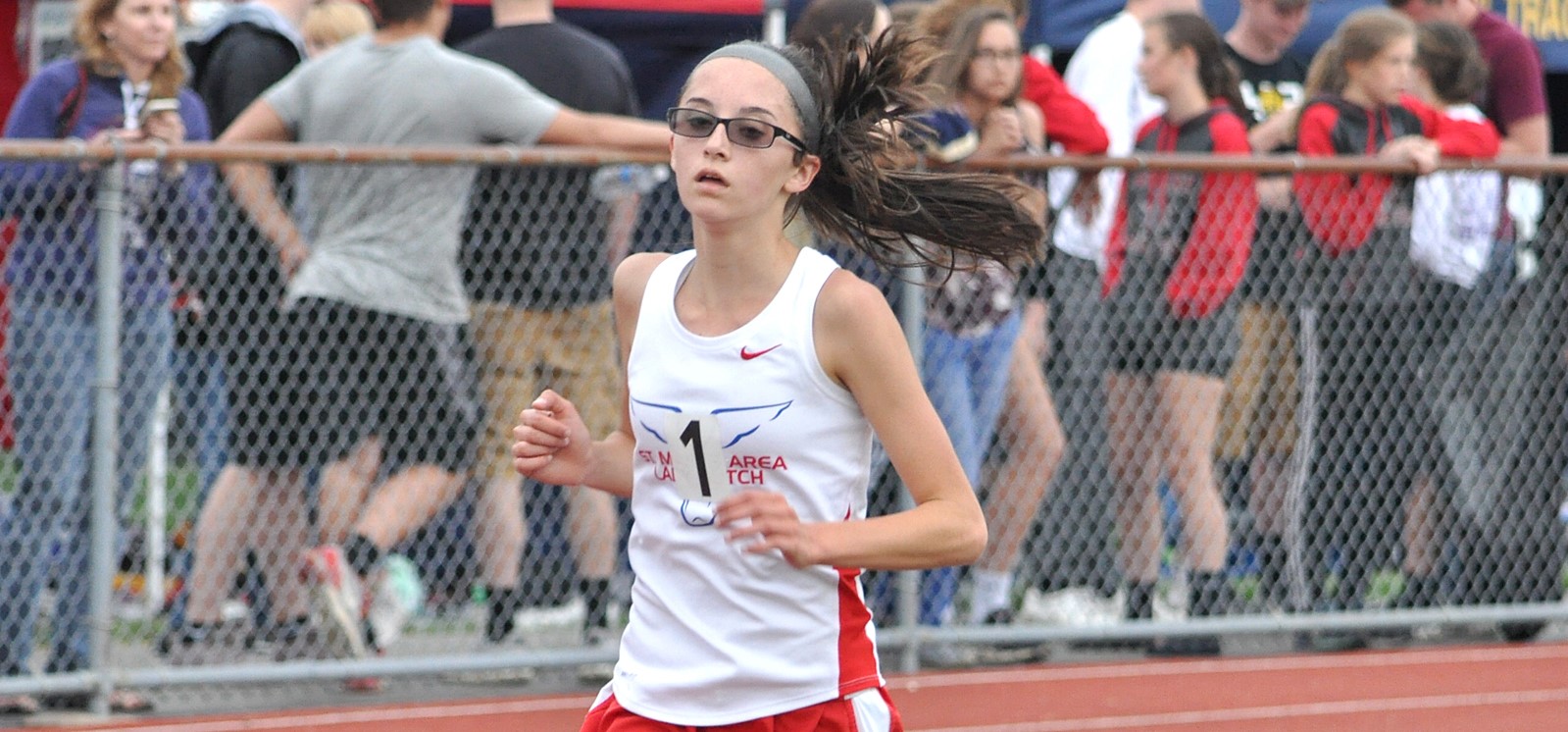 While District 9's lone Class 3A medalist graduated — Bradford's state shot put champion John Eakin who went on to Slippery Rock University — several individual D9 champions return with eight for the boys and five for the girls.
(Photo of Kayla Johnson of St. Marys. Photo by Jared Bakaysa of JB Graphics. See more of Bakaysa's work here)
Boys from a year ago who finished in the top 20 at the state meet include: Jaron Ambrose (Bradford – 17th in 300 Meter Hurdles), Matthew Wehrle (Punxsutawney – 17th in 800 Meter Run), Jordan Meinert (DuBois – 18th in High Jump), and Grady Yarger (Clearfield – 19th in Javelin). No top-20 girls' state qualifier returns.
Bradford will attempt to repeat as D9 team champions for the boys and girls. The St. Marys boys and Punxsutawney girls are back in Class 3A for at least the next two years after being in Class 2A the last PIAA cycle.
The following is a list of athletes that are top returning district place-winners by event, with district finish and state meet finish if applicable. 
— Returning athletes are based on last year's age. Some may have not elected to compete this year.
— All District 9 coaches are encouraged to send results to d9track@gmail.com. Dan Alderton will be compiling rankings and statistics throughout the season for D9Sports.Com. 
BOYS
110 hurdles
1. Matthew Stafford, Sr., Bradford PIAA: 23rd
2. Jaron Ambrose, Jr., Bradford
4. Bayden Lyle, Sr., Punxsutawney
4. Dylan Phillips, Jr. Bradford
100 dash
3. Trevor Franek, Jr., Clearfield
4. Zach Henery, So., DuBois
5. Donny Pattison, Sr., Bradford
1,600 run
2. Andrew Wehrle, Jr., Punxsutawney
3. Kaleb Stevens, Sr., DuBois
4. Jeremiah Vezza, Sr., Clearfield
5. Ethan May, Sr., Punxsutawney
6. Logan Wells, Jr., DuBois
400 dash
1. Trevor Franek, Jr., Clearfield PIAA: 26th
2. Michael Bosworth, Jr., Bradford
3. Derek Sunafrank, Jr., Bradford
4. Logan Firanski, So., Clearfield
6. Jake Pattison, So., Bradford
300 hurdles
1. Jaron Ambrose, Sr., Bradford PIAA: 17th
2. Bayden Lyle, Sr., Punxsutawney
5. Brenden Saunders, Sr., DuBois
800 run
2. Andrew Boyle, Sr., DuBois
3. Andrew Wehrle, Jr., Punxsutawney
4. Tyler Kraft, Jr., Bradford
5. Emmet Jamieson, Jr., Punxsutawney
200 dash
2. Matthew Stafford, Sr., Bradford
3. Donny Pattison, Sr., Bradford
5. Zach Henery, So., DuBois
3,200 run
1. Owen Bartlebaugh, Jr., Punxsutawney PIAA: 22nd
3. Jeremiah Vezza, Sr., Clearfield
4. Ethan May, Sr., Punxsutawney
5. Kaleb Stevens, Sr., DuBois
6. Gabe Mitchell, Jr., Bradford
Relays (champions only)
4×100
Punxsutawney PIAA: 28th
4×400
Punxsutawney PIAA: 22nd
4×800
Punxsutawney PIAA: 22nd
High jump
1. Jordan Meinert, Sr., DuBois PIAA: tied-18th
2. Taye Lynch, Jr., Clearfield
3. Jaron Ambrose, Sr., Bradford
4. Ethan Presloid, So., Punxsutawney
5. Evan States, Sr., Punxsutawney
Long jump
1. Jordan Meinert, Sr., DuBois PIAA: 34th
2. Bayden Lyle, Punxsutawney
4. Steven Kellam, Sr., Bradford
6. Steven Knowlton, Jr., Bradford
Triple jump
1. Taye Lynch, Jr., Clearfield PIAA: 24th
2. Jordan Meinert, Sr., DuBois
3. Steven Knowlton, Jr., Bradford
4. Ian Billotte, So., Clearfield
5. Nathan Blauser, Sr., Bradford
6. Evan States, Punxsutawney
Pole Vault
1. Steven Kellam, Sr., Bradford PIAA: tied-19th
T3. Ian Paterniti, So., Bradford
T3. Brett Zattoni, Jr., Clearfield
5. Ryan Gildersleeve, So., DuBois
Discus
4. Jacob Bellerillo, Jr., Punxsutawney
5. Zane Inguagiato, So., Clearfield
6. Josh Mackey, Sr., Bradford
Shot Put
3. Zane Inguagiato, So., Clearfield
6. Seth Miller, Jr., Clearfield
Javelin
4. Brandon Connor, So., DuBois
6. Derek Sunafrank, Jr., Bradford
GIRLS
100 hurdles
1. Summer Herring, Jr., St. Marys PIAA: 31st
4. Julia Bashline, So., DuBois
5. Morgan Allman, So., DuBois
6. Alexandra Safran, Jr., Bradford
100 dash
2. Regan Johnson, Jr., Bradford
4. Erica Marshall, Jr., Bradford
5. Antonia Fenice, So., DuBois
6. Alana Burton, Jr., DuBois
1,600 run
2. Abby LaBorde, Sr., Clearfield
3. Kyla Johnson, So., St. Marys
4. Samantha Hayes, So., St. Marys
5. Hannah Lary, So., Bradford
400 dash
1. Emily Bosworth, So., Bradford PIAA: 23rd
2. Avry Gumblatt, Jr. Clearfield
3. Megan Quesenberry, Jr., St. Marys
4. Tessa Grotzinger, Jr., St. Marys
5. Samantha Hayes, So., St. Marys
6. Kyra Hoover, Jr., DuBois
300 hurdles
3. Summer Herring, Jr., St. Marys
5. Amanda Hazel, So., Clearfield
800 run
2. Emily Bosworth, So., Bradford
3. Abby LaBorde, Sr., Clearfield
4. Megan Quesenberry, Jr., St. Marys
5. Tessa Grotzinger, Jr., St. Marys
6. Trulee Stainbrook, Sr., DuBois
200 dash
2. Regan Johnson, Jr., Bradford
6. Antonia Fenice, So., DuBois
3,200 run
1. Kyla Johnson, So., St. Marys PIAA: 22nd
2. Abby LaBorde, Jr., Clearfield
4. Lucy Anthony, Jr., St. Marys
5. Hannah Lary, So., Bradford
Relays (champions only)
4×100
Bradford PIAA: 30th
4×400
Bradford PIAA: 27th
4×800
St. Marys PIAA: 20th
High jump
2. Mikayla Bond, Sr., Bradford
3. Kayelyn Eschrich, So., Bradford
4. Danielle Baumgartner, Jr., DuBois
5. Krista Harper, Jr., DuBois
6. Kaylee Muccio, Jr., St. Marys
Long jump
1. Regan Johnson, Jr., Bradford PIAA: 25th
4. Alana Burton, Jr., DuBois
5. Summer Herring, Jr., St. Marys
Triple jump
3. Kelli Hoffer, Sr., DuBois
4. Kaylee Muccio, Jr., St. Marys
5. Morgan Allman, So., DuBois
6. Mikayla Bond, Sr., Bradford
Pole Vault
1. Alexis Huber, Sr., Bradford
3. Mackenzie Lucas, So., Bradford
6. Amber Schauer, So., St. Marys
Shot Put
3. Saige Heigel, Jr., St. Marys
4. Gabby Snyder, Sr., DuBois
6. Allyson Luke, So., Bradford
Discus
3. Gabby Snyder, Sr., DuBois
5. Saige Heigel, Jr., St. Marys
Javelin
3. Lydia Pompa, Sr., Bradford
5. Danielle Baumgartner, Jr., DuBois
6. Kendra Bonfardin, So., St. Marys