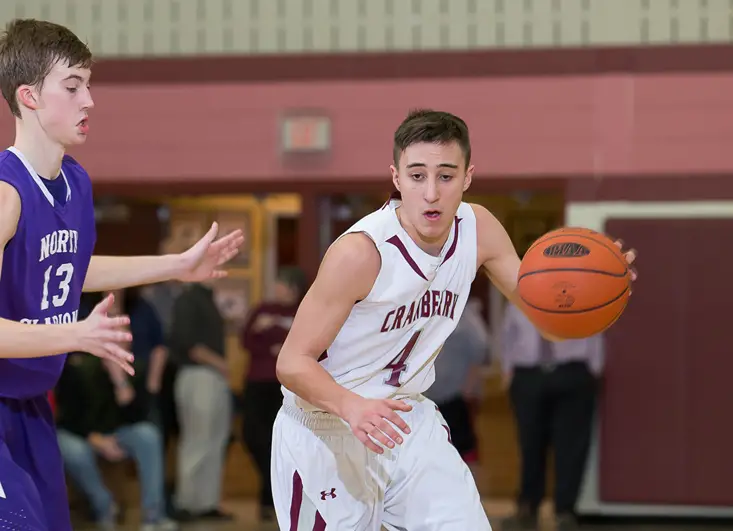 Photo info: Cranberry's Tim Swartzfager. Photo by Eric Elliot. EE Digital Images
By Rich Rhoades
CLARION, Pa. — There will be at least one two Class AA champion in District 9 this year as Saturday afternoon's finals are set for Clarion University's Tippin Gymnasium.
Defending girls' champion Karns City takes on Redbank Valley at 2 p.m. while Redbank Valley makes it a doubleheader when it faces Cranberry in the boys' final at 4 p.m.
New this year is that all four teams are headed to states since the district is sending both finalists in Class AA unlike previous seasons. That means both Redbank Valley teams are going in the same year for the first time ever. The Lady Bulldogs are state-bound for the first time since 1999 while the Bulldogs earned their first state berth since 1991.
Here's a closer look at the matchups:
GIRLS
(1) Karns City (21-3) vs. (2) Redbank Valley (18-6)
Karns City Stats Redbank Valley Stats
When: 2 p.m., Saturday, Feb. 28
Where: Clarion University's Tippin Gym
Winner Gets: WPIAL fourth seed on March 6 at a D9 site. It'll be either Carlynton or Burrell based on the winner of Friday night's WPIAL Championship game (Canevin vs. Seton LaSalle, 5 p.m.). Carlynton if Canevin wins and Burrell if Seton LaSalle wins.
Loser Gets: WPIAL third seed on March 6 at a WPIAL site. It'll be Burrell if Canevin wins Friday or Carlynton if Seton LaSalle wins.
Game Notes: Karns City is trying to win its second straight title and 12th overall. The Lady Gremlins have been dominant all season, beating their opponents by an average of 30.4 points in the 21 wins. The only D9 team to beat them was Keystone in a 61-47 loss Jan. 21. Since then, the Lady Gremlins have won 10 straight games. … Junior LeeAnn Gibson leads the team in scoring (13.8 ppg.) and is coming off a season-high 22 points against Moniteau in the semifinals after missing three games because of a broken finger on her left hand. Shanel Preston (12.5 ppg.) and Emily Hegedus (10.1 ppg.) also average double figures for the Lady Gremlins. … Karns City won both regular-season matchups against Redbank Valley, 49-39 at New Bethlehem on Jan. 7 and 74-41 at Karns City Feb. 4. Preston scored 17 points in the second game while Gibson and Emily LoPresti scored 18 and 17 points respectively in the first meeting. … Redbank Valley is led by junior Brooke Hinderliter who went into the playoffs as the district's second-leading scorer. Already the team's all-time leading scorer with 1,461 points, she's averaging 20.6 points per game. Becca Dougherty (7.9 ppg.) and Kaelyn Gruver (7.3 ppg.) are the other top scorers. Hinderliter scored 21 points in both of their games against the Lady Gremlins this year. Gruver was the only double-figure scorer in either game, adding 10 points in the second matchup … Karns City beat Redbank Valley two out of three meetings last year, including a 57-33 win over Redbank in the semifinals on its way to its first title since 2008. … Karns City is 7-1 lifetime against Redbank Valley in the postseason, including a 1-4 mark in championship games. The Lady Gremlins beat Redbank in the finals in 2004 (44-28), 2003 (44-39), 1999 (66-41) and 1995 (32-31). In its last championship game win, Redbank Valley beat Karns City, 58-52, in double overtime in the 1998 final. … Lifetime, the Lady Gremlins are 32-13 in the district playoffs, including a 12-6 mark in the finals. The Lady Bulldogs are 23-15 in the district playoffs, including a 4-5 record in the championship game.
BOYS
(1) Cranberry (19-4) vs. (2) Redbank Valley (19-6)    
Cranberry Stats Redbank Valley Stats
When: 4 p.m., Saturday, Feb. 28
Where: Clarion University's Tippin Gymnamsium
Winner Gets: District 6 third-place finisher March 7 at a D9 site. Central Cambria and Bellwood-Antis play Friday night at Hollidaysburg.
Loser Gets: WPIAL runner-up March 7 at a WPIAL site. Aliquippa and Seton LaSalle play Saturday at 1 p.m.
Game Notes: Top-seeded Cranberry tries to win its first title since winning its only D9 championship in 2008 while Redbank Valley, playing in its second straight title game for the first time ever, tries to win its first championship since 1980. Despite being the top seed, Cranberry lost to Redbank Valley, 51-45, in New Bethlehem back on Feb. 7. The Berries split their two games with KSAC champion Clarion-Limestone while also losing to District 10 schools Cochranton and Titusville. The Bulldogs lost twice to C-L, Venango Catholic and District 10 teams Meadville and Erie Central. … It's the third meeting between the teams in the postseason. The Bulldogs beat the Berries (64-60) in the first round in 2006 while the Berries won (81-52) in the first round in 2005. … The Berries have three players averaging double figures in scoring: Janco Swart (12.7 ppg.), Jacob Creighton (11.4 ppg.) and Tim Swartzfager (11.0 ppg.). Swart and Swartzfager each scored 15 points in the loss to the Bulldogs. … Jake Dougherty (17.1 ppg.), Devin Shumaker (11.6 ppg.), Sam Heeter (9.9 ppg.) and Zach Westover (8.5 ppg.) are the top scorers for the Bulldogs. Dougherty scored 23 points in the win over Cranberry while Shumaker scored 13 points and Dalton Dougherty scored 12 points. … Since their meeting on Feb. 7, the Berries have played three games while the Bulldogs have played fourt games, three of them at Tippin. … Cranberry is 1-2 in championship games since entering D9. The Berries beat Kane in overtime, 55-48, in 2008 while losing to Brockway in the 2009 and 2013 finals. The Berries are 6-8 in the D9 postseason since starting with the district in 2005. … Redbank Valley is 14-13 in the district playoffs dating back to its first appearance in the 1974 postseason, including a 2-3 record in district finals. The Bulldogs lost to Brookville last year, Brockway in 1991 and Elk County Catholic in 1983 after beating Kane (68-56) in the 1980 finals. Their first championship game in 1975 in Class B when they beat Johnsonburg, 75-60, for the title. The Bulldogs qualified for states in 1991, 1980, 1979, 1975 and 1974. Their only state win came in 1979 as the third-place team out of the district when they beat Chestnut Ridge, 70-59.