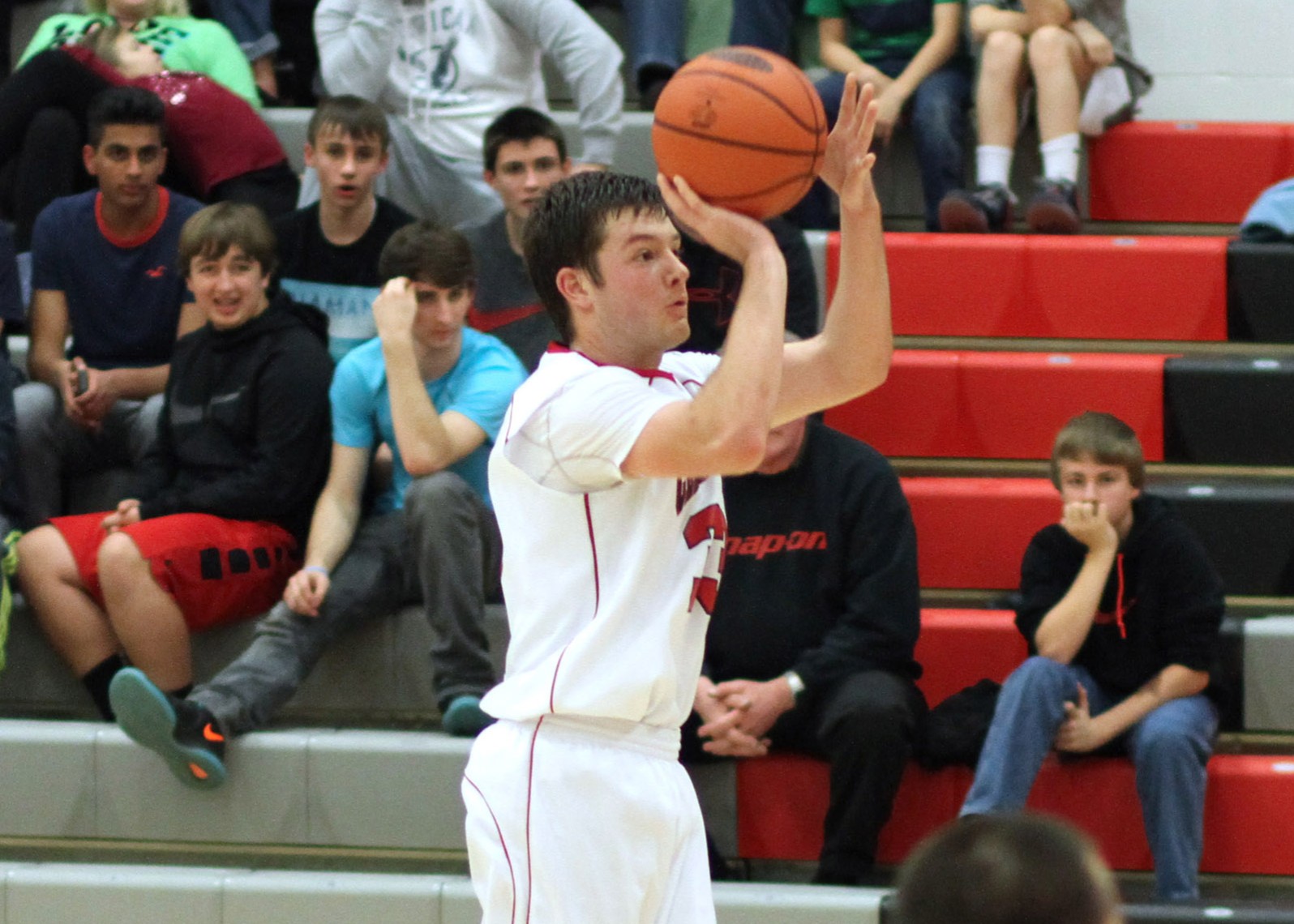 By Rich Rhoades
CLARION, Pa. — Will Myers came out firing on all cylinders and the rest of his teammates followed after that as the Clearfield Bison jumped out to a quick and big early lead en route to a 68-51 win over Obama Academy at Clarion Area High School Thursday night.
Avenging a 66-52 sub-regional loss last year to the same team, the 23-2 Bison land in the PIAA Class AAA state playoff bracket. They'll meet the WPIAL third seed — either New Castle or Mars — March 4 at a D9 site and time to be announced.
Myers lit it up early and often, scoring 15 of his team-high 22 points in the first quarter. He hit five of his seven first-quarter shots, four of them 3-pointers. His fourth three put the Bison up 15-3 by the 4:16 mark.
Myers ended up going 7-of-14 from the floor, including 5-of-11 from beyond the 3-point arc. The junior now sits at 992 career points.
Evan Brown didn't score a point in the first quarter but wound up with 19 points on 6-of-9 shooting and he was 4-of-6 from the 3-point line. Tommy Hazel finished with 15 points and seven rebounds and Cody Spaid, the team's lone senior starter, had eight points and a team-best 10 rebounds.
"For Will to come out and score 15 to start the game was huge," Bison head coach Nate Glunt said. "It was just a great team effort by the kids. Will was hot and cooled off and Evan stepped up and played an awesome game and Tommy Hazel was getting to the basket. Cody was a man in the first half, rebounding, getting to the post, taking his time. It just was a great team effort by the kids."
The Bison led from start to finish, leading by as many as 23 points in the first half before talking a 41-20 into halftime. Then a 9-2 run to start to the second half with the Bison hitting their first three 3-pointers from Myers and two from Brown gave Clearfield its largest lead of the game at 50-22 at the 6:14 mark of the third.
Clearly, the Bison were an improved team since last year's encounter especially since most of the playing rotation was back. Obama Academy (14-8) lost all but one starter to graduation. Still, Glunt knew what his team had to do to reverse the result.
"Being in this environment playing them last year was a great stepping stone," said Glunt, whose team had an ambitious off-season schedule. "We were in games where we've played teams better than us, so we were prepared for these situations."
The Bison commited just 13 turnovers and outrebounded Obama, 37-28.
"Two things we wanted to work on in the offseason was rebounding and ballhandling because that's how they beat us last year. Today it showed," Glunt said. "All week long we went 5 on 6 and 5 against 7 because we knew they were so quick with active hands and just handling their pressure. They get after it."
While the Bison were off to a hot start led by Myers, the Eagles were doing the opposite by missing 11 of their first 13 shots from the field. By halftime, they were 8-for-26 and the 21-point deficit was too much to overcome.
Dana Strothers led the Eagles with 18 points while Trez Jones scored 14 points on 6-of-9 shooting, 12 of those points coming after halftime. The Bison were able to defend well enough an Obama squad that attacked the basket hard all night. Obama was just 2-for-9 from the 3-point line despite being down big most of the game.
NOTES: The win over Obama was not a state playoff game, but a sub-regional matchup with the City League champions (District 8). However, it was just the second post-district win for Clearfield in program history. The only state playoff win for the Bison came back in 1989 when they beat Penn Hills 63-51 in the first round of the Class AAAA playoffs. … They are now 2-13 lifetime in post-district games, 1-12 in actual state playoff games.
CLEARFIELD 68, OBAMA ACADEMY 51
Score By Quarters
Obama      5    15   14   17 – 51
Clearfield 19   22  12   15 – 68
Obama Academy – 51
Trez Jones 6-9 2-3 14, Isaiah Prentice 2-8 0-0 5, Dana Strothers 8-17 2-2 18, Malik Fields 1-3 0-0 2, Nasir Tatum 2-6 0-0 5, Joseph Charlton 0-4 0-2 0, Sam Farley 1-4 1-3 3, DaMon Macklin 0-2 0-0 0, Brandon Matthews 2-2 0-0 4. Totals: 22-55 5-10 28.
Clearfield – 68
Evan Brown 6-9 3-5 19, David McKenzie 0-1 1-2 1, Tommy Hazel 5-12 4-4 15, Wil Myers 7-14 3-5 22, Cody Spaid 2-6 4-4 8, Carter Wood 0-0 0-0 0, Johny Gates 0-0 0-0 0, Ethan McGinnis 0-0 0-0 0, Jake Sorbera 0-0 0-0 0, Sammy Evans 1-1 0-0 2, Wyatt Porter 0-0 0-0 0, Caleb Strouse 0 1-2 1. Totals: 21-44 16-22 68.
3-pointers: Clearfield 10-23 (Brown 4-6, Hazel 1-5, Myers 5-11, Spaid 0-1), Obama Academy 2-9 (Jones 0-1, Prentice 1-4, Strothers 0-2, Tatum 1-1, Macklin 0-1). Rebounds: Clearfield 37 (Spaid 10), Obama Academy 28 (Tatum and Charlton, 10). Turnovers: Clearfield 13, Obama Academy 12.