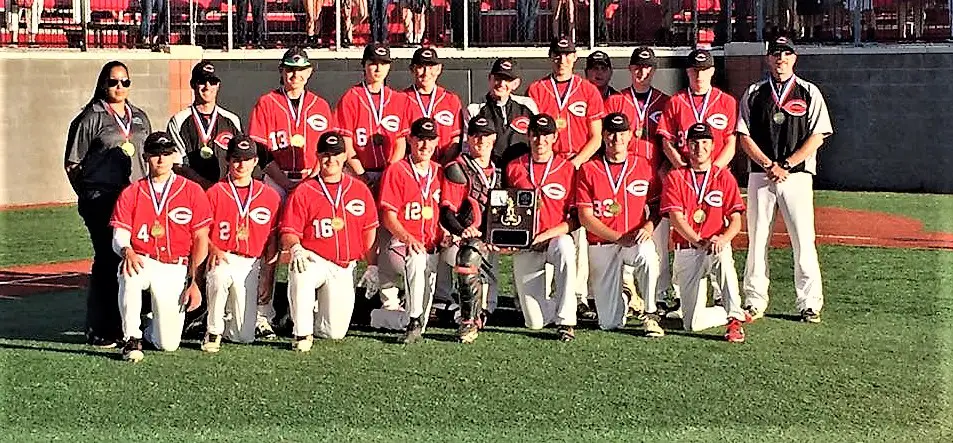 By Cory Geer
DUBOIS, Pa. – The Clearfield Bison banged out 13 hits to defeat the Bradford Owls 12-2 in six innings at Showers Field in Dubois for their first District 9 championship since 2003.
(Cover photo and team photos below by Cory Geer)
"It is gratifying," said Clearfield head coach Sid Lansberry, who won a D9 title for the 14th time in his long tenure as the Bison manager. "It has been a while since we won a district title. It is a big deal for these kids, and it is a big deal for our coaching staff.
The six through nine hitters for the Bison were the story of the Class 4A title game. The bottom of the order combined to go 6-for-12 with nine RBIs.
"That is the sign of a good team one through nine," said Lansberry.
Clearfield was led by their first baseman Seth Bumbarger. Bumbarger went 2-for-4 on the day with five RBIs.
"It felt really good," Bumbarger said. "I haven't had a game like that since the beginning of the year. It feels a lot better than last year when we finished runner-up."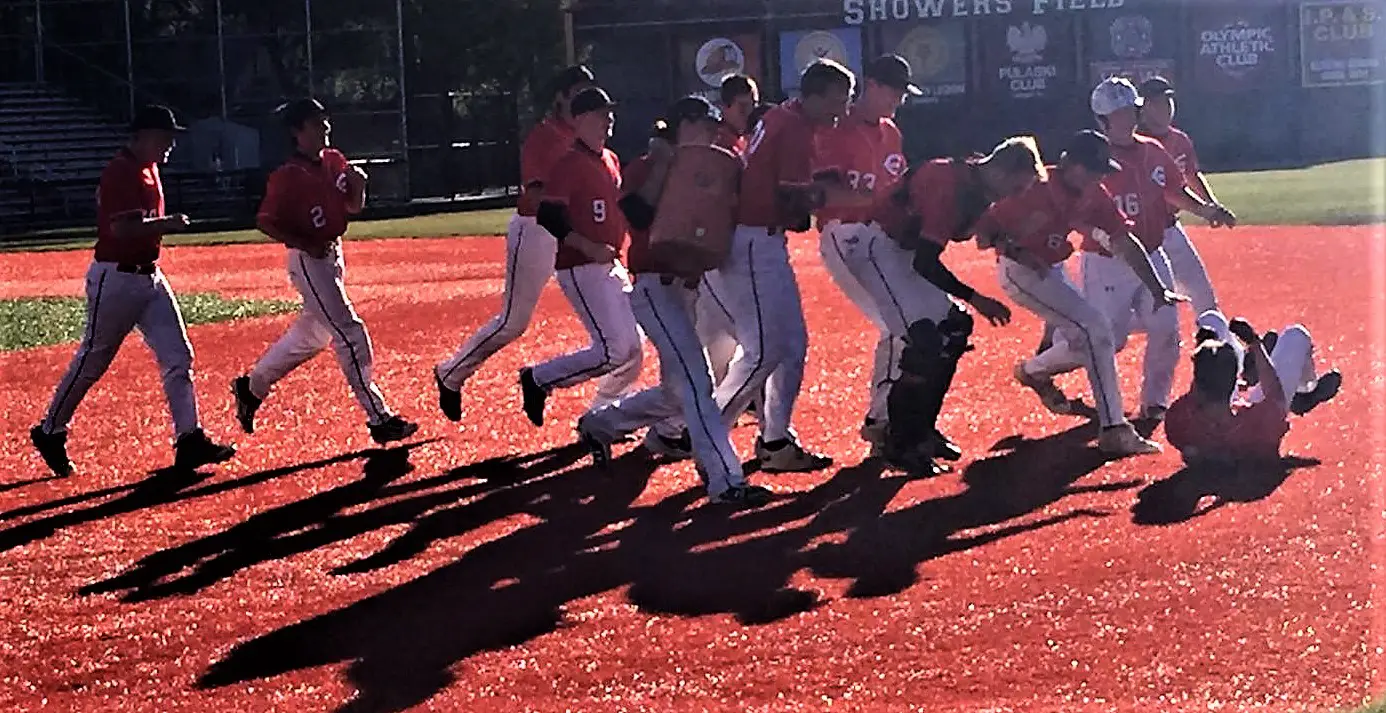 The winning pitcher for the Bison was Jake Sorbera who went five innings giving up three hits and two runs. Sorbera also struck out six while walking five Bradford hitters.
"It feels great to be the (first) winning pitcher for Clearfield in a district title game in a long time," said Sorbera.
Lansberry thought that Sorbera did well on the mound other than some control issues.
"I thought (Sorbera) did a super job on the mound today," said Lansberry. "Sorbera did what we needed him to do. He gave us five innings"
After falling behind 1-0 in the top of the first after a Danny Manion double off the right-field line scored Caleb Nuzzo, who walked with one out, Clearfield responded immediately in the bottom of the inning.
Reese Wilson singled then Zane Morgan singled to Bradford right field with Owls right fielder Jake Pecora, trying to throw Wilson out going to third. But the throw wasn't on time with Morgan advancing to second.
With runners on second and third, Tommy Hazel hit the ball to Bradford's shortstop Tyler Gigliotti who made an errant throw allowing Hazel to reach and Wilson to score.
Lansberry said he thought it was important for his team to get on the board and even it up early.
Manion was able to work his way out of the jam without further damage thanks to a sharp line out to Gigliotti and a weak grounder to second baseman Kyle Kirk.
The reprieve was short-lived, as the Bison added three more runs in the third to take the lead before breaking things open with a five-run fifth.
Zane Morgan drew a leadoff walk in the third, and Hazel followed with a single before Eli Glass moved the runners up 90 feet with a perfect sacrifice bunt. Ty Bender then walked to load the bases for Will Myers, who cashed in on the opportunity hitting a sacrifice fly scoring Morgan, giving Clearfield their first lead of the game.
Bumbarger got his big day started hitting a two-out double scoring Bender and Hazel to make it 4-1 Clearfield.
Heading to the fourth inning, Mother Nature got in the way causing a 35-minute delay due to lightning in the area.
After the delay, Bradford cut the Clearfield lead to two thanks to a leadoff walk issued to Kirk, a wild pitch and a run-scoring double by Gigliotti.
But that was as close as the Owls got thanks to the five-run bottom of the fourth by Clearfield, who sent 10 guys to the plate in the inning.
Three walks – one to Wilson, one to Hazel and one to Glass – ended Manion's day. His final line was 3 ⅓ innings, eight hits, eight runs, six earned runs, four walks and two strikeouts.
Kirk replaced Manion with the bases loaded, and he also couldn't find the strike zone issuing back-to-back walks to Bender and Myers to make it 6-2 Bison.
Bumbarger then grounded into a fielder's choice to bring home Hazel, and Will Myers scored on an errant throw from Bradford's Guay to make it 8-2. Allan Myers then delivered the final blow of the inning singling to bring home Will Myers to make it 9-2.
Clearfield walked it off in the sixth due to the 10-run mercy rule thanks to a Thayne Morgan single scoring Bumbarger to make it 12-2.
The Bison (15-7) will take on South Park, the WPIAL runner-up, in the PIAA playoffs Monday at a site and time to be determined.
Bradford ends its season at 8-13.
CLEARFIELD 12, BRADFORD 2, SIX INNINGS
Score by Inning
Bradford 100 100 – 2
Clearfield 103 503 – 12
BRADFORD – 2
Tyler Gigliotti ss 3011, Caleb Nuzzo c 3100, Dan Manion p/1b 3011, Jake Pecora rf 3000, Peyton Manion 1b/2b 3010, Tom Guay 3b 2000, Kyle Kirk 2b/p 1100, Patrick Caskey dh 2000, Adam Cary lf 3000. Totals 23-2-3-2.
CLEARFIELD – 12
Thayne Morgan 2b 5131, Reese Wilson cf 4220, Zane Morgan c 5110, Tommy Hazel lf/p 3211, Eli Glass 3b 2101, Ty Bender rf 2211, Will Myers ss 2222, Seth Bumbarger 1b 4125, Alan Myers dh 4011, Totals 31-12-13-12.
LOB: Bradford 9. Clearfield 7. Errors: Bradford 3 Clearfield 1 2B: Gigliotti, Peyton Manion, Danny Manion, Bumbarger. SAC: Glass. SF: Will Myers. SB: Hazel.
PITCHING
Bradford
Danny Manion 3.1 IP, 8 H, 8 R, 6 ER, 4 BB, 2 K, 0 HP
Kyle Kirk 2.1 IP, 5 H, 4 R, 4 ER, 2 BB, 0 K, 0 HP
TOTALS: 5.2 IP, 13 H. 12 R. 10 ER, 6 BB, 2 K, 0 HP
Clearfield
Jake Sorbera 5 IP, 2 H, 2 R, 2 ER, 5 BB, 6 K, 1 HP
Tommy Hazel 1 IP, 1 H, 0 R, 0 ER, 0 BB, 1 K, 0 HP
TOTALS: 6 IP, 3 H, 2 R, 2 ER, 5 BB, 7 K, 1 HP
Winning Pitcher: Jake Sorbera
Losing Pitcher: Dan Manion