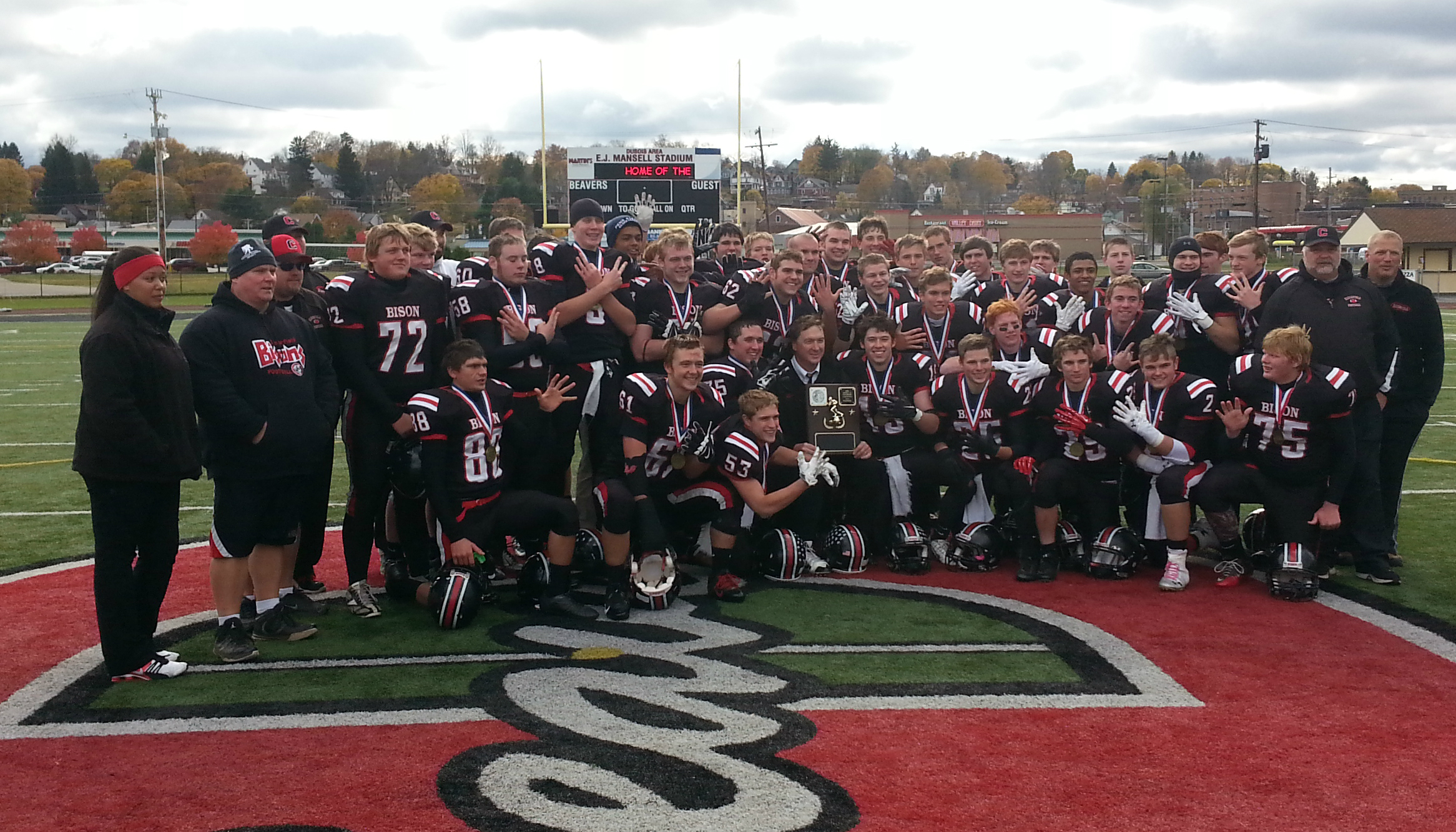 By Chris Rossetti
DUBOIS, Pa. – Behind a pair of touchdowns each from Erik Sellers and Ryan Lezzer and one from Seth Caldwell, Clearfield captured its fifth straight District 9 Class AAA title with a 35-8 win over Punxsutawney Saturday afternoon at DuBois' Mansell Stadium.
Sellers (23 carries, 142 yards, 2 touchdowns) and Caldwell (16 carries, 92 yards) combined to run for 234 yards and three touchdowns, while Lezzer (2 catches, 82 yards) took the only two Bison completed passes of the day to the house. The title was Clearfield's fifth and six years and the 12th District 9 title in school history with 11 of them coming in Class AAA.
Here is what Clearfield head coach Tim Janocko had to say after the game.
The flawless game in the first half Janocko was referring to included the Bison exploding for 35 first-half points, including two touchdowns in the final 51.6 seconds of the half, to put the Mercy Rule into action at halftime with a 35-0 lead as well as Clearfield' defense limiting Punxsutawney to 43 yards of offense – one rushing –  in the half (The Chucks had 92 for the game with no offensive touchdowns).
Clearfield wasted little time making its mark scoring on the game's second offensive play when Cody Spaid hit Lezzer in stride for a 55-yard score that put the Bison ahead 7-0 22 seconds into the game.
The score remained 7-0 until late in the first quarter when Seller's scored on 1-yard run to put Clearfield ahead 14-0 going to the second quarter.
The Bison then put the game away with a soul-beating 13-play, 57-yard drive that ate up seven minutes off the clock and was capped by a 23-yard Caldwell touchdown to make it 21-0 with 6:07 left in the first half.
Clearfield then made sure the second-half clock would be a running one when Sellers scored on a 5-yard run with 51.6 seconds left in the half, and then Lezzer scored on a 27-yard pass from Spaid 12 seconds later after Lezzer had recovered  Dakota Thomas fumble that was forced by R.J. Ward at the Punxsy 27.
Punxsutawney got its lone score when Braxton Giaviadoni returned the second-half kickoff 95 yards.
Despite the loss, Punxsutawney's season isn't over. The Chucks will join Clearfield in the District 5-6-8-9 Sub-Regional playoffs next week as the fourth-seed in the four-team bracket. Clearfield is the No. 2 seed. The Bison will host No. 3 Johnstown at 7 p.m. Friday night, while Punxsutawney will travel to top-seeded Somerset.
CLEARFIELD 35, PUNXSUTAWNEY 8
Score by Quarters
Punxsy 0 0 8 0 – 0
Clearfield 14 21 0 0 – 35
Scoring Summary
First Quarter
C – Ryan Lezzer 55 pass from Cody Spaid (Spencer Herrington kick), 11:38
C – Erik Sellers 1 run (Herrington kick), 2:31
Second Quarter
C – Seth Caldwell 23 run (Herrington kick), 6:07
C – Sellers 5 run (Herrington kick), 51.6
C – Lezzer 27 pass from Spaid (Herrington kick), 39.5
TEAM STATS
P STAT C
6 First Downs 15
22-24 Rushes-Yards 48-237
68 Passing Yards 82
6-14-0 Comp-Att-Int 2-7-1
92 Total Yards 319
4-2 Fumbles-Lost 0-0
3-24.0 Punts-Avg. 2-28.5
INDIV. STATS
Rushing – Punxsutawney: Perry Arrington 10-40, Dakota Thomas 10-negative 17, Travis Perry 1-1, Alex Young 1-0. Clearfield: Erik Sellers 23-142, Seth Caldwell 16-92, Corey Shimmel 4-1, Jake Wingate 2-2, Curtis Daub 1-2, Team 2-negative 2.
Passing – Punxsutawney: Dakota Thomas 6-for-14, 68 yards. Clearfield: Cody Spaid 2-for-7, 82 yards, 2 touchdowns, 1 interception.
Receiving – Punxsutawney: Braxton Giviadoni 3-52, Andrew Fedigan 2-11, Perry Arrington 1-5. Clearfield: Ryan Lezzer 2-82.
Interceptions – Punxsutawney: Blake Bizousky