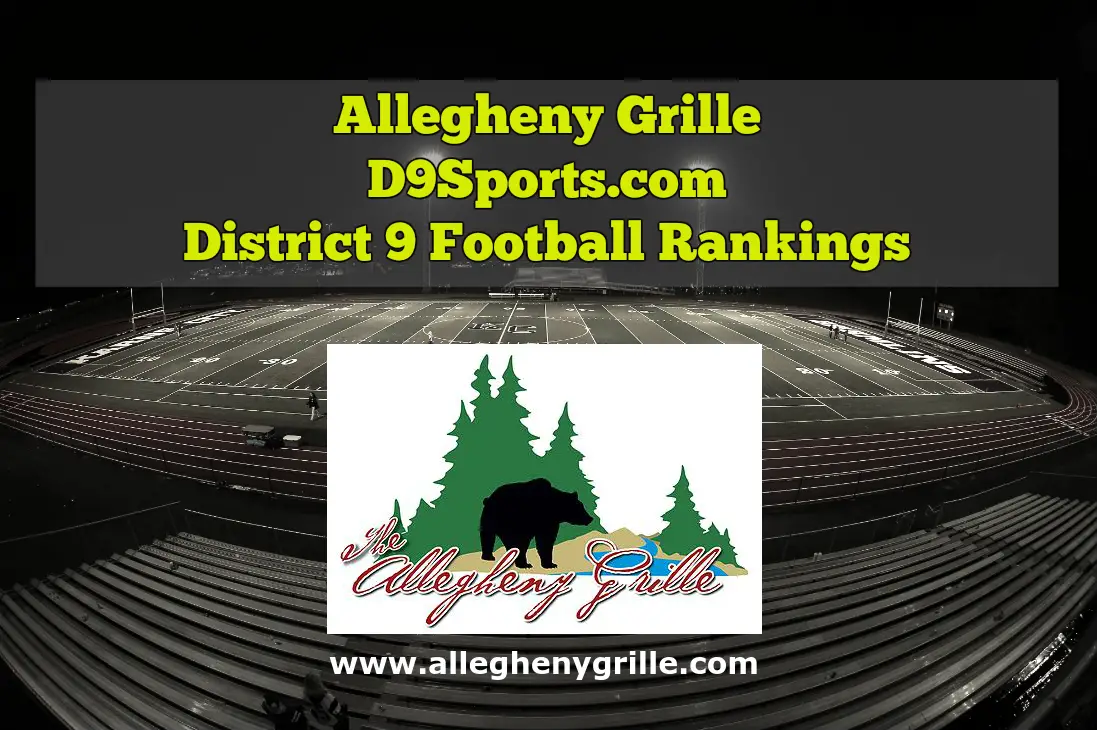 SHIPPENVILLE, Pa. – There is now a tie for the top spot in the Nov. 1 Allegheny Grille of Foxburg D9Sports.com District 9 Football Rankings.
Clearfield's come-from-behind victory over Karns City coupled with Kane's tougher-than-predicted win over Otto-Eldred in the AML Title game puts the Bison (9-1) and the Wolves (10-0) in a tie for the top spot.
For Clearfield, which has won nine straight, it's jump of two spots. Karns City (8-2), which saw an 8-game winning streak ends, drops one spot to No. 3, while Brockway (8-1), which was off last week, moved up a spot to No. 4. DuBois (6-4) falls to No. 5 after a loss to Hollidaysburg.
Clarion (8-1) remains at No. 6 with Ridgway (8-2) in at No. 7 and Clarion-Limestone (7-2) at No. 8. Elk County Catholic (6-3) jumps one spot to No. 9 after St. Marys (6-3) lost, 40-7 to Clarion pushing the Dutch to No. 10.
The playoffs get underway this week with one Top 10 matchup. Clarion travels to Brockway in a D9 2A semifinal contest.
The Allegheny Grille is a restaurant situated alongside the Allegheny River in Foxburg with breathtaking views, stellar service and fine cuisine. It's open daily at 11 a.m. and on Sunday's features the "Best Brunch in Town" from 11 a.m. to 4 p.m. It's the perfect spot for your luncheons, dinner, meetings, wedding or anything your heart desires. For more information or to make a reservation, call the Allegheny Grille at 724-659-5701 or visit it on the web at www.alleghenygrille.com.
| | | | |
| --- | --- | --- | --- |
| RANK | TEAM | RECORD | LAST WK |
| 1(t) | Kane | 10-0 | 1 |
| 1(t) | Clearfield | 9-1 | 3 |
| 3 | Karns City | 8-2 | 2 |
| 4 | Brockway | 8-1 | 5 |
| 5 | DuBois | 6-4 | 4 |
| 6 | Clarion | 8-1 | 6 |
| 7 | Ridgway | 8-2 | 7 |
| 8 | Clarion-Limestone | 7-2 | 8 |
| 9 | Elk County Catholic | 6-3 | 10 |
| 10 | St. Marys | 6-3 | 9 |