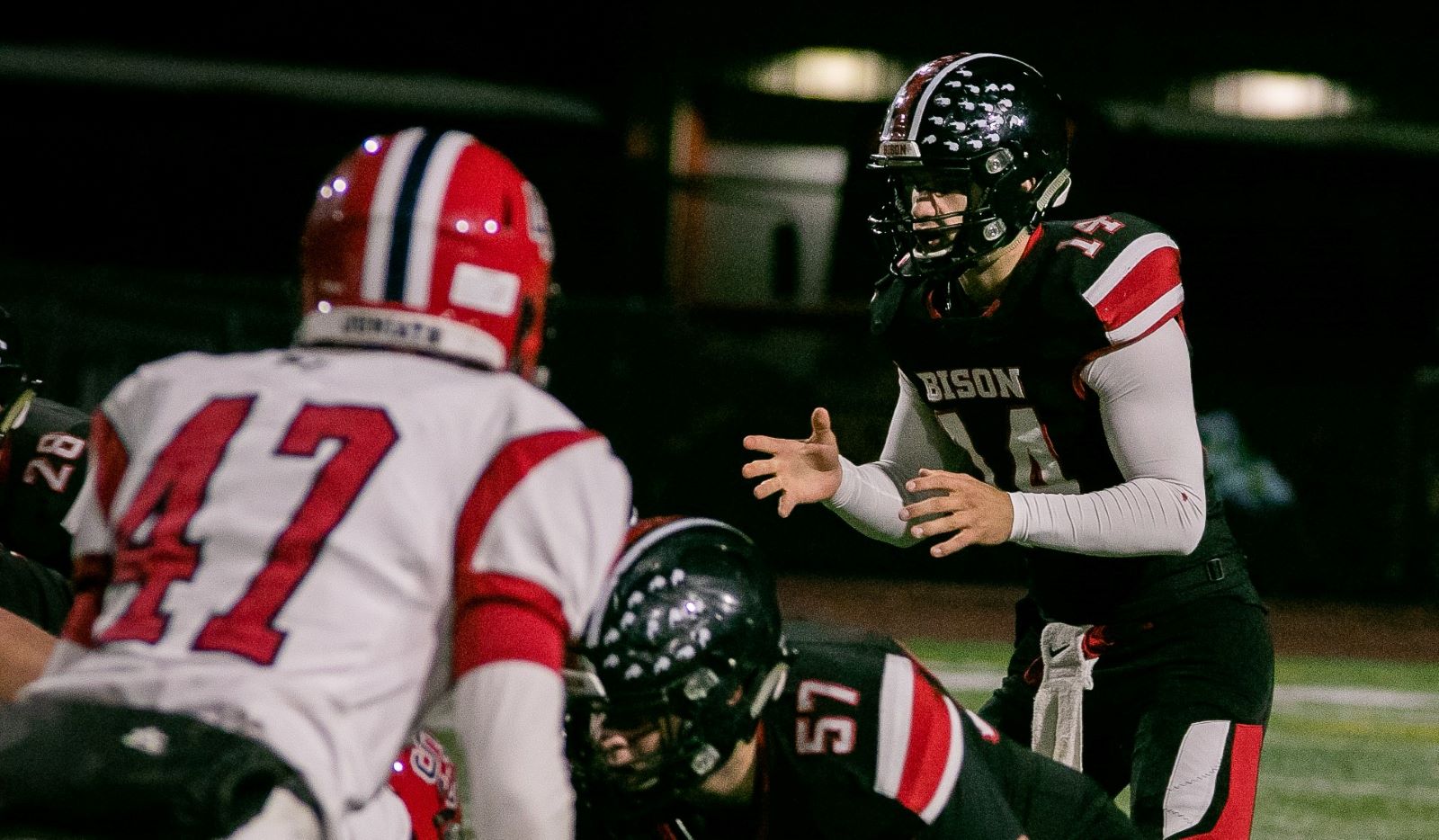 WINGATE, Pa. – A rematch from a late September game will determine the District 6-9 Class 4A title Friday night when second-seeded Clearfield meets top-seeded Bellefonte at 7 p.m. at Bald Eagle Area High School.
(Photo of Clearfield's Oliver Billotte. Photo by Jared Bakaysa of JB Graphics. See more of Bakaysa's work here)
Click here for the Class 1A and Class 2A semifinal previews
The game is a rematch of a Sept. 27 game at Bellefonte won by the Raiders, 28-19, in a game Clearfield led, 19-15, at halftime.
Clearfield (9-2) is led by sophomore quarterback Oliver Billiotte and senior running back Brett Zattoni.
Billotte is 111 of 197 passing for 1,768 yards, 16 touchdowns and six interceptions while also rushing 102 times for 387 yards and 13 scores.
Zattoni is closing in on a 1,000-yard season on the ground having rushed 158 times for 937 yards and 12 yards.
With Jake Lezzer having been lost for the year with a knee injury, Matt Pallo is the leading receiver with 25 catches for 483 yards and six touchdowns. Nick Domico adds 14 catches for 181 yards and two scores.
Domico is the leading tackler for the Bison with 77 tackles, while Ian Billotte adds 39 stops, Allan Myers 33 stops and Oliver Billotte 31 tackles.
Ian Hetisenrether has a team-high 6.5 sacks with Myers adding 5.5 sacks. Pallo is the active team-leader with two interceptions.
Bellefonte (8-2) is paced by running back C.J. Funk and quarterback Ethan Rossman.
Funk has rushed for 1,255 yards and 13 touchdowns on 107 carries, while Rossman is 56 of 117 passing for 903 yards, 11 touchdowns and three interceptions. Rossman has added 483 yards and three touchdowns on the ground.
Trae Bauman is the leading receiver for the Raiders with 15 catches for 349 yards and five touchdowns, while Mason Grey adds 12 catches for 304 yards and three scores.
In Bellefonte win's over Clearfield in September, Funk ran 14 times for 137 yards and a touchdown while Rossman was 7 of 8 passing for 137 yards and three touchdowns. Grey caught two passes for 70 yards and two touchdowns.
For Clearfield, Oliver Billotte was 14 of 32 for 152 yards, a touchdown and an interception. He also carried the ball 15 times for 44 yards. Zattoni had 19 carries for 60 yards and a score, while Domico caught five passes for 56 yards and a touchdown.
NOTES: Clearfield advanced to the title game with a 35-7 win over Juniata in the semifinals. Bellefonte had a bye into the title game … The winner plays the winner of the Erie Cathedral Prep vs. University Prep in the PIAA playoffs … Clearfield won the 4A title last year with a 49-21 win over Bellefonte … Bellefonte won the 4A title in 2017 with a 34-12 win over Johnstown … Clearfield has won 15 District titles going 15-10 in District title games. Most of those titles have come in even years with the Bison going 11-4 in title games in even years but just 4-6 in odd years … Clearfield head coach Tim Janocko is the winningest coach in District 9 history with 284 wins. He is 284-111-3 in his 35th season at the school.