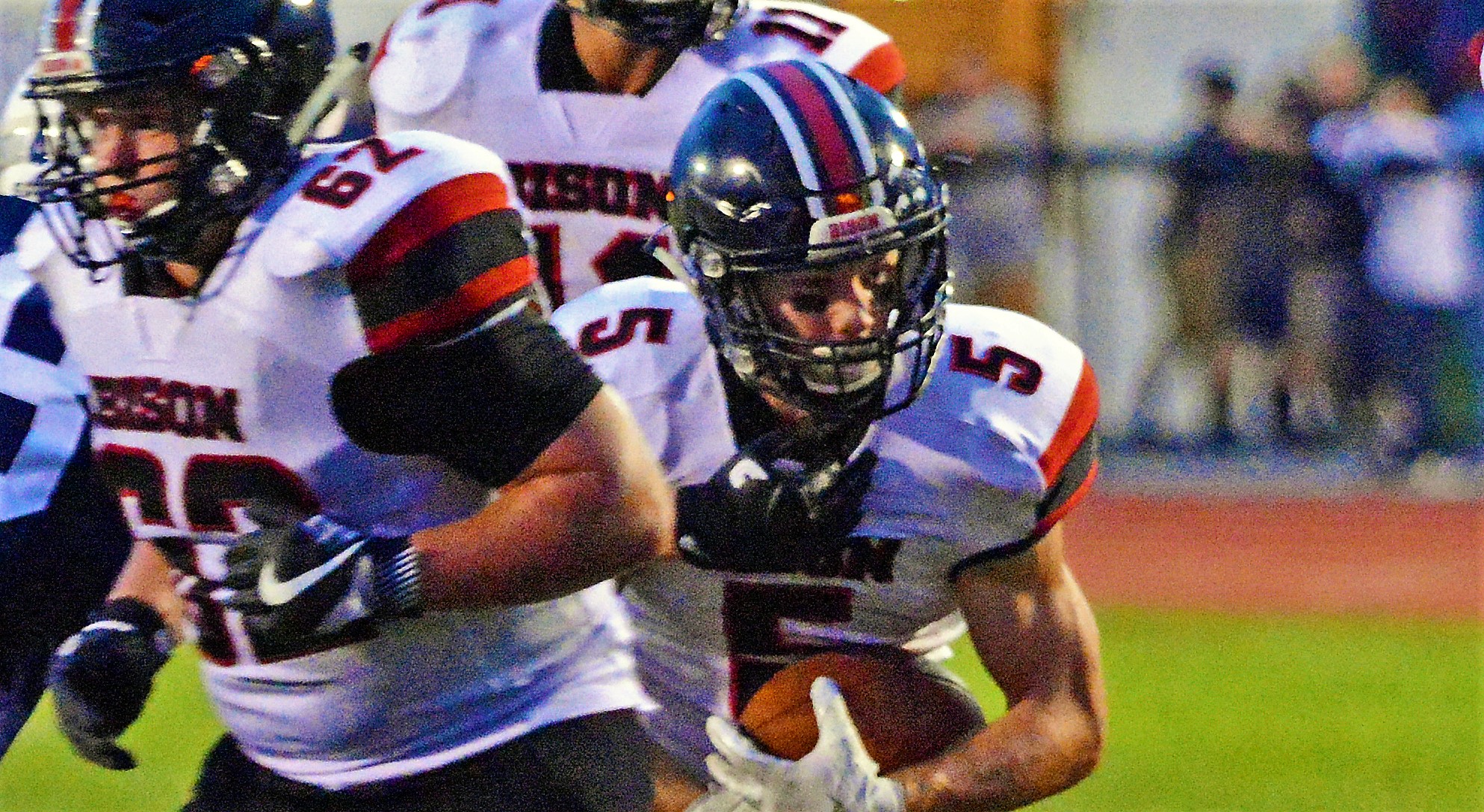 SHIPPENVILLE, Pa. -Setting career highs for rushing yards and touchdowns, Clearfield's Caleb Freeland is the Week One 2018 D9Sports.com District 9 Football Player of the Week.
(Photo by Logan Cramer III)
Freeland rushed 16 times for 132 yards and five touchdowns in the Bison's 56-42 win at Penns Valley that ran Clearfield's record to 2-0 on the season.
Freeland is joined by 15 players on the District 9 Honor Roll for Week One including teammates Jake Lezzer and Isaac Rumery.
The Player of the Week and Honor Roll honors will continue through the conclusion of the regular season.
D9SPORTS.COM PLAYER OF THE WEEK
Caleb Freeland – Clearfield: 16 carries, 132 yards, 5 touchdowns – Clearfield 56, Penns Valley 42
D9SPORTS.COM HONOR ROLL
Donny Pattison – Bradford: 13 carries, 151 yards, 1 touchdown; 3 catches 42 yards; 5 tackles, 1 tackle for a loss, 3 quarterback hurries- Bradford 14, St. Marys 2
Jon Wood – Brockway: 13 carries, 112 yards, 1 touchdown; Returned two kickoffs for touchdowns – Brockway 28, Brookville 25
Cabe Park – Brookville: 10 catches, 196 yards, 3 touchdowns – Brockway 28, Brookville 25
Archer Mills – Clarion: 10 of 15 passing, 191 yards, 4 touchdowns; 3 carries, 6 yards – Clarion 34, Moniteau 14
Jake Lezzer – Clearfield: 5 catches, 121 yards, 1 touchdown; Returned a kickoff 82 yards for a touchdown – Clearfield 56, Penns Valley 42
Isaac Rumery – Clearfield: 13 of 16 passing, 272 yards, 1 touchdown; 10 carries, 62 yards, 1 touchdown – Clearfield 56, Penns Valley 42
Stephen Kelly – Coudersport: 23 carries, 161 yards, 2 touchdowns – Coudersport 28, Elk County Catholic 6
Cole Bressler – Curwensville: 4 carries, 78 yards, 2 touchdowns; Recovered a fumble for a touchdown – Curwensville 58, Cameron County 6
Anthony Kamenski – Karns City: 8 of 12 passing, 150 yards, 1 touchdown; 6 carries, 50 yards, 1 touchdown – Karns City 42, Punxsutawney 22
Nick Weaver – Keystone: 18 carries, 101 yards, 2 touchdowns; Returned an interception 52 yards for a touchdown – Keystone 42, Port Allegany 24
Cody Wise – Moniteau: 19 carries, 137 yards, 2 touchdowns – Clarion 34, Moniteau 14
Jared Mahon – Port Allegany: 9 carries, 43 yards, 1 touchdown; 2 catches, 26 yards, 1 touchdown; Returned a kickoff 64 yards for a touchdown – Keystone 42, Port Allegany 24
Dylan Ishman – Punxsutawney: 15 of 28 passing, 215 yards, 3 touchdowns; 5 carries, 21 yards – Karns City 42, Punxsutawney 22
Daunte Allegretto – Ridgway: 2 catches, 104 yards, 2 touchdowns – Ridgway 34, Kane 6
Grant Ognen – Smethport: 11-for-20 passing, 147 yards, 2 touchdowns – Smethport 27, Clarion-Limestone 18
2018 PLAYERS OF THE WEEK
Week Zero: Jack Krug, Brookville
Week One: Caleb Freeland, Clearfield
Week Two: TBA
Week Three: TBA
Week Four: TBA
Week Five: TBA
Week Six: TBA
Week Seven: TBA
Week Eight: TBA
Week Nine: TBA