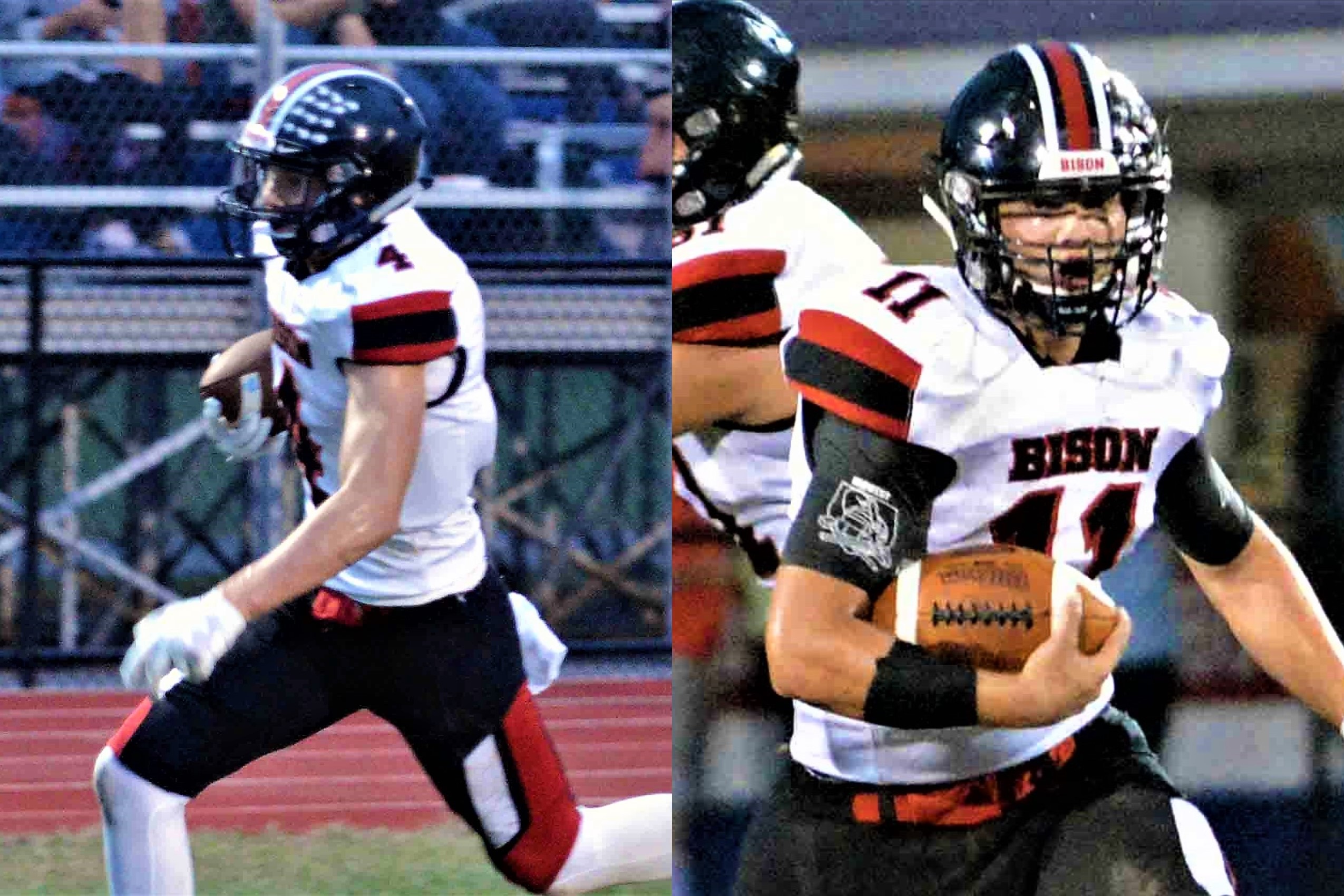 SHIPPENVILLE, Pa. – Rumery to Lezzer has become a key phrase in the 2018 Clearfield offense, and that connection helped earn the Bison duo the Week Three 2018 D9Sports.com District 9 Co-Football Player of the Week award.
(Photo: Jake Lezzer (left) and Isaac Rumery (right) of Clearfield. Photos by Logan Cramer III)
Rumery accounted for over 400 yards of total offense in Clearfield's 42-21 road win over Huntingdon passing for 294 (13 of 22) yards and three touchdowns and running for 112 yards and two touchdowns on 14 carries. He added four tackles.
Lezzer caught over half of Rumery's tosses (seven) for 219 yards and two touchdowns and was also a standout on defense with four tackles and an interception.
Joining Lezzer and Rumery in being honored this week are 15 players on the District 9 Honor Roll for Week Three.
The Player of the Week and Honor Roll honors will continue through the conclusion of the regular season.
D9SPORTS.COM PLAYER OF THE WEEK
---
Jake Lezzer – Clearfield: 7 catches, 219 yards, 2 touchdowns; 4 tackles; 1 interception – Clearfield 42, Huntingdon 21
Isaac Rumery – Clearfield: 13 of 22 passing, 294 yards, 3 touchdowns; 14 carries, 112 yards, 2 touchdowns; 4 tackles – Clearfield 42, Huntingdon 21
D9SPORTS.COM HONOR ROLL
---
Peter Downer – Brockway: 9 of 15 passing, 171 yards, 3 touchdowns; 1 interception; 5 carries, 27 yards, 1 touchdown – Brockway 28, Kane 6
Logan Minich – Clarion: 21 carries, 182 yards, 2 touchdowns; 2 catches, 14 yards, 1 touchdown; 3 tackles – Clarion 28, Brookville 15
Austin Newcomb – Clarion-Limestone: 30 carries, 147 yards, 1 touchdown; Returned a kickoff 85 yards for a touchdown – Clarion-Limestone 34, Coudersport 22
Ayden Wiles – Clarion-Limestone: 18 carries, 71 yards, 2 touchdowns; Recovered a fumble for a touchdown – Clarion-Limestone 34, Coudersport 22
Alex Kovalyak – DuBois: 12 of 25 passing, 202 yards, 2 touchdowns – DuBois 27, Franklin 24
Eric Schneider – DuBois: 8 carries, 98 yards, 2 catches, 77 yards; Had the game-sealing interception in the end zone with 30 seconds to play; Made 4 tackles – DuBois 27, Franklin 24
Taylor Altman – Keystone: 8 carries, 79 yards, 2 touchdowns; Returned a fumble 25 yards for a touchdown; 3 tackles – Keystone 46, Cameron County 0
Jayden Blazosky – Keystone: 2 interceptions; 2 tackles; 2 carries, 48 yards, 1 touchdown; 1 catch, 19 yards – Keystone 46, Cameron County 0
JD Dessicino – Moniteau: 14 tackles, 1 sack – Moniteau 20, Karns City 14
Cole Magee – Otto-Eldred: 3 catches, 59 yards, 1 touchdown; 5 carries, 34 yards; Returned a kickoff for a touchdown; Returned an interception for a touchdown; 9 tackles – Otto-Eldred 47, Union/A-C Valley 25
Cole Sebastian – Otto-Eldred: 13 of 23 passing, 198 yards, 3 touchdowns; 2 interceptions; 5 carries, 41 yards; Had a pick-6 on defense – Otto-Eldred 47, Union/A-C Valley 25
Carter Newcome – Punxsutawney: 7 catches, 124 yards; Returned fumble 36 yards for the eventual game-winning touchdown; Intercepted a pass – Punxsutawney 24, St. Marys 21
Aaron Pura – Ridgway: 3 tackles, 2 interceptions – Ridgway 28, Bradford 7
Damon Kelley – Ridgway: 8 tackles, 2 TFLs, 1 sack, 2 fumble recoveries – Ridgway 28, Bradford 7
Blake Kinner – Smethport: 13 carries, 171 yards, 1 touchdown – Smethport 20, Curwensville 7
2018 PLAYERS OF THE WEEK
---
Week Zero: Jack Krug, Brookville
Week One: Caleb Freeland, Clearfield
Week Two: Austin Newcomb, Clarion-Limestone
Week Three: Jake Lezzer and Isaac Rumery, Clearfield
Week Four: TBA
Week Five: TBA
Week Six: TBA
Week Seven: TBA
Week Eight: TBA
Week Nine: TBA