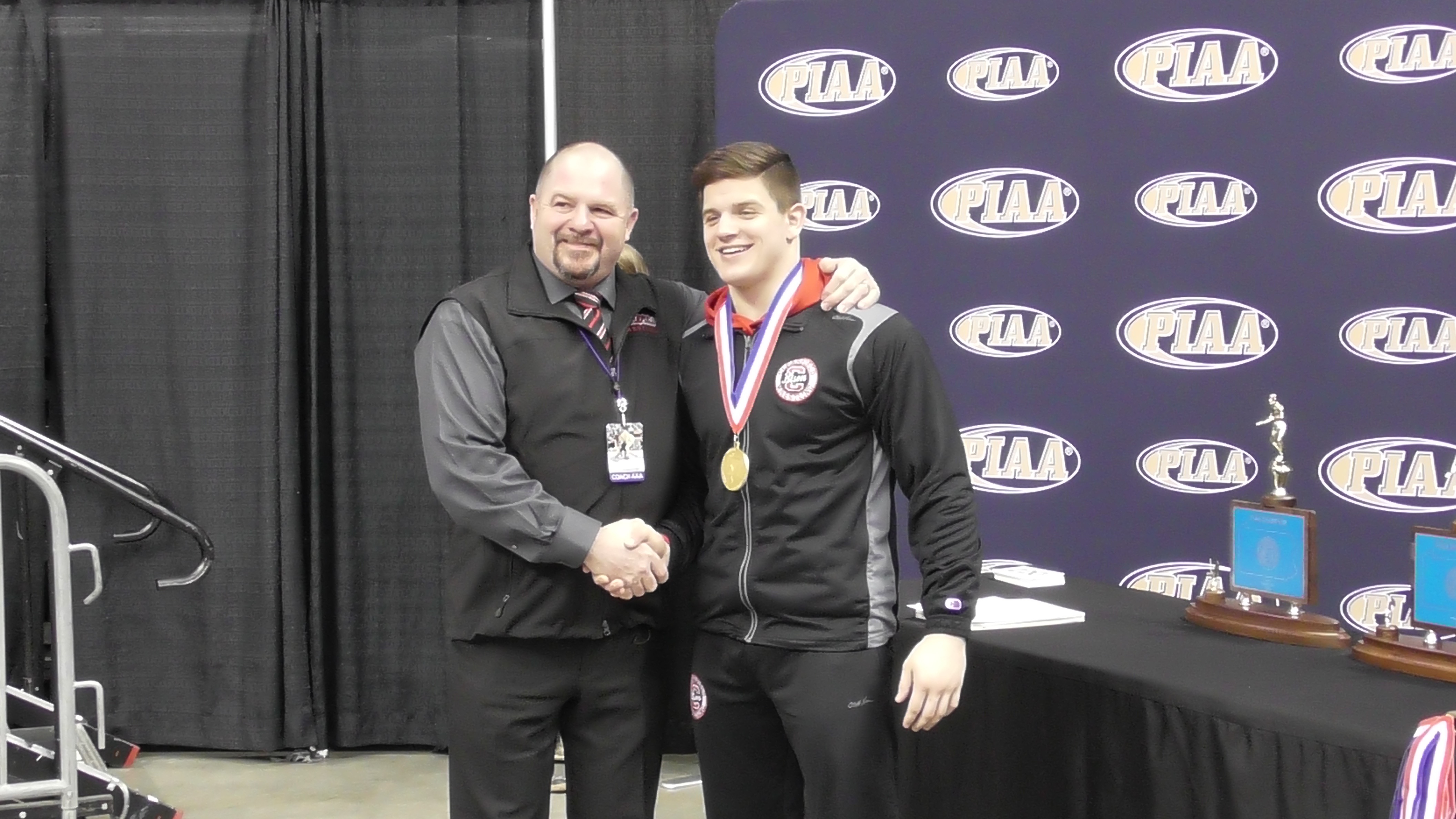 HERSHEY, Pa. (D9Sports) — Clearfield Bison senior Luke McGonigal capped his senior year in thrilling fashion, winning his first state title Saturday night at the PIAA Class 3A Championships.
McGonigal beat the wrestler, State College's Cole Urbas, that beat him last week at the Northwest Regional Tournament in Altoona. Urbas won a 1-0 decision that was McGonigal's only loss of the year.
But McGonigal wasn't going to let that happen when it mattered the most, throwing Urbas just 15 seconds into the first period and taking to his back that left the crowd roaring.

Urbas squirmed and turned for more than a minute, but McGonigal wasn't going to let go and he decked him in 1:37.
"We had all the faith in Luke getting it done," Bison head coach Jeff Aveni said. "When he lost last week, there was no aggression and you saw the difference tonight."
For McGonigal, who placed second a year ago, the championship was a fulfillment of a proclamation he made when he was in the third grade.
"Coach Squires was one of my third-grade teachers and he wanted us to set some goals. Some of the kids said they wanted to be astronauts or become doctors, but I said I wanted to be a state champ and today it happened.
"I'm so thankful to everyone that helped make this happen, to God, to my family, my coaches, my teachers, all their support."
McGonigal is a four-time state qualifier and four-time District 9 champ. He ended his career at 135-20.
He is coach Aveni's fourth state champ. Brad Pataky, Matt Kyler and Sean Owen each won during their junior years. McGonigal is the first Bison senior to end his career as a state champ.
The Bison will continue his wrestling career at Lock Haven University.
For DuBois Beavers senior Kolby Ho, his journey ended shy of a state title, but for one who only started wrestling in seventh grade, it's remarkable to place second in the state.
Ho faced one of the better wrestlers in the country in Nazareth's Nick Sasso.
Sasso won his second straight state championship Saturday when he pinned Ho in 5:22 in the 145-pound finals.
The Ohio State recruit finished his high school career with a 180-11 record, including 47-1 this season. Sasso has also placed second and third at states.
For Ho, his best friend, Ed Scott, got him interested in wrestling in junior high. When Ho found out he was good at it, he began to work harder and get better.

Ho was a PIAA qualifier a year ago, but didn't medal. This year he had other plans.
"Kolby is probably the most athletically gifted wrestler we've ever had here," DAHS head coach Luke Bundy said. "This year, he put it all together.
"No one sees the 6 a.m. weightlifting sessions or the times he goes running by himself, all the hard work you have to put in to get to this level."
Ho is a three-time PIAA qualifier and his silver medal is his first. Ho ended his high school career with a 120-29 mark. He is also coach Bundy's first finalist.
Ho is going to continue his wrestling career at George Mason University.