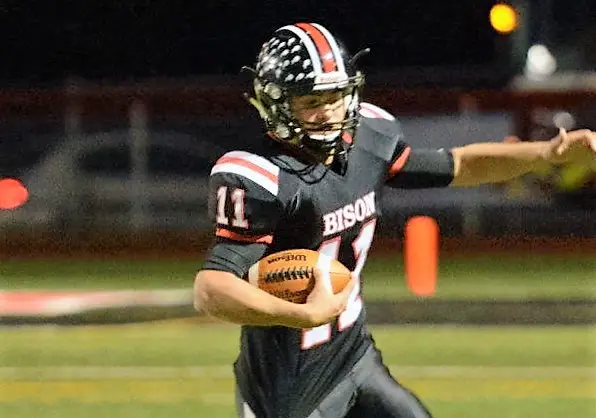 SHIPPENVILLE, Pa. – After twice rallying his team from two-touchdown deficits in a battle between two of the top teams in District 9, Clearfield's Isaac Rumery is the Week 9 D9Sports.com Football Player of the Week.
(Cover photo by Logan Cramer III)
Rumery, who earns the award for the second time this season, was 15-for-24 passing for 283 yards, three touchdowns and an interception in Clearfield's 35-28 win over visiting Karns City. The sophomore quarterback helped the Bison overcome deficits of 14-0 and 28-14. His two touchdown passes in the second half – one late in the third quarter and one early in the fourth quarter – erased the 28-14 disadvantage.
Joining Rumery on the District 9 Honor Roll are 15 players including his teammate, Micah Heichel, who caught the two late touchdown passes and DuBois' receiver Kyle Hopson, who had his third straight 200-yard receiving night while breaking the D9 records for single-season receptions and single-season receiving yards.  
This is the final week of the Player of the Week and Honor Roll, as the regular season has now concluded.
D9SPORTS.COM PLAYER OF THE WEEK
Isaac Rumery – Clearfield: 15-for-24 passing, 283 yards, 3 touchdowns, 1 interception; Twice rallied Bison from 2-touchdown deficits including a 28-14 deficit late in the third quarter – Clearfield 35, Karns City 28
D9SPORTS.COM HONOR ROLL
John Eakin – Bradford: 11 carries, 195 yards, 5 touchdowns; 1 catch, 81 yards, 1 touchdown – Bradford 56, Warren 22
Brandon McGranor – Brookville: 15 carries, 149 yards, 3 touchdowns – Brookville 49, Keystone 22
Seth Ray – Brookville: 13-for-16 passing, 198 yards, 2 touchdowns, 1 interception; 7 carries, 16 yards, 1 touchdown – Brookville 49, Keystone 22
Ty Burford – Clarion: 3 catches, 64 yards, 3 touchdowns – Clarion 40, St. Marys 7
Spencer Miller – Clarion: 7-for-9 passing, 126 yards, 4 touchdowns; 2 carries, 14 yards, 1 touchdown – Clarion 40, St. Marys 7
Mike Macefe – Clarion-Limestone: 27 carries, 228 yards, 4 touchdowns; 4 catches, 39 yards, 1 touchdown – Clarion-Limestone 59, Punxsutawney 28  
Brendan Makray – Clarion-Limestone: 20-for-29 passing, 334 yards, 3 touchdowns – Clarion-Limestone 59, Punxsutawney 28
Micah Heichel – Clearfield: 8 catches, 114 yards, 2 touchdowns; Caught the two touchdowns in the second half to help Clearfield rally from a 28-14 deficit late in the third quarter – Clearfield 35, Karns City 28
Kyle Hopson – DuBois: 15 catches, 216 yards, 1 touchdown; Set D9's single-season receptions record and yards receiving mark during the game – Hollidaysburg 35, DuBois 21
Matt Miller – DuBois: 31-for-56 passing, 362 yards, 2 touchdowns, 1 interception – Hollidaysburg 35, DuBois 21
Erik DeLong – Kane: 33 carries, 254 yards, 2 touchdowns; 2 catches, 10 yards, 1 touchdown; Helped Kane to second straight AML Title – Kane 37, Otto-Eldred 26  
Tanner Wilson – Keystone: 9 catches, 111 yards, 1 touchdown; Returned an interception for a touchdown – Brookville 49, Keystone 22
Dylan Close – Otto-Eldred: 13 catches, 171 yards, 3 touchdowns – Kane 37, Otto-Eldred 26
Sawyer Drummond – Otto-Eldred: 21-for-30 passing, 232 yards, 4 touchdowns, 1 interception – Kane 37, Otto-Eldred 26
Stone Smith – Punxsutawney: 5 carries, 132 yards, 2 touchdowns – Clarion-Limestone 59, Punxsutawney 28
2016 PLAYERS OF THE WEEK
Week Zero: Braden Paulinellie, DuBois
Week One: Nick Stewart, Curwensville
Week Two: Isaac Rumery, Clearfield
Week Three: Sam Leadbetter, Clarion-Limestone
Week Four: Hunter Miller, Brockway and Michael McCloskey, Clarion
Week Five: Erik DeLong, Kane
Week Six: Chandler Turner, Karns City and Kevin Evans – Sheffield
Week Seven: Kyle Hopson, DuBois
Week Eight: Davis Gardner, Kane  
Week Nine: Isaac Rumery, Clearfield