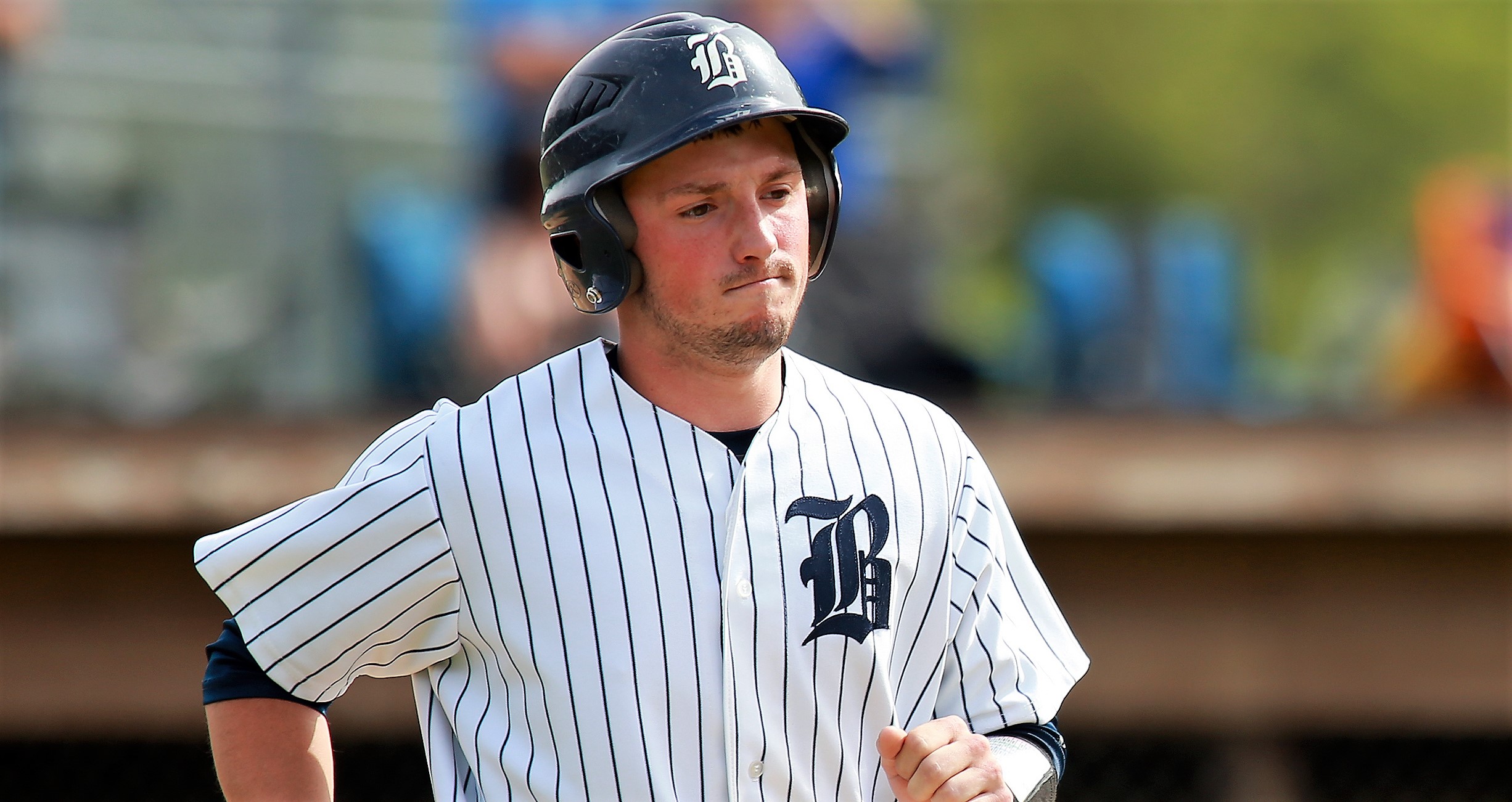 By Cory Geer
PUNXSUTAWNEY, Pa. – The clock struck midnight Monday at Rich Kuntz Memorial Field in Punxsutawney for the Brookville Raiders Cinderella story, as Bishop McCort defeated Brookville 10-3 to advance to the PIAA 2A championship game for the second straight season.
(Cover Photo: Ben Caun was one of the two seniors for Brookville this year. Photo by Paul Burdick. Check out more of Burdick's work here)
With Brookville being such a young team featuring only two seniors, Raiders manager Bruce Ferry said he hopes his team can learn from this run in the future.
"This is something that we need to learn from in the future," Ferry said. "We let things snowball and at some point, if we buckled down, this could have been a different score."
With a run that Brookville was on, Ferry said he hopes this jump starts Raiders baseball as a whole.
"The people who are working within the Brookville Little League and Legion programs have started this already," Ferry said. "I think this is only the first wave of talent we are getting. I think this is a start of making baseball relevant in Brookville."
Bishop McCort ended the 2017 story with six runs combined in the second and third innings including a four-run third.
In the second, with one out, Anthony Cacciotti hit a sharp line drive to left field that Caun overran allowing Cacciotti to reach second.
An out later, Boston Bradley ripped a 2-1 fastball into right field for an RBI double, and Cameron Bunn pulled another fastball into left field for a base hit that didn't appear as if it was going to score Bradley, the third-base coach held him up, but Caun overthrew the cutoff man allowing Bradley to come home on the error.
Brookville seemed poised to answer right back in the bottom of the second when the Raiders loaded the bases with no outs when Aaron Park reached on an error, Caun walked and Tyler Park singled. But Dane Lyle hit a sharp ground ball to Zach Ramach, the third baseman who had made the error earlier in the inning, and Ramach fired the ball home to start a 5-2-3 inning-ending double play.
"We just couldn't get anything going," Ferry said. "If we could have gotten a few more plays this could have been a different game."
Bishop McCort broke the game open in the third scoring four runs thanks to two Brookville errors.
Bryce Kramer led off the inning with a double followed by a Chris Miller single to put runners on the corners. Miller took off for second base, and Lyle's throw skipped into center field allowing Kramer to score and Miller to advance to third.
McCort continued to pour it on adding two more runs thanks to a Kasper single and a Cacciotti double to make it 6-0.
Ben Reitz, one of the two seniors, took the loss for the Raiders pitching three innings, giving up six runs, four earned, on 10 hits.
"They were really tough outs," Ferry said. "We couldn't really put them away with two strikes. Ben is usually a strikeout pitcher, and we couldn't get them out. Give credit to them, they had good at bats and hit good pitches."
Brookville threatened to score again in the third.
After a one-out walk to Caun, McCort manager Chris Pfeil lifted starter Brenden Lavely in favor of Brett Seitz. Lavely finished the day going 3 1/3 innings surrendering one hit, zero runs and three walks while striking out two.
Seitz hit Tyler Park to put runners on first and second for Lyle, who popped up for the second out of the inning. Seitz then walked Brady Caylor to load the bases for the leadoff hitter Bryan Dworek. Dworek couldn't cash in on the opportunity, grounding out to end the inning for the Raiders.
Freshman Aaron Park, who had been solid all season, took over to start the fourth for Brookville. But Park was wild hitting or walking five of the first six batters he faced allowing the Crushers to tack on two more runs to make it 8-0.
In the fifth inning, the Raiders finally got on the board.
Seth Dunkle led off the inning with a single followed by an Aaron Park single to put runners on first and second for Caun, who doubled down the left-field line scoring Dunkle to cut the Bishop McCort lead to 8-1.
The Crushers added two more runs in the top of the seventh off Brookville's Dworek.
Ramach started things with a leadoff single, followed by a Bunn single to put runners on first and second bring up Ian Fleck, who walked to load the bases.
Kramer drove in Ramach reaching on an error, and Miller lined out to Dworek who snagged the line drive and threw it to second base to double off Kramer.
Down 10-1 heading into the bottom of the seventh inning, the Raiders didn't quit.
Aaron Park drew a leadoff walk, followed by a Reitz single and walk issued to Caun to load the bases for Tyler Park.
Tyler Park wore a fastball to bring in Aaron Park . Caylor drove in the final run for the Raiders on a sacrifice fly to make it 10-3 McCort.
"We haven't faced a lot of adversity in this run we've been on," Ferry said. "I'm proud of all of the kids."
Brookville, which went 9-11 in the regular season, finished the season 14-12 winning a district championship for the first time since 2012. Ferry said he will remember the group of kids who enjoyed being with each other and enjoyed playing baseball.
BISHOP MCCORT 10, BROOKVILLE 3
Score by Innings
Bishop McCort 024 200 2 – 10
Brookville 000 010 2 – 3
BISHOP MCCORT – 10
Bradly c 5121, Bunn 2b 4230, Fleck ss 3000, Kramer 1b 4132, Miller lf 2110, Leis pr 0100, Kasper cf 4112, Cannizzaro dh 3011, Cacciotti rf 4221, Ramach 3b 4120. Totals 33-10-15-7.
BROOKVILLE – 3
Dworek cf/P 4010, Dunkle ss 4110, Labenne 1b 4000 Aaron Park 3b/p 3110, Reitz p/3b 4110, Caun lf 1011, Tyler Park rf 1011, Lyle c 4000, Caylor 2b 1001. Totals 26-3-6-3.
PITCHING
Bishop McCort
Lavely – 3.1 IP, 1 H, 0 R, 0 ER, 3 BB, 2 K, 0 HP
Seitz – 3.2 IP, 5 H, 3 R, 3 ER, 3 BB, 3 K, 3 HP
TOTALS – 7 IP, 6 H, 3 R, 3 ER, 6 BB, 5 K, 3 HP
Brookville
Reitz – 3 IP, 10 H, 6 R, 4 ER, 1 BB, 0 K, 1 HP
Park – 3 IP, 3 H, 2 R, 2 ER, 3 BB, 4 K, 2 HP
Dworek – 1 IP, 2 H, 2 R, 1 ER, 1 BB, 0 K, 0 HP
TOTALS – 7 IP, 15 H, 10 R, 7 ER, 5 BB, 4 K, 3 HP
Winning pitcher: Seitz
Losing pitcher: Reitz