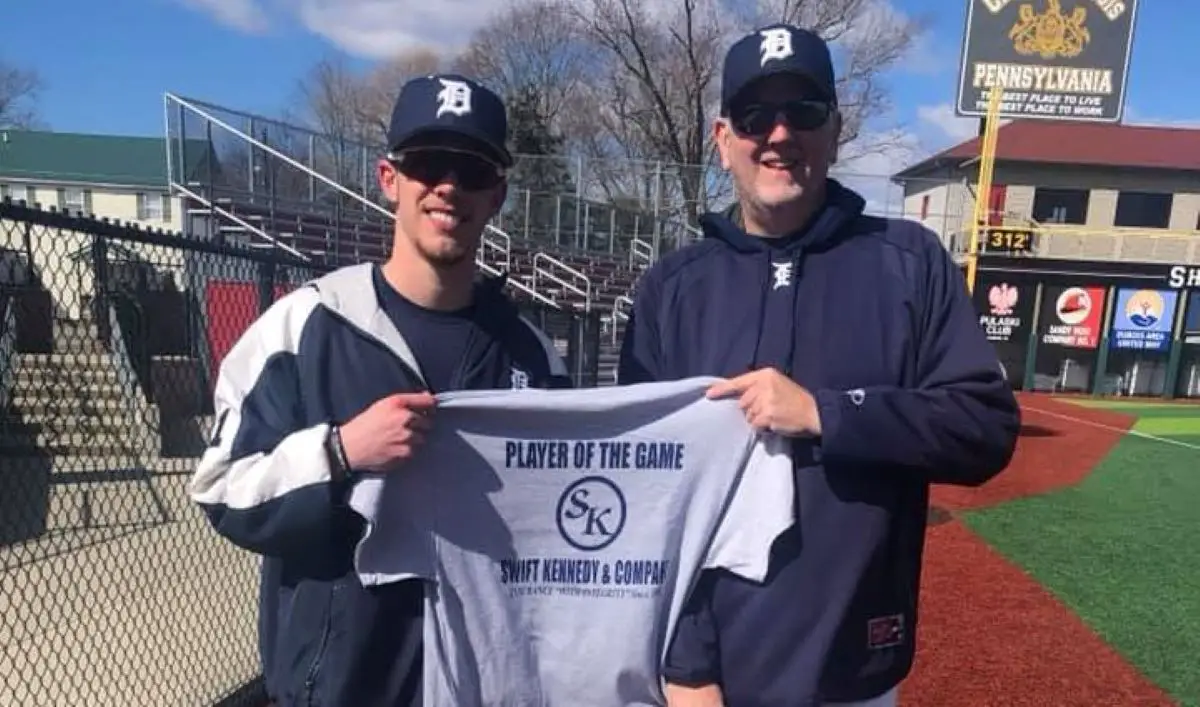 DUBOIS, Pa. – The Penn State DuBois baseball team was off to a 6-6 start heading into action against Butler County Community College Wednesday, March 20.
(Thomas Plummer, a Clarion High graduate, receives his Swift Kennedy & Co. Player of the Game T-shirt from assistant Penn State DuBois coach Mike Nesbit. Plummer was the Player of the Game March 3 in a win over Danville Community College when he pitched three scoreless innings of relief to earn his first victory of the year. Photo courtesy of Penn State DuBois baseball)
Watch Penn State DuBois Athletics Live
The Lions went 4-4 on a trip to Myrtle Beach, S.C., before splitting four games with Mercyhurst North East.
In the early going, Brandon Gettig (Bald Eagle) is hitting .400 with two doubles, a triple and two RBIs, while the Clearfield duo of Thayne and Zane Morgan is also having a lot of success. Thayne is also hitting .400 with an RBI and a team-leading six stolen bases while Zane is batting .389 with a double and two RBIs.
Team RBI leaders are Toner Corl (.387) and Clayton Butler (.292) with the Central Mountain grads both recording seven going into action Wednesday.
West Branch graduate Vince McDowell had hit the team's lone home run.
Corl (0 earned runs in 5 ⅔ innings), Brandon Ostrich from Clearfield (4.09 ERA), Jake Sorbera (1.08 ERA) from Clearfield, Adam Armstrong from Bellefonte (10.80 ERA), Logan Johnson from Penns Valley (3.00 ERA) and Thomas Plummer from Clarion (0 earned runs in 3 ⅓ innings of work) have picked up wins on the mound with Corl and Plummer also recording saves.
After Wednesday, the Lions are next slated to play a doubleheader at Penn State New Kensington Saturday before hosting New Kensington at 1 p.m. Sunday at Showers Field.
SOFTBALL 0-5
The softball team is 0-5 heading into action with Penn State New Kensington Friday with all five games having been played in Mississippi and Alabama.
Skyler Ceprish (West Branch), Kayleigh MacTavish (West Branch) and Melody Young (Otto-Eldred) are all hitting .333 for the Lions with Ceprish, Cierra O'Shell (Glendale) and Samantha Satterlee (Punxsutawney) recording RBIs in the early going.
Friday's doubleheader at Heindl Field starts at 6 p.m. Penn State DuBois will then travel to Penn State New Kensington for a doubleheader Saturday.
THREE LIONS HOOPS PLAYERS HONORED BY PSUAC
Three Penn State-DuBois basketball players were honored with postseason PSUAC awards earlier this month.
Otto-Eldred graduate Melody Young was named first-team all-conference in women's basketball, West Forest graduate Morgan Silvis was named the women's John Fritz Sportsmanship Award winner and Jordan Jones was named the men's John Fritz Sportsmanship Award winner.
Young, a senior, helped Penn State DuBois to a 14-9 record and finished her career as the first women's basketball player in school history to reach 1,000 career points (1,028) while also setting the school's all-time rebounding mark (862).
Silvis, a junior, averaged 5.9 points per game and shot 77.5 percent from the free-throw line.
Jones, a freshman from Bald Eagle High School had 16 rebounds and made one start in his rookie campaign.
YOUNG EARNS USCAA ALL-AMERICAN HONORS
Young also earned USCAA All-American honors and was recognized at the national tournament banquet held in Uniontown, Pa.
In addition to Young earning All-American honors, three women's players were selected USCAA Academic All-American including Lauren Young (Bellefonte), Gracie Hamilton (Northern Potter) and Cierra O'Shell (Glendale).
KECK TO CONTINUE VOLLEYBALL CAREER AT DUBOIS
Port Allegany senior Kierra Keck signed to play volleyball at Penn State DuBois in late February.
Keck is a 5-foot-9 outside and middle hitter who also played club volleyball for the Octane Terrors and has experience at the opposite hitter position as well.
"I'm very excited to have Kierra join the team," DuBois head coach Dave Alberts said. "Her ability to play multiple positions will bring a lot of help and depth on the court. I'm looking forward to seeing her in action next season."