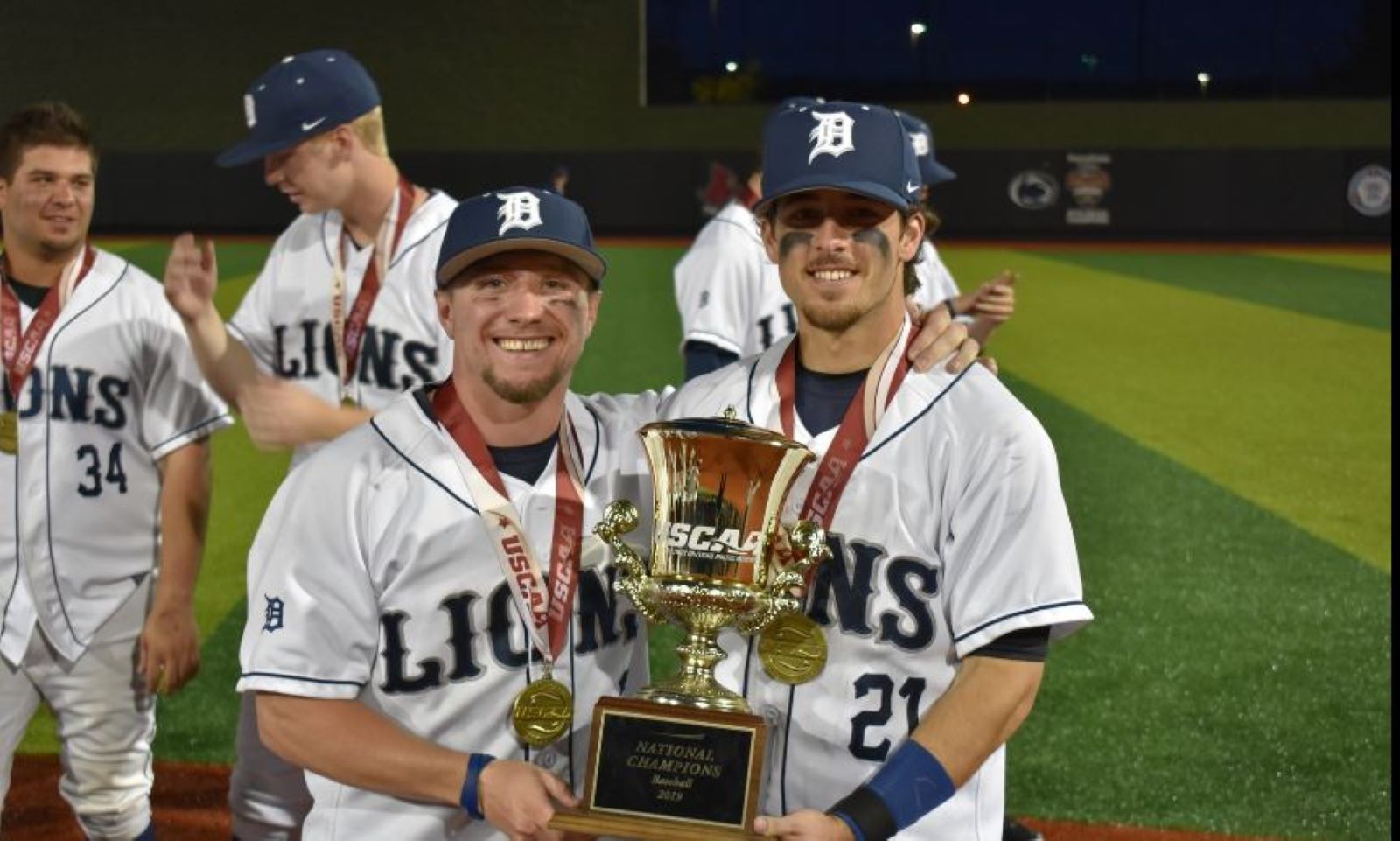 DUBOIS, Pa. – Penn State DuBois defended its USCAA Small College World Series Title by coming out on top in the winner-take-all championship contest, 12-7, over Bryant & Stratton of Albany, N.Y., Thursday at Showers Field in DuBois.
(Photo courtesy of Penn State DuBois Athletics)
Game One Box Score
Game Two Box Score
The winner-take-all game was needed after Bryant & Stratton beat Penn State DuBois, 6-1, in the first championship game. Bryant & Stratton had reached the game with a win over The Apprentice School in the loser's bracket final earlier Thursday. But DuBois had some margin of error having not lost in the double-elimination tournament going into Thursday's first title game.
But in the winner-take-all game, DuBois found a way to prevail thanks in large part to great offensive games from Trent Corl and Vince McDowell.
Corl went 3-for-4 with a home run, a double, a walk and seven RBIs in the victory, while McDowell was 3-for-4 with two home runs, a walk, three runs scored and four RBIs. Corl's fifth-inning grand slam over the right-center field wall gave Penn State DuBois an 8-3 lead.
Clearfield graduate Thayne Morgan added a pair of hits and two runs scored, Punxsutawney graduate Isaac Stoufer was 2-for-5 with two runs scored and Brandon Gettig was 1-for-3 with a walk, two runs scored and an RBI.
Another Clearfield product, Brandon Orsich got the win in relief. He pitched 6 1/3 innings allowing four runs, all earned, on seven hits and a walk while striking out four.
Morgan Bell started and went two innings allowing three runs, all earned, on four hits and a walk while striking out one. Justin Orlowski got the final two outs to secure the title.
John Loschiavo and Marlinson Brunken hit home runs for B&S with Brunken going 2-for-4 with a run scored and two RBIs and Loschiavo going 2-for-5 with a run scored and three RBIs.
Edgar Gil took the loss going four innings allowing six runs, five earned, on five hits and five walks while striking out three.
DuBois trailed 3-2 after two but scored two in the third and four in the fifth on the Corl blast.
In Penn State DuBois' first opportunity to take the title, B&S's Zach Mattos shut down the Lions bats in the first of the teams' two games Thursday. Mattos threw a nine-inning complete game allowing four hits and one run. He walked two and struck out five.
Meanwhile, Jion Cras was 3-for-5 with a double and two RBIs and Ivinson Batista was 2-for-5 with a double and two RBIs for the B&S offense.
Isaac Stouffer, a Punxsutawney grad, took the loss going 4 2/3 innings allowing three runs, two earned, on five hits and three walks while striking out two.
Stouffer led the offense going 2-for-3 with an RBI.