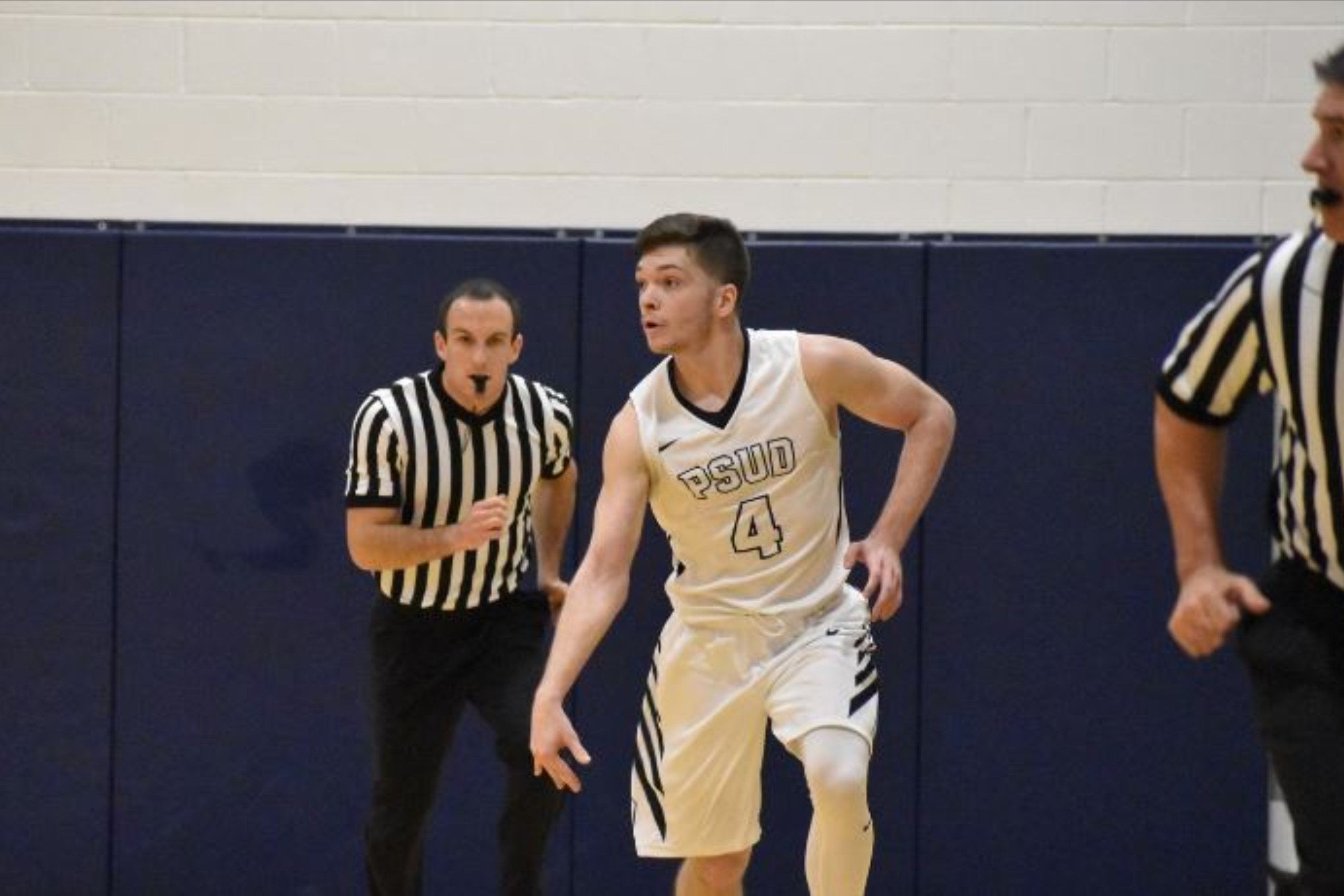 DUBOIS, Pa. – Penn State DuBois men's basketball went 2-0 over the past week to improve to 3-1 on the young season.
(Photo of Union grad Cole Morris of PSU DuBois. Photo courtesy of Penn State DuBois)
On Saturday, Nov. 17, the Lions beat Pitt-Titusville, 105-101. PSU DUBois then topped CCAC-Boyce, 93-68, Tuesday, Nov. 20.
Against Titusville, DuBois came out with a fury of quick layups by both of their top scorers in Brandon Bernhardt (Milford, N.J.) and Zack Dahlstrand (Erie, Pa.). Visiting Pitt-Titusville wasn't about to come all this way just to lay down, however, as they pushed right back with a couple of 3 point buckets by Moye'A Brown and Izaiah Dickerson.
Pitt-Titusville started off looking like a mirror image of Butler County with their never-ending shots from beyond the arc, as they put up 26 attempts in the first half alone. DuBois continued to make Pitt-Titusville work on the defensive end though, as they continued to drive the ball to the basket, and get it to the low post. DuBois big man, Dylan Huey (Punxsutawney, Pa.) went 5-for-5 from the field in the first half as he pounded the bigs from Pitt-Titusville down low.
DuBois led the way at the half on the boards 31-18, 8 of which were pulled down by Bernard Rauckhorst (Grampian, PA), but it was Pitt-Titusville that owned the score at the break, 54-45.
The 2nd half saw Coach Howard's team come to life as they tied the game within the first two minutes after the break off of Cole Morris (Rimersburg, Pa.) two made free throws. The game went back-and-forth, bucket-for-bucket until about the eight-minute mark left in the half.
Rauckhorst hit a short jumper to put his team up 78-77, and DuBois took off from there. DuBois went up as much as 10 making it 93-83 to pull away.
Pitt-Titusville continued to chip away at that lead and even brought it back within two at one point thanks to a 3-point field goal by Hysheem Robinson with 47 seconds left in the game.
Pitt-Titusville had no choice now but to foul, and DuBois wasn't about to lose at home by missing its free throws.
Dahlstrand and Tre'von Williams (Johnstown, Pa.) sunk the next four free-throw attempts for DuBois, and it also helped that Pitt-Titusville missed two big 3-point attempts to end the game.
Dahlstrand led DuBois scoring effort with 24 but shot a tough 10-for-25 from the field to get it done. Huey ended the afternoon with 20 points and six rebounds, while Bernhardt ended with 13 points and 13 rebounds. Williams had his best offensive game of the season with 18 points to help lift DuBois to the win.
Pitt-Titusville went 15 of 46 from the 3-point line and was outrebounded 57 to 34 by the DuBois big men. Dickerson led all scorers with 28 points.
Against CCAC-Boyce, a slow start for DuBois kept the visitors in the game in the first half.
DuBois was ahead, but only 7-6 after five minutes of play.
Luckily, a passion filled timeout by Coach Howard got his team a little fire.
DuBois held Boyce to just 24 percent shooting from the field on 11 of 46.
The Lions struggled early from the field themselves, but Zack Dahlstrand (Erie, Pa.) and Brandon Bernhardt (Milford, N.J.) grabbed eight rebounds each in the first half alone as they helped DuBois win the rebound game in the first, 37-24.
DuBois late defensive effort was enough to help it gain a bigger lead, as the Lions kept pressuring Boyce in the first half. Shooting 10 of 13 from the free throw line helped in a big way as DuBois took the lead heading into the locker room, 40-33.
Starting the second half reminiscent of the first.
Coach Howard called on his freshman big man, Osagie Evbuomwan (Severn, Md.) to go in and make a difference against the smaller lineup of Boyce. With a thundering presence, Osagie put his size to use, pulling down six offensive rebounds and putting up 10 points to lift his team's spirits.
Boyce's Sherron Schifino-Win tried valiantly to lift his team as he knocked down shot after shot, but it wasn't enough of an answer for the DuBois run-and-gun plays.
Schifino-Win ended the evening with 34 points for Boyce. Noah Beight led Boyce with 14 rebounds to do his part, nine of those being offensive.
With Boyce shooting only 25-for-85 from the field, however, DuBois came out with the final win.
DuBois had six players in double-figures in scoring with Dylan Huey (Punxsutawney, Pa.) leading them with 16 on the night followed up by Tre'von Williams (Johnstown, Pa.) with 14.
DuBois finished the game outrebounding Boyce as a team, 63-41. DuBois will be at home in the first game of conference play on Tuesday, Nov. 27 when they host Penn State Beaver.