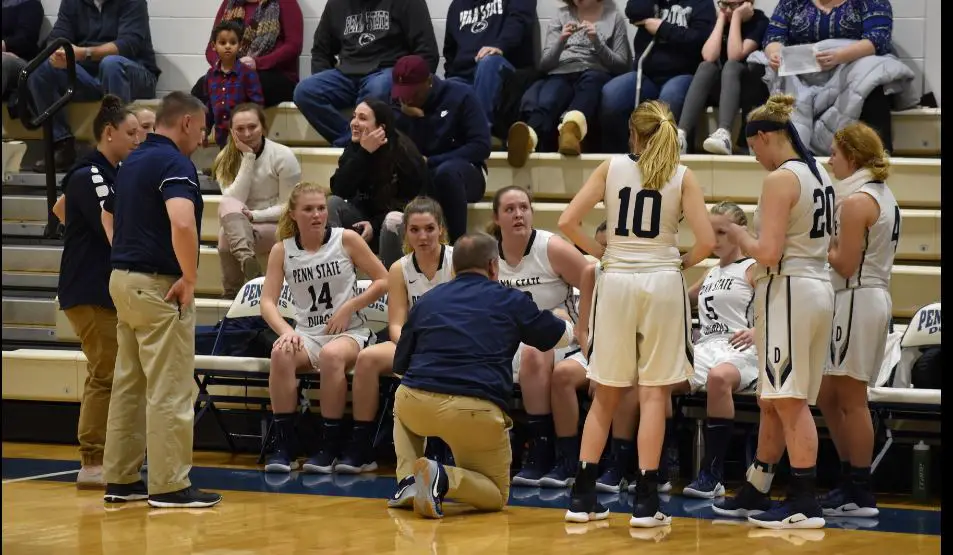 DUBOIS, Pa. – The Penn State DuBois women's basketball team picked up its third straight win Wednesday, Dec. 5, when it beat Penn State Fayette, 73-59.
(Photo courtesy of Penn State DuBois Athletics)
Meanwhile, the Lions men's team suffered a couple of tough losses last week falling, 85-66, to Fayette Wednesday, Dec. 5, and, 98-89, to Penn State New Kensington Friday, Dec. 7.
BRIDGE COMES OFF THE BENCH TO LEAD WOMEN TO WIN
Punxsutawney graduate Hope Bridge came off the bench to lead PSU DuBois's women to the win over Fayette Wednesday.
Bridge hit 6 of 9 shots on her way to a team-high 16 points and also pulled down six rebounds.
Otto-Eldred grad Melody Young (14 points, 8 rebounds), Kristin Williams from Eisenhower (13 points, 5 rebounds) and Maddie Sprankle from Johnstown Christian (10 points, 3 rebounds, 3 assists) also played key roles in the victory.
Penn State DuBois (6-2 overall, 3-1 conference) is back in action at 1 p.m. Saturday, Dec. 15, when it hosts Penn State Penn State Greater Allegheny.
MEN BATTLE HARD IN TWO DEFEATS
The Lions men's team battled hard but came up short in its two losses.
On Wednesday, Dominic Boring and Marvin Sidon both scored 17 points for Penn State Fayette in the 85-66 win. Fayette ran out to a 54-30 halftime lead before DuBois outscored it 36-31 in the second half.
Leading the way for DuBois was Malik Gordon, who came off the bench to score 15 points. Zack Dalstrand added 12 points with Punxsutawney grad Dylan Huey and Brandon Bernhardt each adding eight points. The Lions played without fourth-leading scorer Cole Morris, a Union grad.
A slow start again hurt DuBois in the 98-89 loss to New Kensington Friday with the visitors racing out to a 48-36 halftime lead before DuBois rallied to outscored NK 53-50 after halftime.
Dalstrand (25 points) and Huey (24 points) both had monster games but DuBois with Morris adding nine points.
Jakob Richardson led New Kensington with 23 points with Lamar Lewis adding 22.
Penn State DuBois (3-6 overall, 0-5 in conference) returns to action at 3 p.m. Saturday, Dec. 15, when it hosts Penn State Greater Allegheny.
For more on Penn State DuBois Athletics via D9Sports.com click here.
E-mail Brent Saylor to find out how your school can become a part of the D9Sports.com College Spotlight.