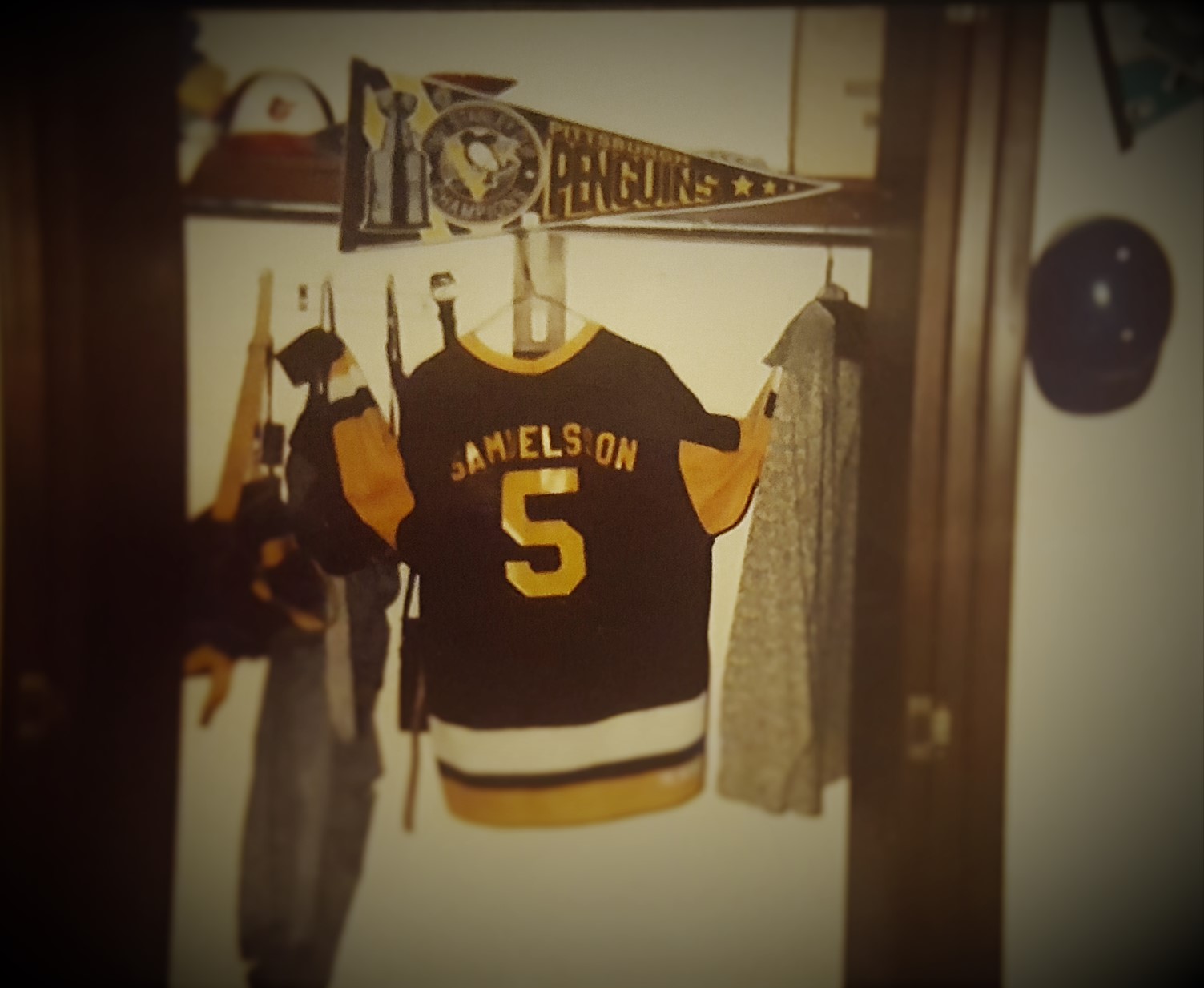 By Chris Rossetti
This past week was my birthday, not that it is a big deal anymore. Birthdays stopped becoming a big deal probably around the time I turned 21.
(Cover photo: After the Penguins won the Stanley Cup in 1991, I proudly displayed by Ulf Samuelsson jersey and the Stanley Cup winning pennant in my bedroom)
But it being my birthday, I started to think about the moments that have made me the sports fan I am today.
Some journalists will tell you they aren't fans of any teams. I am not one of those. I have teams that I have rooted for my entire life. And I am not shy about it.
I am a big Pirates fans (even during the 20 years of pain I have held season tickets of some sort since 1999). I am also a huge Steelers and Penguins fans. As for colleges, I am an enigma of all enigmas. I root for Penn State in football and Pitt in basketball. People find that strange. But I have uncles who were involved with both schools – by Uncle Jim was a team manager back in the 1960s at Penn State and my late uncle Guy worked in many roles, including administration, at the University of Pittsburgh at Greensburg and a bit of me went both ways.
So, anyhow, back to the story – if you are still reading, thank you.
Looking at five moments from my youth (under 18) that have made me the sports fan I am, four come from the pro ranks – one Steelers, one Penguins and two Pirates moments – and one comes from college football.
I am sure many of you old enough to remember these moments view them as moments that have shaped your fandom as well.
Without further ado In chronological order:
Dec. 10, 1983 – Terry Bradshaw's last game
I was born in the midst of the Steelers run of four straight Super Bowls, but I'm not old enough to remember those titles outside of some pictures that my mom and dad have of me watching games.
But I do remember Dec. 10, 1983.
Terry Bradshaw missed practically all of his final season – 1983 – with after having offseason elbow surgery. And he only lasted a half in a must-win game at the New York Jets at the old Shea Stadium in New York. I don't remember much about this game without looking it up. But the Steelers won to help gain a playoff bid with Bradshaw throwing a pair of first-half touchdowns. But I do remember sitting at my grandparents' house and Bradshaw coming out to make the start – the last start of his career – and what it meant to everyone.
This was really one of my earliest memories of the Steelers – the only one I can think of before this was the playoff game with the Chargers the year before. And it being the last game of Bradshaw's career, I can truly say I didn't bandwagon jump the team at all, as the 1980s Steelers were really a group to forget about.
Jan. 2, 1987 – Penn State wins national title
How big of a Penn State fan was I growing up? My brother, Todd, and I would go out in the yard and pretend we were Penn State on Saturday's playing football with a nerf ball while doing play-by-play.
So this day is a no-brainer in terms of what it meant to me as a sports fan.
I remember sitting in the basement of our old house in North Huntingdon Township outside of Pittsburgh. In the basement, we had this area that I guess you could call shelves that were built into the wall. As Miami and Vinny Testaverde started to drive down 14-10 late in the game, I was sitting up on that shelf above the couch clutching a pillow. This was really my first experience in being really nervous about a sporting event.
But then Pete Giftopoulo came up with the biggest interception in Penn State history – maybe one of the biggest in college football history. Pete Giftopoulo picked off Testaverde near the goal line on a fourth-down pass from the Penn State 5-yard line. That pillow was thrown. I jumped off the shelf – I think I hit the couch before the floor. I was really, really happy. It was the first championship a team I rooted for had ever won.
Oct. 4, 1987 – Pirates Finish Season With Win over Phillies
There are many reasons this day stick out to me. But the largest is this was the day things changed for my beloved Pittsburgh Pirates.
Well, ok, it was really the day that ended the month that changed things for my Pirates.
The Pirates beat the Phillies, 4-2, on this Sunday afternoon. They didn't finish at .500 – they were 80-82. But after a 1985 and 1986 season that were awful and the threat of the team leaving Pittsburgh in 1985, not much was expected in 1987 so that record was pretty good. Then the Pirates traded away my favorite player, Tony Pena, at the start of the season. I was a devastated. He was my not only my favorite player, he was the heart and soul of the team. Little did I know that two of the guys they got for him, Mike LaValliere and Andy VanSlyke, would be key components to some of my best Pirates memories of all time.
The Pirates ended the 1987 season hot going 27-11 down the stretch. That set the stage for a strong 1988 season that really set the stage for three straight East Division titles from 1990-92.
Sept. 30, 1990 – Pirates Clinch NL East Title in St. Louis
I will never forget Doug Drabek leaping into Sid Bream's arms as the Pirates celebrated their first National League East Title since 1979 with a 2-0 win at St. Louis.
A ground ball by pinch-hitter Denny Walling to second baseman Jose Lind who threw to Bream who moments later caught a leaping Drabek is a moment I will never forget.
Sure the Pirates ended up losing to the Reds in the playoffs. But that moment in St. Louis as I stood in the basement of a different home in North Huntingdon Township – we moved between 1987 and 1990 – screaming my lungs off. My Pirates had a championship at last.
May 25, 1991 – Penguins win the Stanley Cup
My memories of the Penguins growing up were pretty much of a decent team that would fade out of the playoffs in February and March. They were not a team that you expected a championship run out of.
That changed in 1991 after Mario Lemieux returned from back surgery and the Pens had a memorable playoff run that included a great goal by Jaromir Jagr in overtime to beat the Devils, the Frank Pietrangelo save against the same Devils, Kevin Stevens' guarantee after going down 2-0 to the Bruins in the Wales Conference Finals, the team skating around the Wales Trophy on the ice at the old Civic Arena like it was the Stanley Cup and of course memorable goals by Lemieux in the finals against the Minnesota North Stars.
Then came the night of May 25, 1991, and I couldn't watch the game. How could that be? How could a teenager who was an avid sports fan not be able to watch the game that would clinch the first league championship he could remember for a team he passionately loved?
It's my mom's fault – and yes I am pretty sure Todd and I have forgiven her for it at this point – but she had us going to a family retreat at a church camp that didn't have a TV.
So a bunch of us listened to the game on the radio – we had an old black-and-white transistor TV (yes I'm old) – that pulled in broadcast channels but alas the game was on cable that night. So we listened to Mike Lange call eight Penguins goals – yes kids eight goals – in an 8-0 win that was over before the third period started. And then they showed the Stanley Cup celebration on KDKA-TV in Pittsburgh, which we are able to watch on that old black-and-white portable TV. So I didn't see one goal live but I did witness by Pens skating with the Cup in black and white.
The other thing I remember about that night was my mom scolding us for yelling too loud when the Pens won the game – Lange's call is still etched in my mind – "The Stanley Cup has come to the City of Pittsburgh. The 1991 Stanley Cup Champions, the Pittsburgh Penguins."
What a memorable night, and mom, yes it was probably even more memorable because we couldn't watch it!