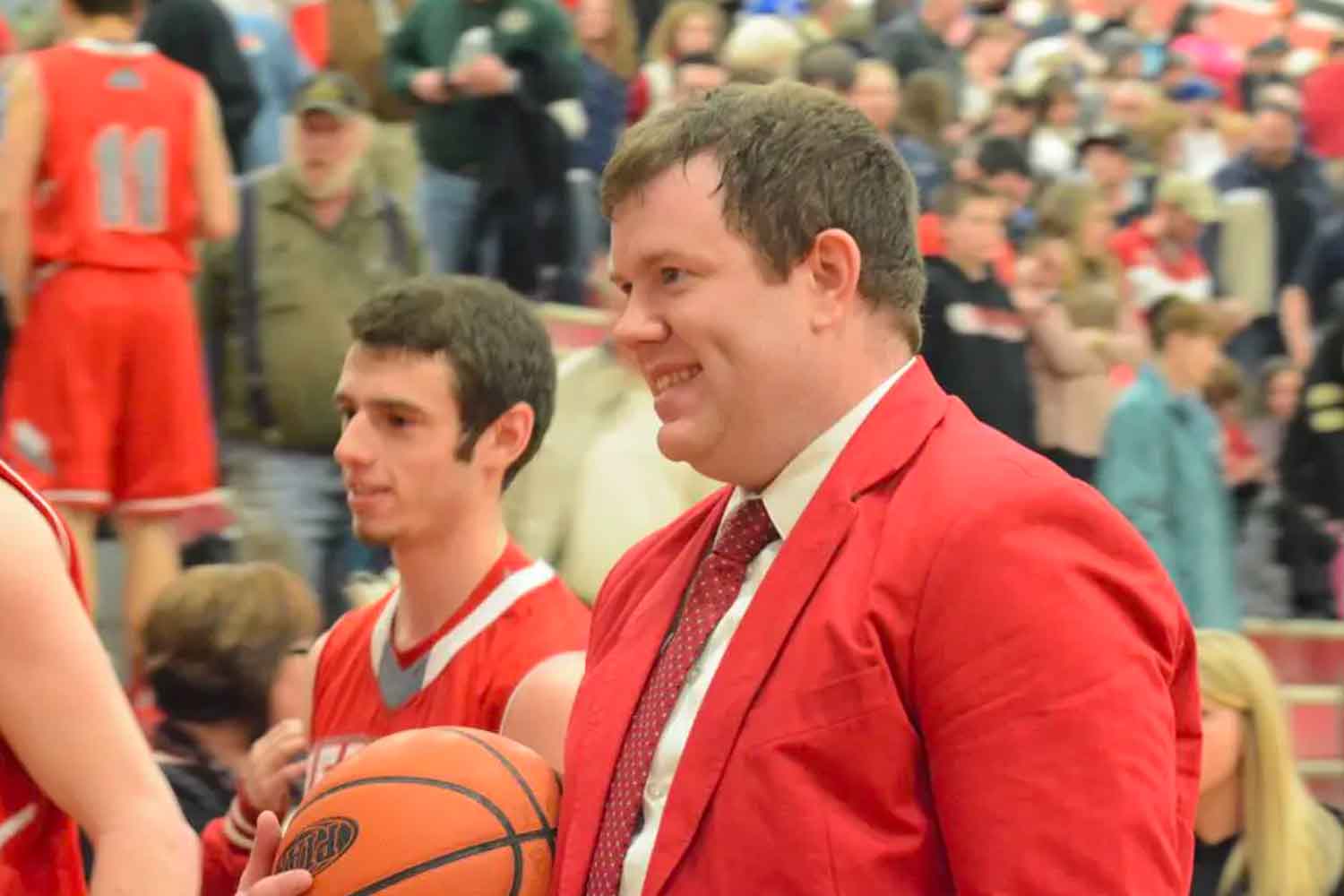 MEADVILLE, Pa. – Greg Bean, a Clarion County native and current Allegheny College assistant men's basketball coach, passed away as a result of a heart attack.
(Photo: Greg Bean during his coaching tenure at Redbank Valley. Photo by Deb Arner.)
"Greg had been with the College since the fall of 2019, and we share with the Allegheny community an enormity of sadness at this time," said Allegheny College President Ron Cole on Wednesday. "Greg played a vital role in the growth of the Allegheny men's basketball program over the past four years, culminating in a successful run to the Presidents' Athletic Conference championship in February.
"During his time at Allegheny, Greg not only served in his coaching role but also in assistance of the athletics marketing team and showcased a willingness to help out in any and all facets of campus. His dedication to the team on and off the court was rooted in his passion for those around him, love of the game, championing of academic success, and integrity in everything he did. Greg was an active member of the Allegheny and Meadville communities."
"We express our heartfelt condolences to Greg's family, coworkers, friends, and all who knew him."
Bean was a former Clarion Area basketball player and Redbank Valley head coach before he moved on to the college ranks.
His basketball life began as a player at Clarion Area High School where he helped the Bobcats win their last District 9 championship in 2003 under the direction of head coach Rob Leone and assistant coach Jess Quinn.
After high school, Bean attended Ohio Northern University to play basketball and major in mechanical engineering.
He later transferred back home to Clarion University, and taking the advice of then Clarion Area athletic director Keith Murtha, he began helping out with the Bobcats boys' basketball program.
Bean was the assistant varsity and head junior varsity coach, for the Bobcats, under Jim Harmon from 2005-2010.
"One of the fondest memories was during my first game as a coach at my Alma Mater," Bean said in a 2019 interview with Explore. "We played Shaler High School. A scheduling conflict had us playing the JV game in the Auxiliary gym and my great uncle, Frank Truitt showed up unannounced to the game. He won a National Championship at Ohio State as an assistant coach in 1960 (Bobby Knight, John Havlicek and Jerry Lucas). He was the Head Coach at LSU (Before Pistol Pete) and Kent State."
"He walked over after the game with a notebook full of notes that I still have to this day. Just was special to be able to share a few moments and talk hoops with him."
In the interview, Bean also spoke about his fond memories of times with some of his pals from high school.
"(I) graduated with lifelong friends," Bean said. "We would still hoop together every Sunday up until I left Redbank Valley in 2015. The impact that basketball and our coaches had on us was unusual for basketball at Clarion Area. We were fortunate to have some guys on that team that were committed to winning and focused on basketball."
Following his time at Clarion Area, Bean moved on to neighboring Redbank Valley, where he was the head coach from 2010-2015.
The Bulldogs won the 2014-15 District 9 Class 2A Championship (it's first District Championship since 1980) after finishing second the previous season. They advanced to the PIAA quarterfinals that season. He was named the 2014-15 All American Awards & Engraving/D9Sports.com Coach of the Year.
Redbank Valley was also the 2013-14 and 2014-15 Keystone Shortway Athletic Conference (KSAC) South Division Champions and Conference runner-up (the program's only two appearances in that game).

(Photo: Greg Bean (left) and Jonathan Smith with the AMCC Trophy. Photo courtesy of Medaille Athletics.)
Following his tenure at Redbank Valley Coach Beam was hired at Medaille in 2015. The Mavericks won the Allegheny Mountain Collegiate Conference (AMCC) regular and postseason titles in 2017 and received an automatic berth to the NCAA Tournament.
After his time at Medaille, Bean moved on to another Division III school in Waynesburg in 2018 before landing at Allegany College in 2019. The Gators finished 19-9 in 2023 and reached the PAC Championship game where they fell to Chatham.
Bean's family is well-known throughout the local sports community. He was the son of Gayle Truitt-Bean, who was a professor and gymnastics coach at Clarion University, and Terry Bean, who ran the scoreboard at Clarion University for several years and served as a District 9 official. Bean's sister, Erin Bean Halteman, was a three-sport high school athlete in volleyball, basketball, and track, and played volleyball at Division III Juniata. She is now the Associate AD for Strategic Marketing and Fan Engagement at Baylor University.
Funeral arrangements are pending.