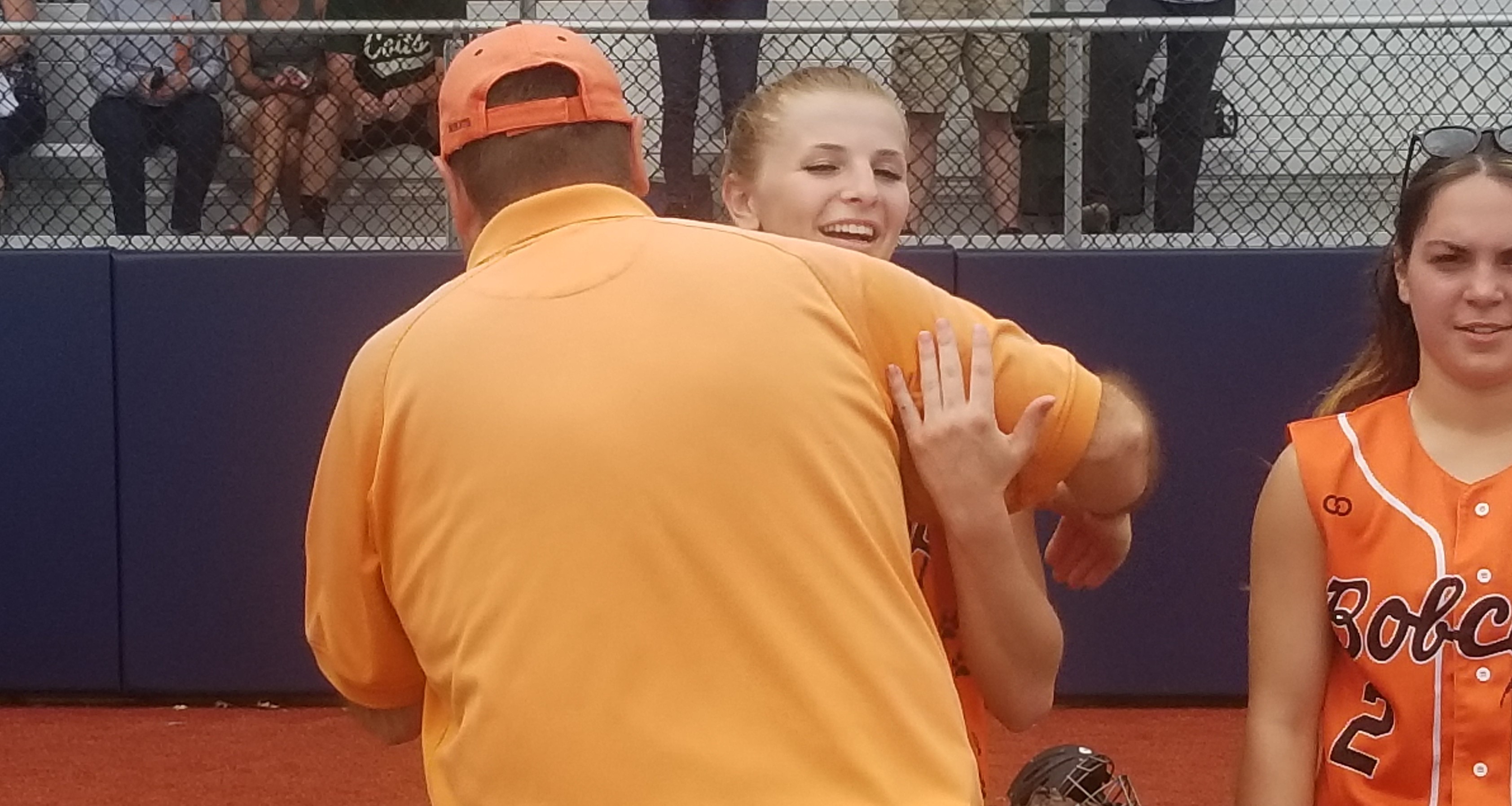 DUBOIS, Pa. – Kait Constantino struck out 15 and Carly Best scored three times, as Clarion earned a spot in the PIAA Class 1A softball tournament with a 4-0 win over Otto-Eldred in the District 9 true second-place game Saturday morning at Heindl Field in DuBois.
(Clarion manager Dan Shofestall hugs star pitcher Kait Constantino after giving Constantino her second-place medal. Constantino pitched the Lady Cats into the PIAA playoffs with a 15-strikeout performance Saturday)
"It's just crazy," Best said. "Really, no one expected it. We worked so hard, and I am so excited I can do it as a senior and lead the team."
Constantino is a big reason the Lady Cats are headed to the PIAA playoffs, where they will play District 10 champion Commodore Perry at 12:30 p.m. Monday, June 3, at Slippery Rock University.
The junior continued her mastery of District 9 hitters allowing a good-hitting Otto-Eldred squad just two hits. She had strikeout streaks of eight in a row and four in a row and allowed just one runner to reach second base – and that was on a one-out error following a single by Gabby Nickerson in the bottom of the seventh.
"It's great," Best said of playing behind Constantino. "The defense is always ready, but she is getting the strikeouts. She is pulling through."
Constantino now has 54 strikeouts in 28 postseason innings while being scored upon in just two of those innings and giving up eight total postseason runs – seven in the first inning of the D9 title game against DCC.
"She has done it pretty much all year," Clarion manager Dan Shofestall said. "When she is on, she is pretty dominant. She really is. I guess that was the name of the game. When she's got control like that and her different pitches are working, she is pretty tough."
While Constantino was mowing down the Otto-Eldred batters, Clarion struggled early on against Otto-Eldred freshman Abby Wolfe, who kept the Lady Cats off balance through 2 ⅔ innings.
But with two outs in the third, Best singled to right, stole second and scored on a triple to right by Brenna Campbell.
"I just knew she was pitching on the outside corner," Best said. "So I made sure I popped them to right, and I made sure I was able to get on base for the team."
Watch all of Best postgame interview.
Best was right in the middle of everything again in the fifth inning when Clarion added to its lead.
After a leadoff single by Constantino, Best bunted for a base hit, although Constantino was thrown out trying to go to third on the play with Best going to second. She then scored on a single to center by her younger sister, Jordan Best, to make it 2-0.
The Best girls were at it again in the seventh when another bunt single, this time leading off, by Carly and a stolen base by the senior was followed by a triple to left by Jordan, a freshman, who scored on an RBI groundout by Tori Vega.
"We had some clutch hits there at the end," Shofestall said. "Jordan had the big one there."
Carly Best finished 3-for-3 while also being hit by a pitch, scoring three times and stealing two bases.
"A lot of our innings revolve around her," Shofestall said. "She has done a lot of things for us this year."
Jordan Best, meanwhile, was 2-for-4 with the triple, a run scored and two RBIs.
"We have played travel ball, but high school is different," Carly Best said of getting to experience this success with her sister. "I am so glad we can keep going and keep playing together. She is such an amazing player for so young. It's so exciting."
CLARION 4, OTTO-ELDRED 0
Score by Innings
Clarion 001 010 2 – 4
Otto-Eldred 000 000 0 – 0
CLARION – 4
Kait Constantino p 4010, Carly Best 2b 3330, Brenna Campbell ss 4011, Jordan Best c 4122, Tori Vega 3b 4001, Lindsey Kemmer 1b 4010, Payton Simko cf 3020, Ava Kiser lf 3000, Noel Anthony rf 3010. Totals 32-4-11-4.
OTTO-ELDRED – 0
Emmalee Sheeler ss 3010, Autumn Smith 3b 3000, Gabby Nickerson 3010, Reilly Raught rf 3000, Abby Wolfe p 3000, Haylee Frederick 2b 2000, Kayley Heller 1b 2000, Harley VanScoter cf 2000, Britney Greeley c 2000. Totals 23-0-2-0.
LOB: Clarion 8. Otto-Eldred 2. Errors: Clarion 1. Otto-Eldred 2. 3B: Jordan Best, Campbell. SB: Carly Best (2). HBP: Carly Best by Wolfe.
PITCHING
Clarion
Kait Constantino 7 IP, 2 H, 0 R, 0 ER, 0 BB, 15 K
Otto-Eldred
Abby Wolfe 7 IP, 11 H, 4 R, 4 ER, 0 BB, 2 K, 1 HBP
Winning pitcher: Kait Constantino
Losing pitcher: Abby Wolfe