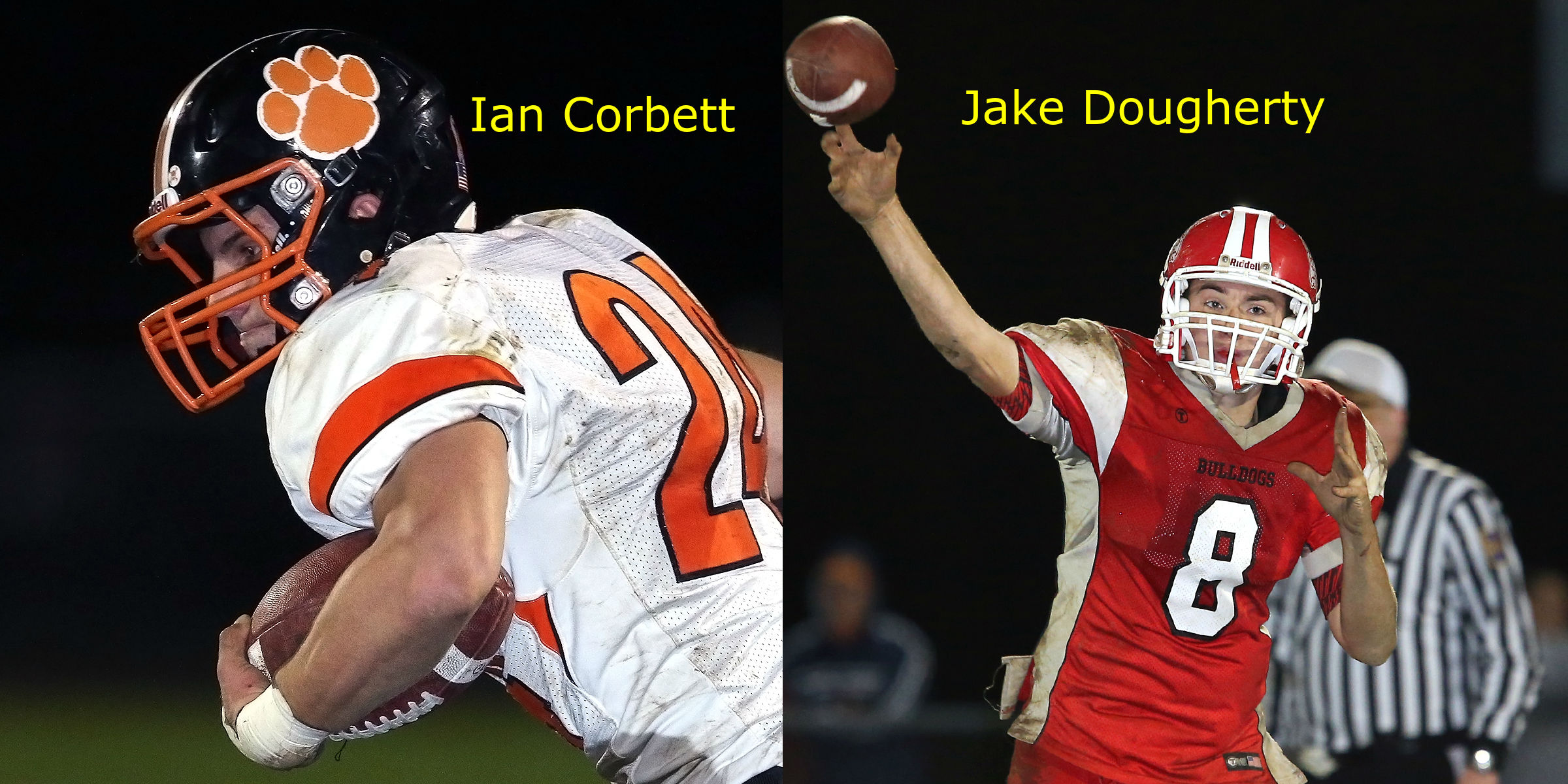 CLARION, Pa. – Clarion's Ian Corbett and Redbank Valley's Jake Dougherty combined for over 1,000 yards of total offense in Clarion's 58-46 KSAC Small School Division-clinching win at Redbank Valley Friday night, and the duo's performances are the reason they are the D9Sports.com District 9 Football Co-Players of the Week for Week Nine of the 2014 season.
Dougherty broke the Pennsylvania and District-9 passing record of 594 yards set in 2009 by Brockway's Derek Buganza by throwing for 614 yards and seven touchdowns on 40 of 69 passing in the losing effort. He also made seven tackles on defense for the Bulldogs.
But Dougherty's efforts weren't enough thanks in large part to the performance of Corbett.
The Bobcat senior running back ran for 397 yards, the second most in a game in District 9 history, on 31 carries while scoring six times on the ground and adding a 76-yard kickoff return for a touchdown to account for seven of Clarion's touchdowns.
Joining Corbett and Dougherty in being honored are 16 players on the Week Nine District 9 Honor Roll including Dougherty's teammate Wyatt Hetrick who tied the District 9 record with 18 catches for 242 yards, the second most in D9 history, and a touchdown.
The Player of the Week and Honor Roll will run through Week 10 of the 2014 high school football season and will be released at the conclusion of the week's games either Sunday or Monday.
Located at www.d9sports.com, D9Sports.com is in its 15th year of covering athletics within the PIAA's District 9. The site, which is not affiliated with the PIAA in any way, covers all 25 football playing teams playing in District 9. For more information on the site, please visit it or e-mail the staff at sports@d9sports.com. The site is also active on Twitter @D9sports and on Facebook at www.facebook.com/d9sports.
D9SPORTS.COM DISTRICT 9 PLAYER OF THE WEEK
Ian Corbett – Clarion: 31 carries, 397 yards (2nd most rushing yards in a game in District 9 history), 6 touchdowns; Returned a kickoff 76 yards for a touchdown; Made 5 tackles with 2 sacks on defense -Clarion 58, Redbank Valley 46
Jake Dougherty – Redbank Valley: Threw for a state-record 614 yards on 40 of 69 passing with 7 touchdowns passes; First player in Pennsylvania history to throw for over 600 yards in a game; Made 7 tackles on defense – Clarion 58, Redbank Valley 46
D9SPORTS.COM DISTRICT 9 HONOR ROLL (in alpabetical order my team)
Kyle Langdon – Bradford: 21 carries, 231 yards, 2 touchdowns – Bradford 47, Brookville 34
Justin Fishkin – Bradford: 13 carries, 168 yards, 3 touchdowns – Bradford 47, Brookville 34
Jonah Sampson – Brookville: 28 carries, 152 yards, 3 touchdowns; Scored a fourth touchdown on a hook-and-lateral play – Bradford 47, Brookville 34
Erik Sellers – Clearfield: 7 carries, 72 yards, 3 touchdowns; 1 catch, 24 yards – Clearfield 50, Philipsburg-Osceola 3
Noah Werner – Elk County Catholic: 19 carries, 93 yards, 1 touchdown; returned a fumble 70 yards for a touchdown; 9 tackles on defense – Elk County Catholic 19, Brockway 17Dante Dawson – DuBois: 9 catches, 184 yards, 1 touchdown; Intercepted a pass on defense – DuBois 50, General McLane 30
Kevin Foley – DuBois: 4 catches, 70 yards, 1 touchdown; Made 15 tackles on defense – DuBois 50, General McLane 30
Gabe French – DuBois: 19 of 27 passing, 438 yards, 5 touchdowns, 1 interception – DuBois 50, General McLane 30
Jacob Weaver – Keystone: 16 carries, 72 yards, 3 touchdowns; 6 tackles, 1 tackle for a loss, 1 sack, 1 quarterback hurry on defense – Keystone 49, A-C Valley 0
Tre Garzel – Port Allegany: 17 carries, 148 yards, 2 touchdowns; 9-for-16 passing, 147 yards, 1 touchdown, 1 interception; Intercepted 2 passes and made 4 tackles on defense – Port Allegany 20, Sheffield 0
Wyatt Hetrick – Redbank Valley: 18 catches (tied D9 record for catches), 242 yards (2nd most receiving yards in a game in District 9 history), 1 touchdown – Clarion 58, Redbank Valley 46
Korbin Hornberger – Redbank Valley: 10 catches, 158 yards, 4 touchdowns – Clarion 58, Redbank Valley 46
Ben MacDonald – Ridgway: 15 carries, 147 yards, 3 touchdowns; 4-for-11 passing, 66 yards, 1 touchdown, 1 interception – Ridgway 40, Curwensville 28
Kyle Glatt – St. Marys: 11 carries, 130 yards, 4 touchdowns – St. Marys 35, Moniteau 6
Adam Shunk – Smethport: Scored 3 touchdowns on runs of 25, 19 and 5 yards – Smethport 22, Coudersport 7
Dugan Gallagher – Union: 22 carries, 150 yards, 4 touchdowns; 8 tackles on defense – Union 42, Clarion-Limestone 6