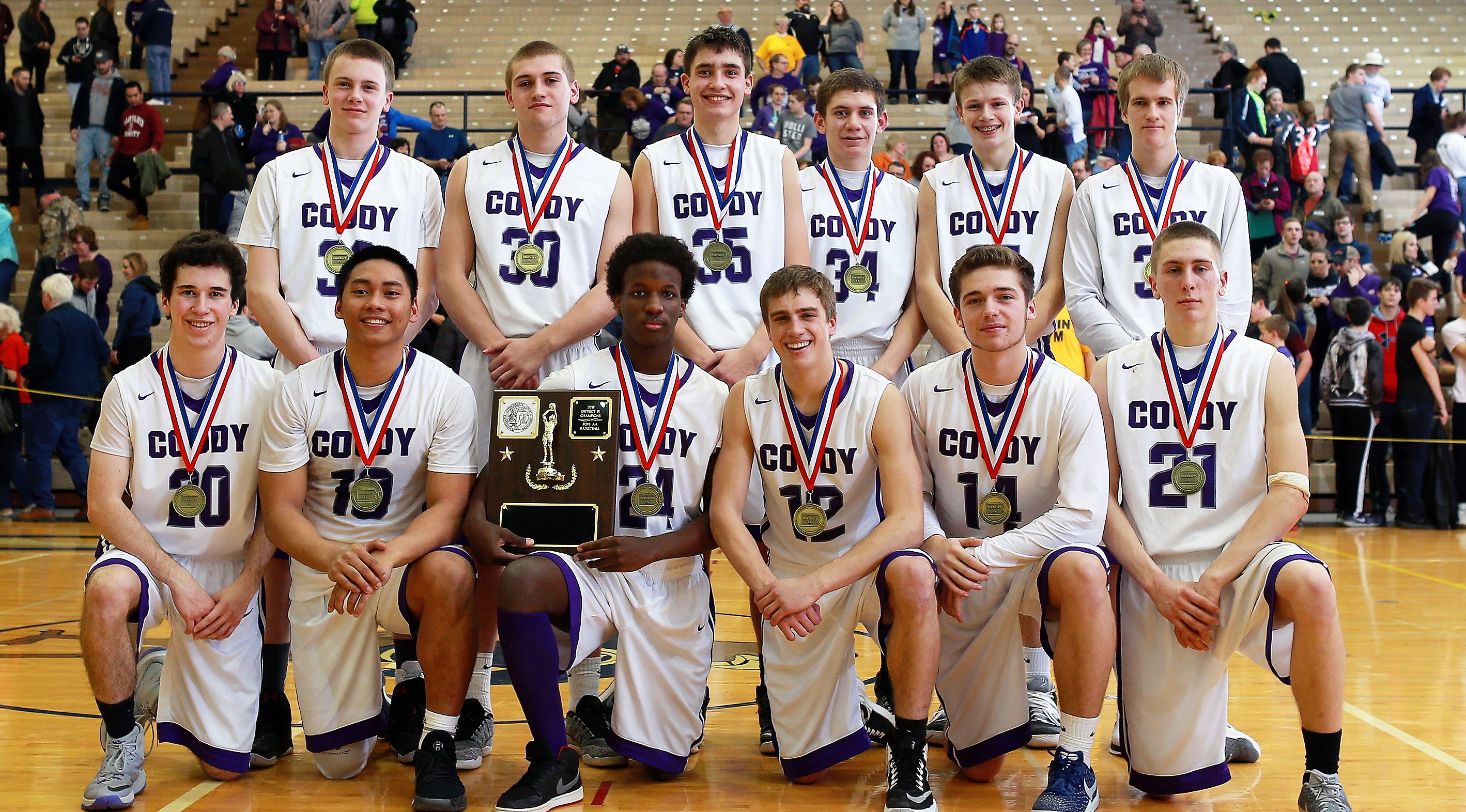 Listen to the game
CLARION, Pa. – A trying week for the Coudersport boys' basketball team ended in a triumphant way Saturday night when the Falcons beat Brockway, 67-61, to capture the District 9 Class 2A championship.
(Cover Photo by Paul Burdick. Check out more of Burdick's work here)
Unbeaten Coudersport, which won a district crown for the first time since winning 1A in 2008, had a tough couple of days since Tuesday's semifinal win over Clarion-Limestone with starter Aaron Wolfinger suspended from the title game for being thrown out of the semifinal contest by referee Kevin Teribery after making contact with Teribery. Wolfinger's cousin, Jared Green, the leading scorer for Coudy was also dealing with an ankle injury suffered in the same game and missed a couple of days of school later in the week before playing Saturday.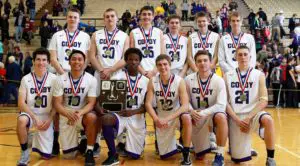 "I think the kids showed last game vs. C-L with losing a player and injuries, I think they showed resolve," Coudersport head coach Brian Furman said. "It was no different tonight. The guys were focused and confident and were able to get the job done."
Sophomore Owen Chambers played a key role in getting that job done scoring a game-high 22 points, including 19 after halftime, to help the Falcons expand on a four-point lead, 27-23, at the break.
Chambers talked about his performance and the victory.
Chambers really took over late in the third quarter with Coudersport leading by three, 34-31.
He scored the Falcons final 11 points of the quarter hitting a pair of 3-pointers while also adding an old-school 3-point play to push the lead to 45-36 going into the fourth quarter.
"I'm certainly glad we have him back a couple of more years," Furman said. "He puts in the work."
In the fourth quarter, foul shooting reigned supreme for Coudersport with the Falcons going 18 of 26 from the line in the quarter shooting the double bonus from the 4:55 mark forward. Chambers was 6 of 6 in the quarter from the line, Derek Keglovits, who had 10 points and seven rebounds, was 5 of 7 and David Rigas 4 of 4.
"All year long we talked about how foul shooting could be the difference," Furman, whose team was 24 of 32 on the night from the line said. "It was a difference tonight."
Coudy needed its free throw shooting to offset Brockway's dominance on the boards.
The Rovers outrebounded the Falcons 42-24 including an incredible 25 to 3 on the offensive glass. Jarrett Esposito was a one-man window cleaner with 15 rebounds, including 13 on the offensive side, and he finished with a double-double after adding 20 points.
"They were really crashing the boards," Furman said. "We were outsized and outstrengthed."
Because of its advantage on the glass, Brockway took 30 more shots than Coudersport. But the Rovers couldn't get many of them to fall shooting 39 percent (25 of 64) from the floor compared to 52.9 percent (18 of 34) for Coudersport.
"I've probably said this 100 times," Furman said. "The kids work really hard in practice and they stayed in shape when we had the long layoff. That paid off tonight."
Coudersport's lead hovered between 10 and 14 points for most of the quarter including at 60-46 following two Chambers' free throws with 4:11 to go.
Brockway made a push, though, closing within five, 66-61, with 26.1 seconds left following a Carter Adams basket that came 12 seconds after Adams, who struggled until late, hit a 3-pointer.
The Rovers defense then got a huge defensive stop when Coudersport couldn't get the ball across the timeline and was called for a 10-second violation.
But a 3-pointer by the Rovers was off the mark, and Zach Layag, who added 13 points, hit a free throw with 9.4 to go to set the final score.
"It just caps off a great season," Furman said. "It's just wonderful."
Both teams move into the PIAA playoffs.
COUDERSPORT 67, BROCKWAY 61
Score by Quarters
Brockway 12 11 13 25 – 61
Coudersport 16 11 18 22 – 67
BROCKWAY – 61
Jarrett Esposito 9 2-5 20, Zane Puhala 1 0-1 2, Hunter Miller 0 2-2 2, Carter Adams 3 0-1 8, Quade Lundberg 2 2-2 6, Jake Wineberg 5 1-2 15, Quenton Jackson 3 0-0 8. Totals 23 7-13 61.
COUDERSPORT – 67
Derek Keglovits 1 7-10 10, Jared Green 3 1-1 7, Zach Layag 4 5-10 13, Owen Chambers 6 7-7 22, David Rigas 1 4-4 7, Hunter Ricke 3 0-0 8. Totals 18 24-32 67.
Three-pointers: Brockway 8 (Wineberg 4, Adams 2, Jackson 2). Coudersport 7 (Chambers 3, Ricke 2, Keglovits, Rigas).