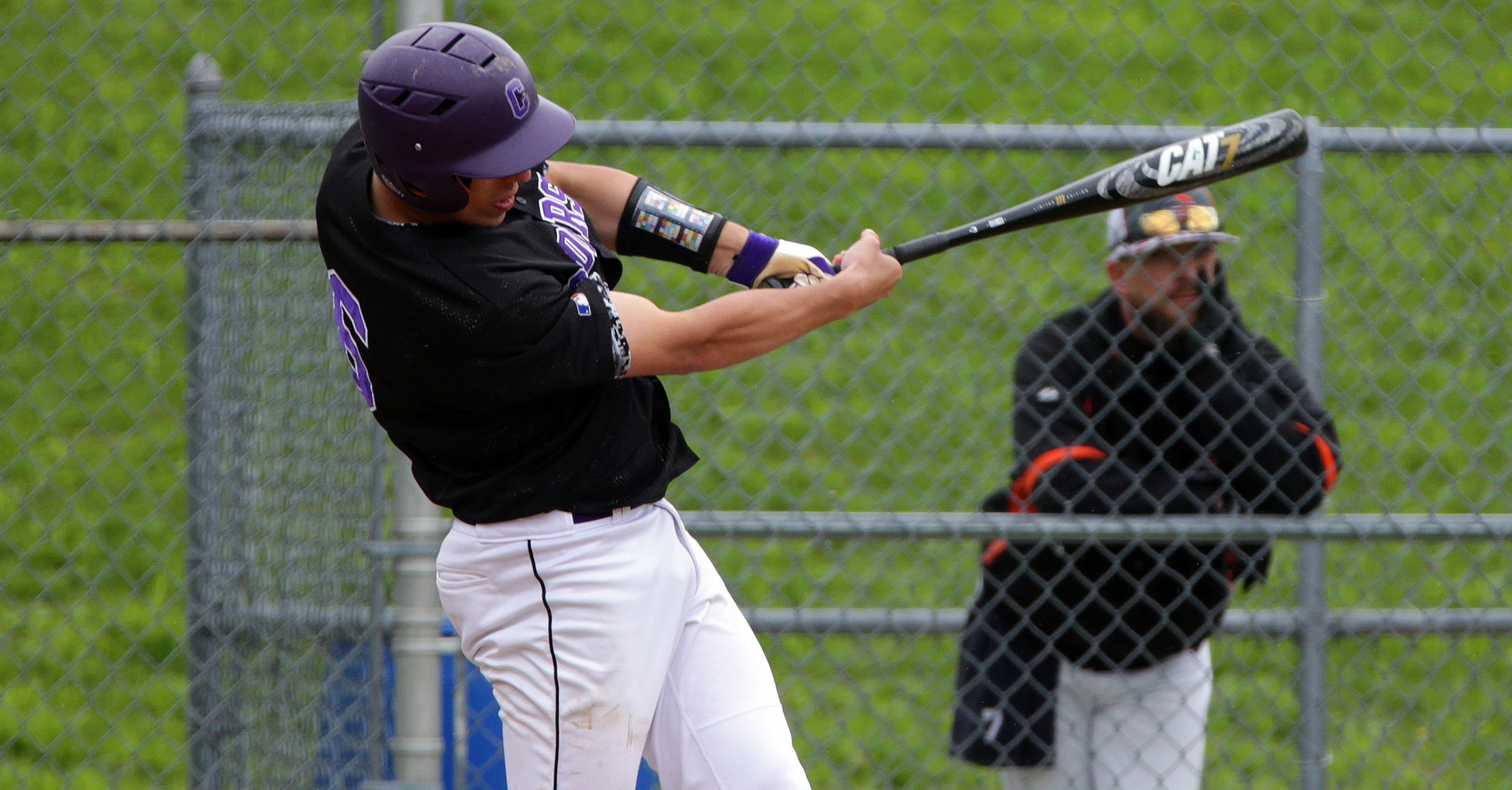 DUBOIS, Pa. – Scoring 10 runs in the first two innings, Coudersport advanced to the PIAA playoffs the hard way with a 13-0, five-inning victory over District 4 runner-up Sayre in a sub-regional second-place game Friday morning at Showers Field in DuBois.
(Photo by Paul Burdick. Check out more of Burdick's work here)
After losing the District 9 Class 2A title game in excruciating fashion, 5-4, to Moniteau Tuesday – a game that saw the Falcons blow a 4-0 lead and lose on a Jared Lominski home run leading off the top of the seventh – Coudersport had to beat District 6 runner-up West Shamokin and Sayre on back-to-back days. Add that to the fact the Falcons might have had, at best, about 11 or 12 hours of downtime in Coudersport between arriving home Thursday night and turning around to leave for DuBois for the morning start Friday, and the 13-run performance was a thing of beauty.
"I am very pleased with this team," Coudersport head coach Doug McClintic said. "They are playing as good of baseball as I could expect them to play right now."
Coudersport, which won the coin toss to be the home team, jumped all over Sayre starting pitcher Zach Moore in the first two innings knocking Moore from the game after just an inning and a third.
The Falcons took a 3-0 lead in the first thanks to some shoddy Redskins defense, as a one-out single to right field by Eli Ayers with runners at first and second ended up seeing two runs scored and Ayers go to third when the ball got past right fielder Nic Ficarro for an error. Ayers then scored on a sac fly to Ficarro in foul territory by Jackson Glover.
Coudersport wasted little time in the second inning putting the game away.
Hunter Redmond led off a with a double to right and was replaced by courtesy runner Andrew Brown who scored on a one-out double to right by Kolby VanWhy. Back-to-back base hit by Kullen Crosby and Ayers drove in another run to make it 6-0 and also drove Moore from the mound.
Moore's replacement, Quinn Hanafin, didn't fare much better walking Glover to load the bases and then giving up an infield single to AJ Redmond that scored another run and a two-run single to Jacob Pitcher to make it 8-0. Another run scored on another error by Sayre, and Owen Chambers drove in the 10th run with a sac fly to center – the play turned into a double play when it was determined courtesy runner Dillon Keglovits left second early.
"The bats are coming alive," McClintic said. "The fact that not just one guy is doing is impressive. I believed in this offense from the beginning of the season. We really had to work hard for it. I really thought it would come along quicker. We are starting to see what we really believe this team could be."
Coudersport finished its scoring with three runs in the fourth thanks to two more Sayre errors and an RBI groundout by Hunter Redmond.
While the Falcons offense was scoring at will, Burgett and AJ Redmond were pitching around a few proverbial raindrops to keep Sayre off the board.
Burgett got the win going three innings of scoreless baseball despite giving up four hits and a walk. He was able to strand all five base runners including leaving two on with just one out in the top of the first and two more on with one out in the second.
"I call Blake being Blake," McClintic said. "You think you have him on the ropes, and he is tough to square up. It almost seems he gets tougher as he gets guys on base and he settles in there. The guys, obviously, get very aggressive. He's Blake."
Redmond then came on and pitched the final two innings giving up four more hits but stranding two more in the fourth and two in the fifth to clinch the victory.
Sayre stranded nine runners on the day and was 0-for-6 with runners in scoring position.
Coudersport will take on District 5 champion, Conemaugh Township, in the opening round of the PIAA playoffs at 4:30 p.m. Monday, June 3, at Somerset High School.
COUDERSPORT 13, SAYRE 0, 5 INNINGS
Score by Innings
Sayre 000 00 – 0
Coudy 370 3x – 13
SAYRE – 0
Zach Moore p/lf/cf 3000, Cam Wheeler 3b 3010, Quinn Hanafin 3010, Brayden Horton 3020, Mason Houseknecht 0000, James Esposito cf/ss 3010, Nic Ficarro rf 1000, Isiah Firestine rf 1000, Jon Cron 1b 2000, Gavin Blair pr 0000, Jake Burgess 2010, David Northup lf/cf/p 2010. Totals 26-0-7-0.
COUDERSPORT – 13
Owen Chambers 1b 2101, Dillon Keglovits 1b/cr 0000, Kolby VanWhy ss 4221, Kullen Crosby 3b 3110, Eli Ayers cf 3221, Jackson Glover 2b 1211, AJ Redmond dh/p 3121, Jacob Pitcher lf/rf 2222, Blake Burgett p/lf 3110, Hunter Redmond c 2011, Andrew Brown cr 0100. Totals 23-13-13-8.
LOB: Sayre 9. Coudersport 4. Errors: Sayre 4. Coudersport 0. 2B: VanWhy, Hunter Redmond, Glover. SB: SF: Chambers, Glover. SB: Keglovits.
PITCHING
Sayre
Zach Moore 1.1 IP, 8 H, 7 R, 6 ER, 1 BB, 1 K
Quinn Hanafin 2 IP, 3 H, 5 R, 2 ER, 3 BB, 3 K
David Northup ⅔ IP,1 H, 1 R, 0 ER, 0 BB, 0 K
TOTALS: 4 IP, 12 H, 13 R, 8 ER, 4 BB, 4 K
Coudersport
Blake Burgett 3 IP, 4 H. 0 R, 0 ER, 1 BB, 2 K
AJ Redmond 2 IP, 4 H, 0 R, 0 ER, 0 BB, 1 K
TOTALS: 5 IP, 8 H, 0 R, 0 ER, 1 BB, 3 K
Winning pitcher: Blake Burgett
Losing pitcher: Zach Moore