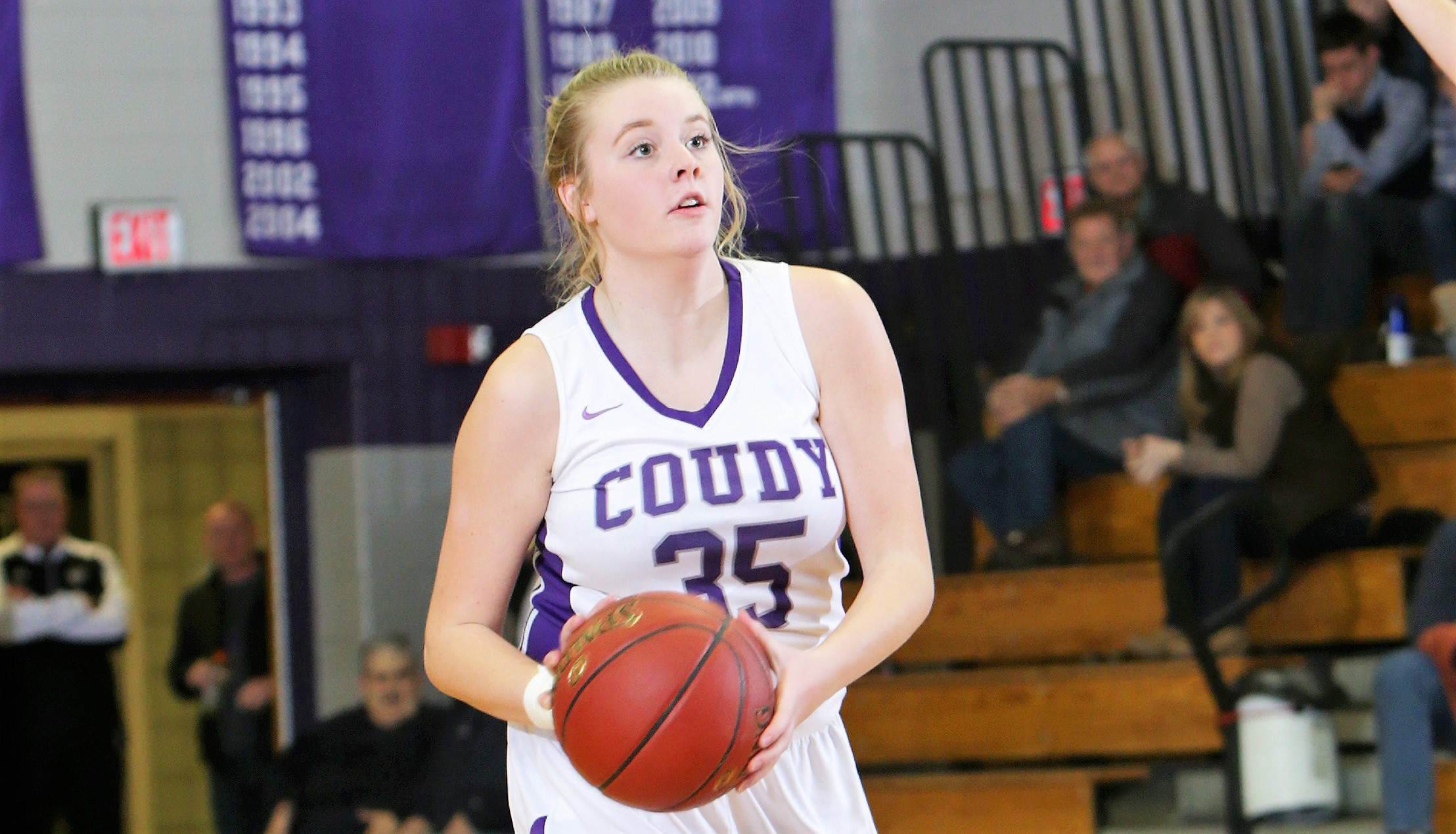 DUBOIS, Pa. – A late second-half surge from Coudersport wasn't enough as the Lady Falcons fell to the District 10 runner-up, Lady Raiders of Reynolds, 38-35 in the PIAA Class 2A girls' second round at Dubois High School.
(Photo of EmmaRae Easton, who had a team-high 11 points for Coudersport. Photo by Paul Burdick. Check out more of Burdick's work here)
Coudersport trailed 21-8 with 3:41 left in the second quarter but rallied to take a 29-28 lead with 5:41 left in regulation after a pair of free throws from senior Haley Keck.
However, costly fouls and missed free throws ultimately cost the Lady Falcons the game.
Reynolds went to the free-throw line 16 times in the fourth quarter making eight of them, while Coudersport was 1 of 4 from the line in the final 25 seconds with a chance to tie the game down two then one with Keck missing twice and EmmaRae Easton going 1 of 2 from the line.
"We took the lead and fouled immediately, gave up a point, didn't get the rebound and fouled again," Coudersport head coach Brian Green said. "As soon as we took the lead, we made several mistakes in a row. At this level, you can't do that."
Reynolds, the second-place team out of District 10, started hot scoring 21 first-half points with 15 of them going on five 3-pointers.
Tess Caoman scored six points in the first quarter, all from 3-point range, while Lily Svirbly hit her only two 3-point field goals in the first half.
The Lady Falcons were only able to score 12 points in the first half and trailed 21-12 at halftime.
"Unfortunately, they were hot to start the game and we were not," Green said.
In the second half, a different Coudersport team was seen.
EmmaRae Easton netted seven of her game-high 11 points in the second half with Keck chipping in for eight-second half points and 10 altogether.
The Lady Falcons outscored Reynolds 11-5 in the third quarter to make it a 26-23 ball game.
Coudersport continued to fight back starting the fourth quarter in a 6-2 run to take the 29-28 lead with 5:41 to play.
"I'm proud of the way the kids battled back like the champions they are," Green said. "The kids gutted it out, played hard, made it a ballgame, took the lead. We just couldn't maintain the lead."
The Lady Falcons defense also stepped up in the second half. After allowing five 3-pointers in the first half, Coudersport switched to a man defense and didn't allow Reynolds any points from
beyond the 3-point arc.
"The first half we were in a zone trap, and they broke the trap and got open looks," Green said. "Second half, we were straight man-to-man, which wasn't in our game plan because
we didn't match up well, unfortunately, our starters didn't match up well defensively, but our subs did. So, we kind of had to go offense for defense in the second half." "
Taylor D'urso paced the Lady Raiders tying Easton with a game-high 11 points. Caoman and Kelly Park tallied eight apiece.
"Credit them," Green said. "Tonight, you need to credit them, they came to play, and they played well. Hats off to them"
For the Lady Falcons, they finish their season with a record of 22-4.
Reynolds advanced to face District 6 runner-up Blairsville, a winner over WPIAL champion Vincentian Academy, in the quarterfinals at a site and time to be announced.
REYNOLDS 38, COUDERSPORT 35
Score by Quarters
Coudersport 6 6 11 12 – 35
Reynolds 13 8 5 12 – 38
COUDERSPORT – 35
Tianna Bowser 1 0-0 2, Lauren Stimaker 0 0-0 0, Dana DuBots 0 0-0 0, Chelsey Streich 0 0-0 0, Katelyn Plumstead 0 0-1 0, Sarah Chambers 0 2-2 2, Haley Keck 3 2-4 10, Shaelyn Black 3 0-0 6, Adrian Page 1 1-2 3, EmmaRae Easton 3 5-8 11, Rosalyn Page 0 1-3 1. Totals 11 11-20 35.
REYNOLDS – 38
Taylor D'urso 4 3-10 11, Elke D'urso 1 2-2 4, Tess Caoman 3 0-0 8, Kelly Park 2 3-4 8, Rachel Cowan 0 1-2 1, Lily Svirbly 2 0-2 6, Hattie Shrock 0 0-0 0. Totals 12 9-20 38.
Three-pointers: Coudersport 2 (Keck 2). Reynolds 5 (Caoman 2, Lily Svirbly 2, Park)