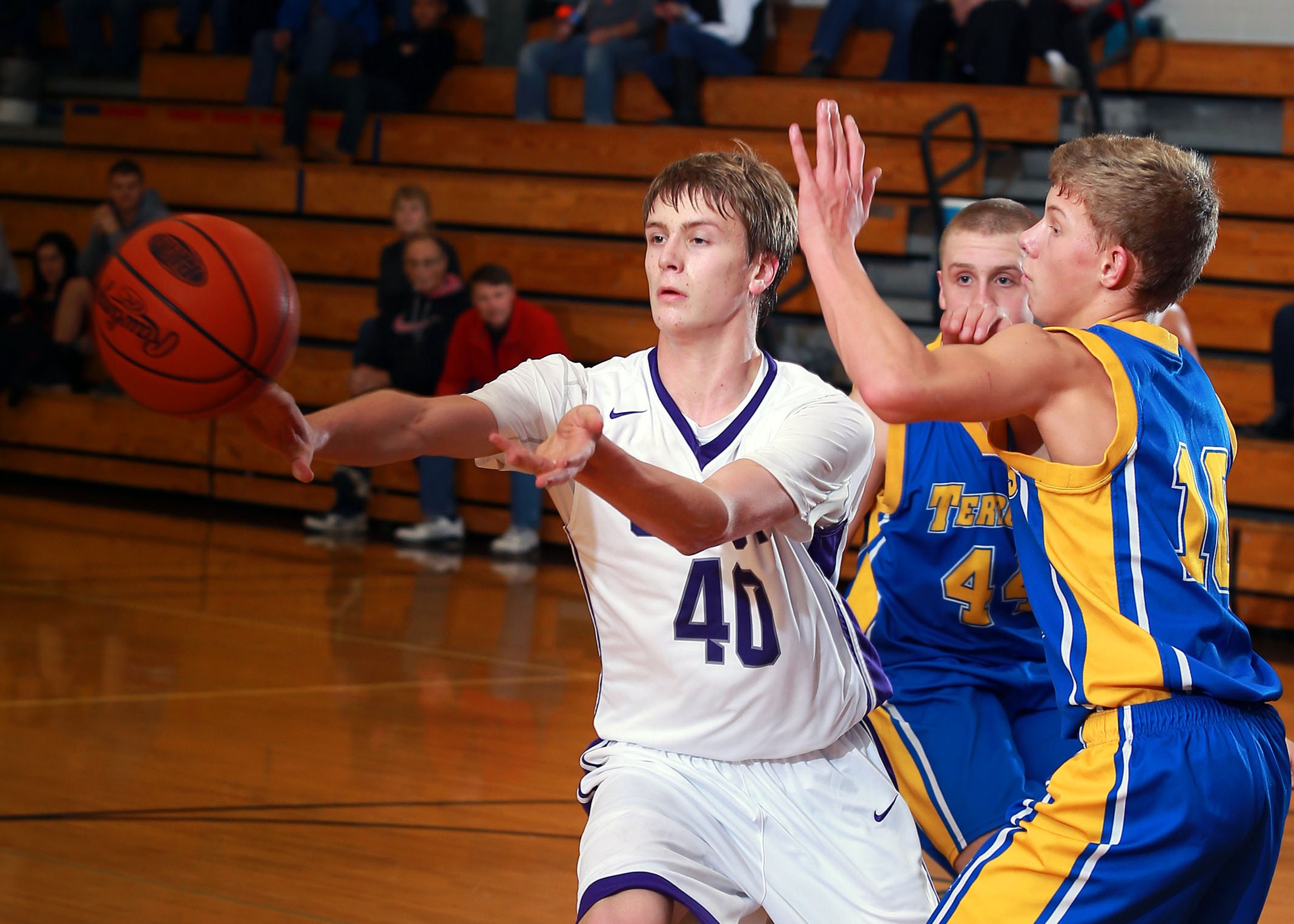 KANE, Pa. – Using strong performances out of the lockerroom both at the start of the game and the start of the third quarter, Coudersport built an 18-point lead at the end of three quarters and then held off a furious Bishop Guilfoyle comeback attempt to grab a 64-57 win in the opening round of the PIAA Class A boys' bracket at Kane High School Friday night.
The Falcons came out strong using a 16-4 run to close out the first quarter with a 16-8 lead thanks to seven points from Jared Green and six from Darren Keglovits.
The lead then stayed between eight and 12 points the rest of the first half with Coudersport taking a 33-24 lead into halftime.
The Falcons continued their strong play in the third quarter outscoring Bishop Guilfoyle 18-9 in the frame to expand the lead to 51-33 at the end of the quarter with freshman Owen Chambers leading the way with eight points thanks in large part to a pair of 3-pointers.
Things continued to flow Coudersport's way early in the fourth quarter, as it pushed the lead to 20, 53-33, early in the quarter.
But Bishop Guilfoyle came charging back using a 21-5 run that was fueled by a pressure defense and four 3-pointers to cut the lead all the way down to four points, 58-54, late in the game. But Coudy was able to hold on with some free throws to secure the win.
Coudersport will now take on the tall task of facing Kennedy Catholic in the second round Tuesday.
Darren Keglovits led Coudersport with 16 points, while Green and Chambers each had 15 points and David Rigas 10.
Josh Trybus led all scorers with 20 points for Bishop Guilfoyle. Evan Chadbourn chipped in seven and Andrew Irwin and Luke Frederick six each.
COUDERSPORT 64, BISHOP GUILFOYLE 57
Score by Quarter
Bishop Guilfoyle 8 16 9 24 – 57
Coudersport 16 17 18 13 – 64
BISHOP GUILFOYLE – 57
Josh Trybus 7 2-4 20, Andrew Irwin 3 0-1 6, Evan Chadbourn 3 0-0 7, Luke Frederick 3 0-0 6, A.J. Labriola 0 0-0 0, Luke Ruggery 1 1-2 4, Mark Conrad 4 1-2 10, Nick Scaramozzino 2 0-2 4, Sean Donoughe 0 0-0 0, Justin Charlton 0 0-0 0, Dakota Leamer 0 0-0 0. Totals 23 4-9 57.
COUDERSPORT – 64
Aaron Wolfinger 2 1-3 5, Owen Chambers 5 3-5 15, David Rigas 3 1-2 10, Derek Keglovits 1 0-0 3, Jared Green 6 2-2 15, Darren Keglovits 6 4-4 16. Totals 23 11-16 64,
THREE-POINTERS: Bishop Guilfoyle 7 (Trybus 4, Chadbourn, Ruggery, Conrad). Coudersport X (Rigas 3, Chambers 2, De. Keglovits, Green)