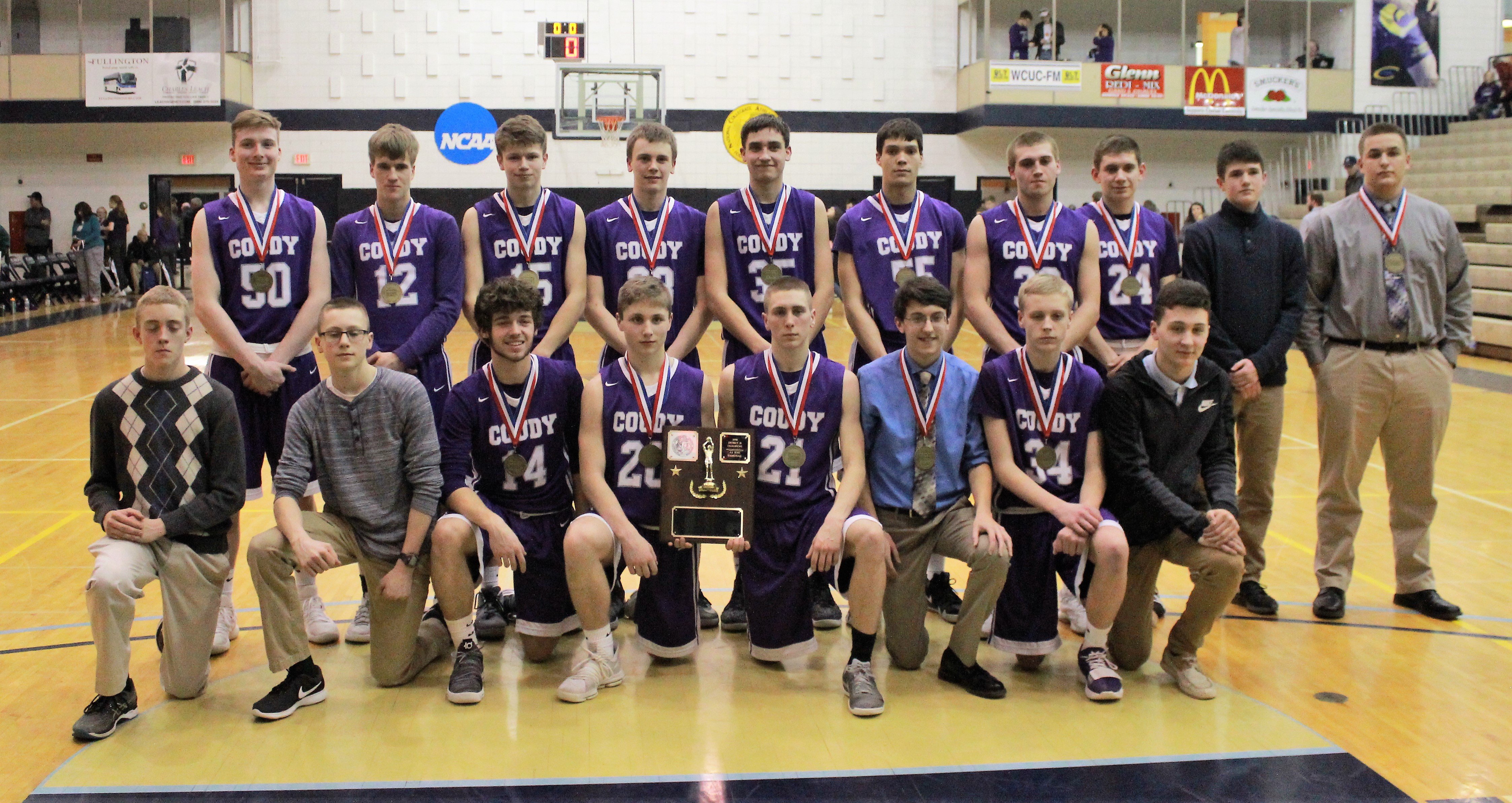 CLARION, Pa. – Coudersport used an explosive first half and nailed 10 3-pointers in the game on its way to knocking off previously unbeaten Ridgway, 66-46, in the District 9 Class 2A boys' championship game Saturday night at Clarion University's Tippin Gym.
(Photo by Jared Bakaysa of JB Graphics. See more of Bakaysa's work here)
It is the second straight D9 title for Coudersport, the first time that has happened for the Falcons since 1951 and 1952.
"It feels great to go back-to-back," said Coudersport head coach Brian Furman. "These guys just came out and played as well as they could against a really good Ridgway team and shot the ball really well. I'm just really proud and happy with how they played."
The win gave Coudersport revenge of a Feb. 2 two-point loss to the Elkers.
"That first game was a hard-fought tough game, and we turned over the ball a lot in that first meeting," said Furman. "Really we just limited our turnovers here, and I felt that was the difference."
The Falcons had nine turnovers in the game.
Owen Chambers ripped off 27 points including 17 in the first half helping Coudy build a 14-point lead by intermission, 36-22.
"He's a scorer, he can shoot the ball, but he also does a great job getting to the rim," Furman said. "He plays with great intensity and he stepped up tonight again."
The Falcons shot an astounding 70 percent from beyond the arc (7 of 10) in the first half. Chambers hit three of them while Hunter Ricke connected on four. They went on to finish with four and five treys respectively. Hayden Keck also nailed one from downtown in the fourth quarter.
Coudersport rolled up 36 first-half points which were already 12 more than Clarion scored the whole game in their semifinal game against the Elkers.
"Basketball is an easy game when you're knocking down shots, and the boys did tonight," said Furman.
Ridgway took an early 5-3 on Johnny Mitchell's 3-pointer, but that was equaled by Rickie and the Falcons never looked back in building the 19-9 lead after a quarter.
"We're perfectly fine with playing a 40-point game, but when you give up all those early points it took us out of our comfort zone," said Ridgway head coach Tony Allegretto. "We're not a 3-point shooting team. We can make them when we take the gamble, but not when we're just chucking them up."
Needing some sort of second-half surge to get back in the game the Elkers could muster little in the third stanza as they shot just 2 of- 4 from the field. Coudersport shot 17 of 29 from the field for the game including 10 of 16 from 3-point land.
The Elkers were never able to cut into the deficit in the third quarter and Coudy led by as many as 21 following back-to-back 3-pointers from Ricke and Chambers. Chambers trey was a fantastic 4-pointer with 5:19 remaining in the third quarter.
"They just outplayed us and were the better team tonight," said Allegretto.
Ricke also scored in double figures with 17 while Johnny Mitchell scored 15 to lead Ridgway.
Ridgway will now enter the state playoffs against either District 5's third-place team, North Star, or District 4's third-place team, North Penn-Mansfield. Those two teams meet Tuesday in a play-in game.
"We knew this was going to be a tough game," Allegretto said. "This is the two best teams in the district I believe, somebody had to lose. We're taking a few days off because the first state game is the hardest. That first game you're always worried about a letdown following districts."
Coudersport will meet District 10's third-place finisher, Wilmington.
"I haven't really look at states moving forward yet," Furman said. "We certainly had our work cut out for us in districts. But now we'll prepare for states."
COUDERSPORT 66, RIDGWAY 46
Score by Quarters
Coudersport 19 17 13 17 – 66
Ridgway 9 13 11 13 – 46
COUDERSPORT – 66
David Burd 0 0-0 0, Kullen Crosby 0 2-2 2, Owen Chamber 6 11-14 27, Hayden Keck 1 7-8 10, Derek Keglovits 1 1-2 3, Kolby VanWhy 0 0-0 0, Jared Green 3 1-4 7, Dillon Keglovits 0 0-0 0, Derek Easton 0 0-0 0, Hunter Ricke 6 0-0 17, Matt Daniels 0 0-0 0, Travis Gleason 0 0-0 0. Totals 17 22-29 66.
RIDGWAY – 46
Matt Dush 0 0-0 0, Zack Zameroski 1 1-1 3, Chris Wickett 0 0-0 0, Aaron Hinton 0 0-0 0, Jake Reynolds 0 0-0 0, Drew Young 1 0-0 3, Parker Rohr 0 1-2 1, Josh Thowart 1 0-0 3, Neil MacDonald 6 3-7 15, Daunte Allegretto 0 0-0 0, Cole Salberg 0 0-0 0, Andy Breier 1 2-4 4, Will Thompson 0 0-0 0, Johvan Rosairo 0 0-0 0, Greg Simon 0 0-0, Johnny Mitchell 4 6-6 17. Totals 14 13-19 46.
Three-pointers: Coudersport 10 (Ricke 5, Chamber 4, Keck). Ridgway 4 (MItchell 3, Thorwart).