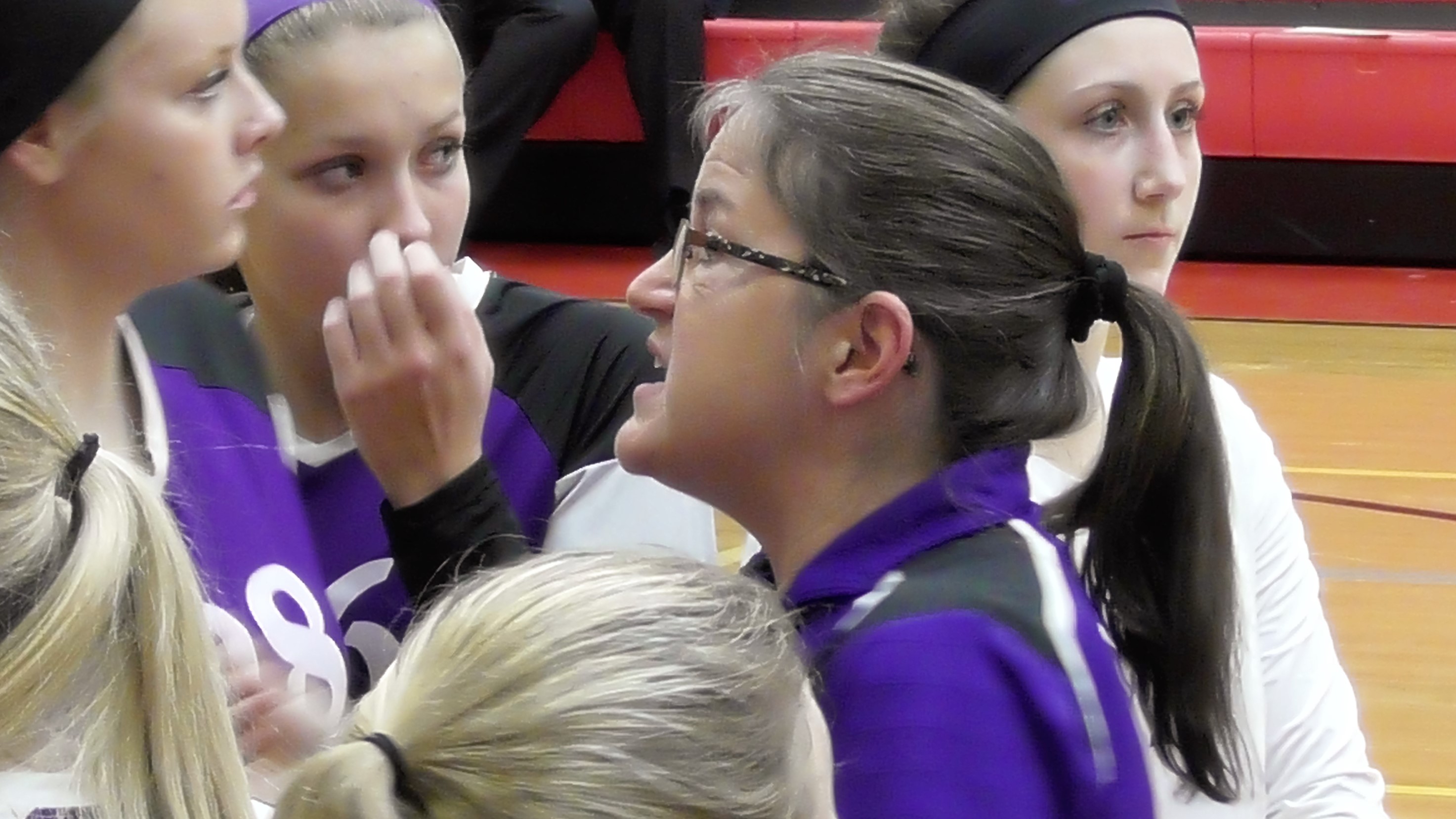 By Scott Shindledecker
DuBOIS, Pa. – The Coudersport Lady Falcons volleyball team is one win from playing for a state championship.
Coudersport (22-2) beat the upstart Bishop Guilfoyle Lady Marauders in four sets, 25-13, 25-22, 23-25, 25-13, Saturday afternoon at DuBois Area High School.
Coudersport will play Greensburg Central Catholic in the Western Finals of the PIAA 1A playoffs Tuesday at a site to be determined.
Greensburg CC trailed District 10 champion Maplewood 2-0 and 22-18 in the third set before staging an amazing rally to win 3-2.
Coudersport's Kiara Perkins talks about the win.
The scene at DAHS was a bit similar as the Lady Falcons rolled in the first set 25-13, then had to fight to claim a 25-22 win in the second.
Bishop Guilfoyle (9-14) won the third, 25-23, but the Lady Falcons never let their opponent build any momentum in the fourth, jumping out to leads of 9-3 and 16-6.
"I'm very excited, I'm so excited for these kids," Coudersport head coach Patty Wilson said. "They just love the game, they love playing. They are peaking at the right time and they are playing very hard."
Coudersport's defense kept BG from getting into any rhythm.
"We definitely have a strong back row. The other team crushes the ball and we get it back over and that's demoralizing to the other team," Wilson said. "After the third set, I didn't really have to tell them anything, they know what they have to do and we just don't quit."
Junior Libero Joplin Osgood had 39 digs, senior Macy Gleason had 28 digs to go along with four kills and three service aces. Junior Adrian Page also had a strong defensive game with 25 digs.
In addition to their strong defensive effort, Coudy kept up its devastating attack at the net.
Senior Ally Easton had 18 kills and nine blocks while Kiara Perkins had 10 kills. Skyler VanWagenen had seven kills while chipping in with two service aces.
Coudersport had a balanced effort in taking the first set with Easton carrying the load early with three kills and three blocks as the Lady Falcons took a 12-3 lead.
VanWagenen served two straight aces to make it 15-3.
Perkins took care of things the rest of the way as she had a pair of kills and an ace in the 25-13 win.
The second set was contested throughout, but Coudy's net play was better and it made the difference.
The Lady Marauders actually led 21-19 before a smash by Perkins brought Coudy within one point. A tip-in by VanWagenen tied the score, then a few unforced errors by BG helped the Lady Falcons take a 23-21 lead.
With it at 23-22, Easton buried another kill to make it 24-22 before the Lady Falcons finished it off.
In the third, BG trailed 20-12 before rallying to win 28-26.
In the fourth, BG scored the first two points as Pam Lund had a pair of smashes, but the Lady Falcons didn't let the drama get any higher than that.
Coudy rattled off five straight points before BG head coach Bob Kasun called timeout to try and slow Lady Falcons momentum.
But it didn't work as VanWagenen had a tip-in, Easton delivered a smash and Perkins served an ace to make it 8-2.
Later, Macy Gleason served two straight aces to make it 15-6.
Easton finished things off strong for Coudersport with two kills, one a thundering smash, to end it 25-13.