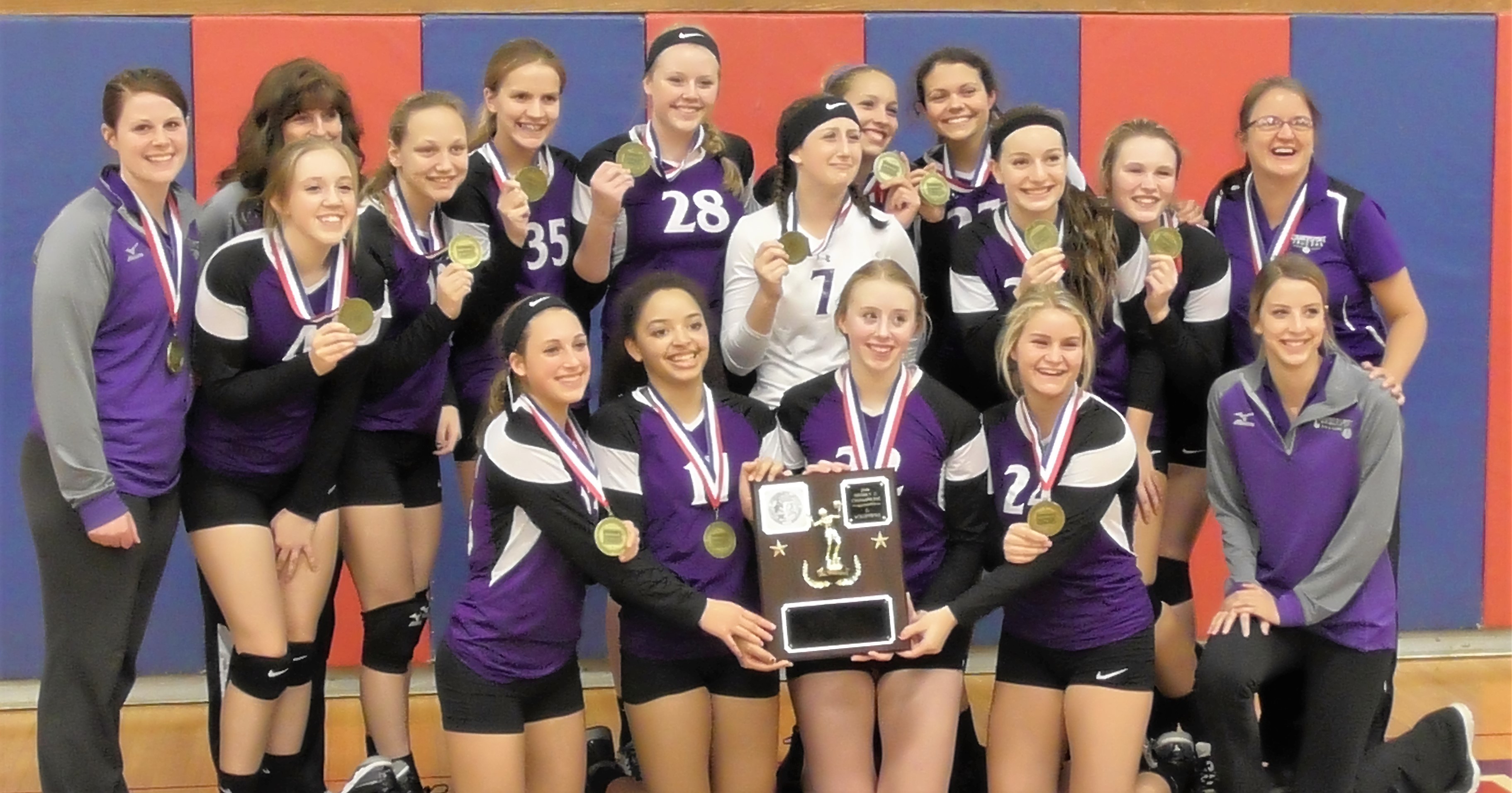 By Scott Shindledecker
ST. MARYS, Pa. – The number 13 is not typically associated with good fortune, but the Coudersport Lady Falcons volleyball team has started a campaign to change that.
Saturday at St. Marys Area High School, Coudersport won its first District 9 1A championship in 13 years by sweeping A-C Valley, 25-11, 25-17, 25-16.
Head coach Patty Wilson said 2003 was Coudy's first D-9 title and she also mentioned that her team's roster numbers 13 as well.
"I knew we had the girls to do it this year, and you saw it. Sometimes you need that little spark, and the thing is, everybody hits," Wilson said. "We're not relying on just one player, so when you don't, it opens up your offense.
"Everybody did their job today and they should be very proud of themselves, I know I am.
Wilson is correct in saying her team has more than one hitter.
Coudersport, which beat top-seeded Elk County Catholic, 23-25, 25-20, 25-16, 26-24, in the semifinals, claimed both wins with its play at the net.
Senior Ally Easton led the way at the net with a combined 21 kills and 10 blocks. Senior Kiara Perkins led all hitters with 27 kills while junior EmmaRae Easton had 14 kills and five blocks. Senior Macy Gleason had 14 kills and four blocks.
Ally Easton talks about the win.
The Lady Falcons triumph is also going to cost athletic director John Sherry his beard. He made a promise to the team that if they won, he'd shave it.
"It'll probably come off tonight," Sherry said with a laugh.
Coudersport's dominance over A-C Valley was immediately obvious as the Lady Falcons jumped out to a 6-1 lead in the first set. Junior Libero Joplin Osgood served an ace as Coudy led 3-0. Then Ally Easton drilled home a kill before setting up Skyler VanWagenen for another to make it 6-1.
When the lead grew to 9-3, A-C Valley head coach Doug Knox called timeout.
The Lady Falcons pulled to within 9-6, but the momentum didn't last as Coudy got on a roll and ripped off seven straight points to make it 16-6.
Knox called timeout when it was 15-6, but nothing slowed Coudersport as it went on to win 25-11.
The Lady Falcons started the second set better with a 4-2 lead, but it soon disappeared as
Coudy roared back to go up 13-9 on a Ally Easton block.
Later, a block by EmmaRae Easton made it 20-11 and Coudy ended up taking it 25-17.
In the third, Coudy just kept pounding away at the net and rolled to a 25-16 win.
Coudersport entered the tournament seeded fifth and had to play Tuesday, beating Ridgway. Thursday, they beat North Tier rival Otto-Eldred, which was seeded fourth.
But Coudy was second at the Clarion Tournament in September and had beaten ECC to finish second to Wilson was confident her team had enough to get it done.
"We were seeded fifth, but everyone was pretty close and the girls are very mature and they don't panic," Wilson said. "It's just amazing how well this group shifts from offense to defense."
District 9's classification for its smallest schools has been dominated by Clarion over the last several years with the Lady Cats winning the last six 1A titles.
But Saturday, Clarion, who was playing without Maya Thornton, couldn't muster a winning combination and won't be going to the state playoffs for the first time since missing them in 2005.
A-C Valley needed four sets to prevent Clarion from winning its seventh straight title in the semifinals and after Coudersport knocked off No.1 seeded ECC, the Lady Crusaders claimed third place by beating Clarion in the consolation match, 19-25, 25-18, 25-17 and 25-23.
All three teams will return to action Tuesday in the first round of the state playoffs.
Coudersport will play the third-place team from the WPIAL at DuBois Area High School at 7:30 p.m.
The Lady Falcons, after nearly knocking off Clarion in 2015, losing in the semifinals and finishing fourth, are second and are headed to states. They will play the District 10 champ and ECC will play the WPIAL champ.