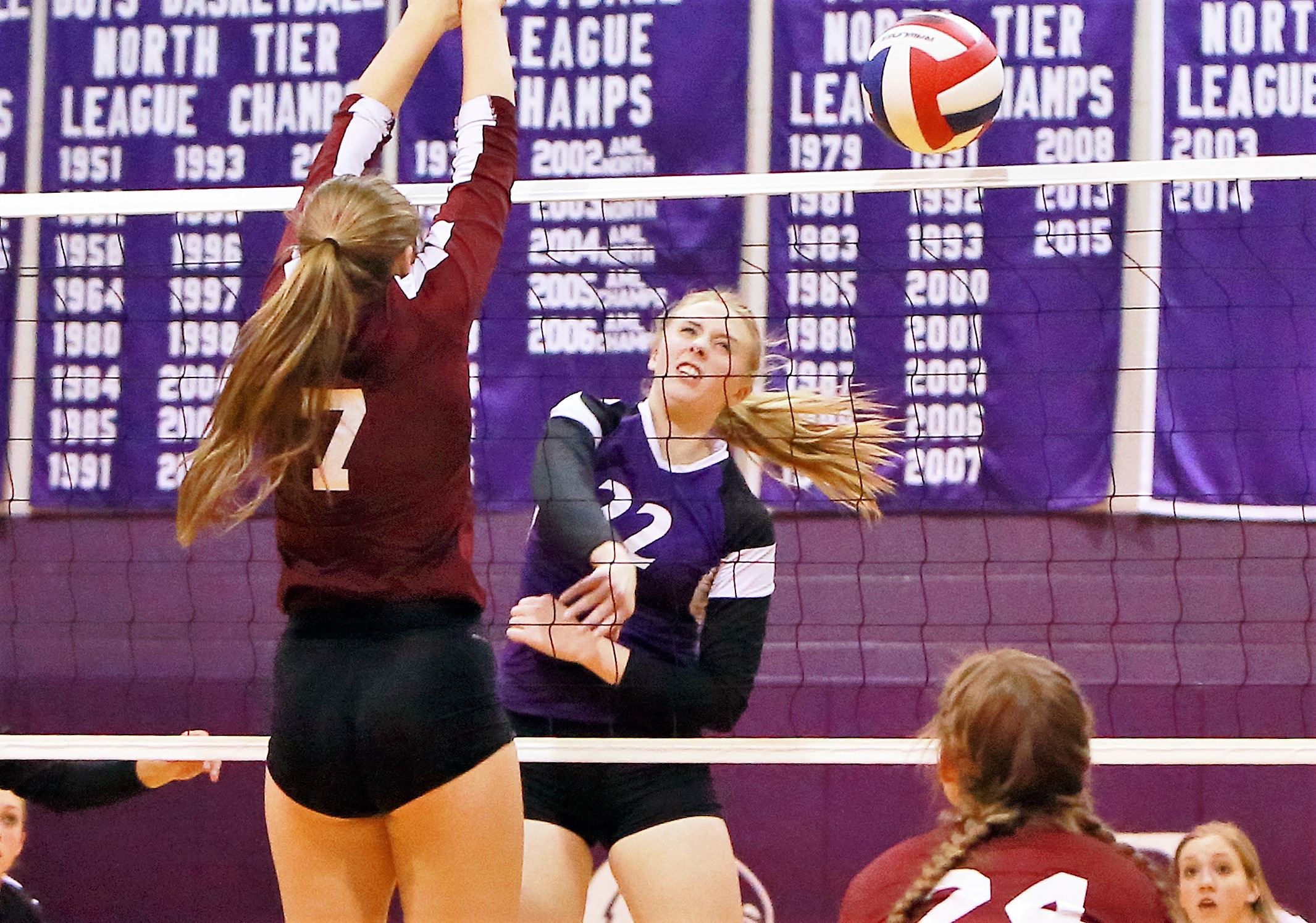 CLARION, Pa. – Coudersport middle hitter Ally Easton is the Pennsylvania Volleyball Coaches Association District 9 Class 1A MVP after taking her team to the District 9 title and so far to the semifinals of the PIAA Tournament.
Easton is joined on the First Team Class 1A PAVBCA team by teammate Kiara Perkins as well as Elk County Catholic's Cassidy Cunningham, A-C Valley's Josey Terwilliger, Clarion's Olivia Burns and Gloria Kroh and Otto-Eldred's Allison Cousins.
On the second team are A-C Valley's Olivia Boocks and Kylee Easton, Coudersport's Haley Keck and Joplin Osgood, ECC's Reilly Herzing and Otto-Eldred's Camryn Thomas.
The third team includes Coudersport's Macy Gleason, ECC's Kara Detsch, Johnsonburg's Nicole Myers, Otto-Eldred's Emily Smith, Port Allegany's Makenzie Burr, Smethport's Katie Treat and Union's Taylor Adams.
The teams are votes on by the PAVBCA coaches in District 9.
2016 PAVBCA DISTRICT 9 CLASS 1A ALL-DISTRICT TEAM
MVP: Ally Easton – Sr., Middle Hitter, Coudersport
FIRST TEAM
Josey Terwilliger – Jr., Middle Hitter, A-C Valley
Olivia Burns – Sr., Outside Hitter, Clarion
Gloria Kroh – Sr., Setter, Clarion
Kiara Perkins – Sr., Outside Hitter, Coudersport
Cassidy Cunningham – Sr., Outside Hitter, Elk County Catholic
Allison Cousins – Jr., Outside Hitter, Otto-Eldred
SECOND TEAM
Olivia Boocks – So., Outside Hitter, A-C Valley
Kylee Easton, So., Middle Hitter, A-C Valley
Haley Keck – Jr., Setter, Coudersport
Joplin Osgood – Jr., Libero, Coudersport
Reilly Herzing – Sr., Middle Hitter, Elk County Catholic
Camryn Thomas – Jr., Middle Hitter, Otto-Eldred
THIRD TEAM
Macy Gleason – Sr., Outside Hitter/Defensive Specialist, Coudersport
Kara Detsch – Sr., Setter, Elk County Catholic
Nicole Myers – Sr., Outside Hitter Johnsonburg
Emily Smith – Jr., Setter, Otto-Eldred
Makenzie Burr – Sr., Outside Hitter, Port Allegany
Katie Treat – Sr., Middle Hitter, Smethport
Taylor Adams – Sr., Middle Hitter, Union