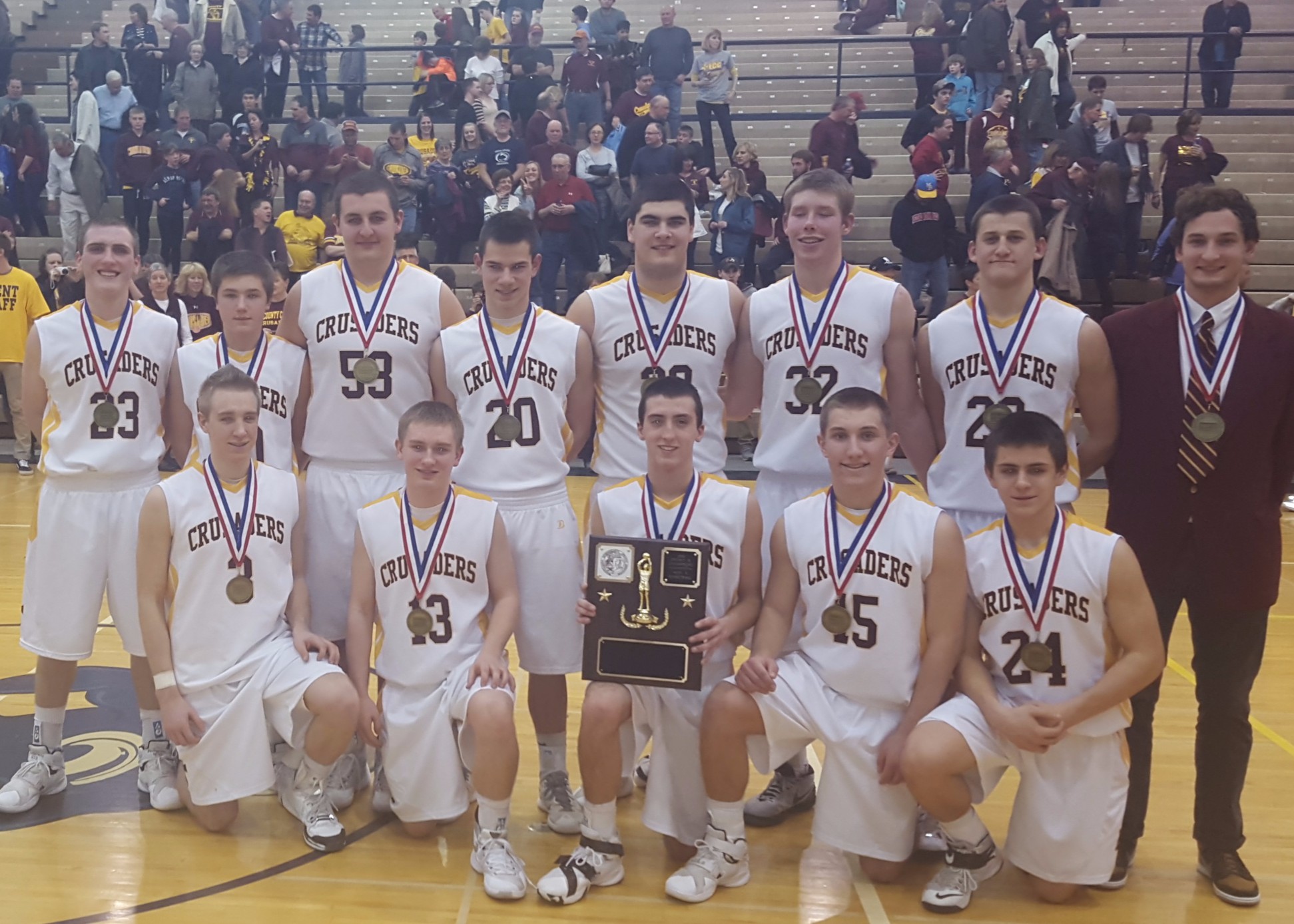 Between June 27 and July 22 we will be counting down the Top 20 Sports Stories in District 9 from the 2015-16 School Year starting with No. 20 June 27 and finishing with No. 1 July 22.

No. 18 Elk County Catholic Boys' Basketball Back on Top
It seems sort of strange to be talking about the Elk County Catholic boys' basketball team regaining a foothold on the top spot in District 9. After all, the Crusaders title in 2016 was the 22nd in school history and the 10th since 1999.
But with a 48-42 win over Coudersport Feb. 27, ECC ended a four-year title drought which, if it had extended into a fifth season, would have been the longest span without a title under head coach Aaron Straub.
The top-seeded Crusaders, who entered the postseason unbeaten, didn't allow that to happen.
After an opening-round bye, ECC beat rival DuBois Central Catholic 51-39 in the quarterfinals before dispatching fifth-seeded Union, 75-48, in the semifinals setting up a showdown with third-seeded Coudersport.
ECC jumped out to an 11-point halftime lead, 27-16, in the title game and then held off a furious Coudersport comeback that saw the Falcons get within two, 33-31, by the end of the third quarter thanks in part to a pair of  3-pointers by freshman Owen Chambers.
But Kyle Huff and Nate DaCanal scored at the start of the fourth quarter to push the lead back to six, and although Coudersport got within two a few more times  it could never come all the way back.
DaCanal, a junior, had a game-high 19 points to go with six rebounds and four steals for ECC, while Huff, a senior, added a double-double with 10 points and 12 rebounds.
ECC then knocked off Eden Catholic in the opening round of the PIAA playoffs before falling to Farrell in the second round.
Top 20 Sports Stories in District 9 for the 2015-16 School Year
No. 20 – Punxsutawney wins 13th straight District 9 Class AAA Baseball Title
No. 19 – Clarion's Run to the PIAA Softball Playoffs
No. 18 – Elk County Catholic Boys' Basketball Back on Top
No. 17 – Released June 30
No. 16 – Released July 1
No. 15 – Released July 4
No. 14 – Released July 5
No. 13 – Released July 6
No. 12 – Released July 7
No. 11 – Released July 8
No. 10 – Released July 11
No. 9 – Released July 12
No. 8 – Released July 13
No. 7 – Released July 14
No. 6 – Released July 15
No. 5 – Released July 18
No. 4 – Released July 19
No. 3 – Released July 20
No. 2 – Released July 21
No. 1 – Released July 22