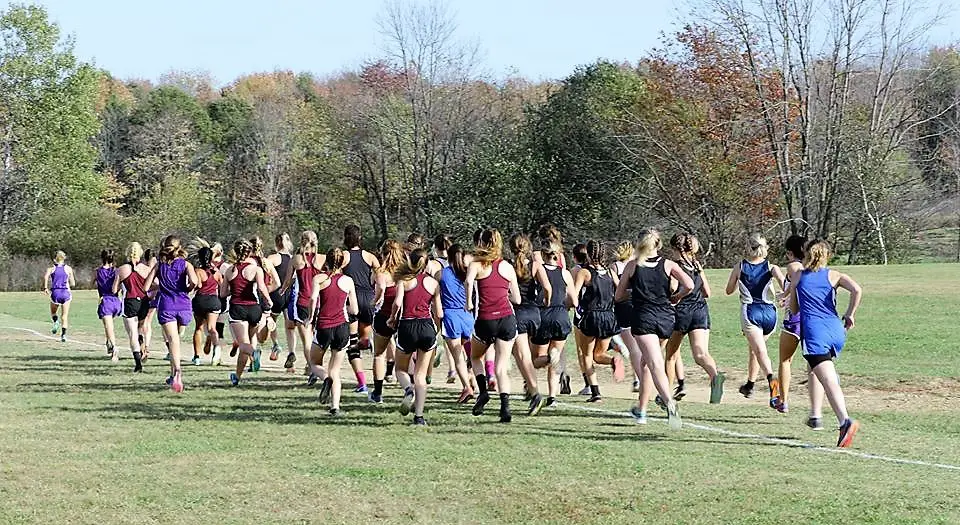 RIDGWAY, Pa. – Cranberry and St. Marys claimed District 9 girls' cross country titles Saturday at Ridgway with Cranberry taking home the Class 1A title and St. Marys the Class 2A title.
Class 1A Results • Class 2A Results
In Class 1A, the Berries topped second-place Brookville, who also qualified for the PIAA meet, 28-62 with Elk County Catholic third with 87 points.
The Class 2A race saw St. Marys, the lone PIAA qualifier, outscored second-place Bradford, 19-69.
The Class 1A individual champion was Northern Potter's Danielle Perry, who finished nearly a minute ahead of ahead of second-place finisher Chelsea Hunt of Elk County Catholic. Perry ran a time of 19:47 with Hunt taking second in 20:43.
The Class 2A individual title went to St. Marys' Amanda Foster in a time of 19:16.9 with Karns City's Rebecca Pennington finishing second in a time of 19:52.1.
Tifany Berry was Cranberry top scoring runner finishing seventh overall in a time of 21:31. Also running for the Berries were Chelsea McKissick, Kalynne Ziegler, Lauren Varsek, Ashley Finich, Carley Schreck and Miranda Beichner.
Brookville's top finisher was Alexis Dubay in 14th place (sixth in scoring) in a time of 21:58. Also running for the Lady Raiders were Emma Fiscus, Jennifer Kidder, Aubrey Noble, Elissa McNeil, Brynn Afton and Dani MacBeth.
In addition to Foster, St. Marys' 2A title game comprised of Megan Quesenberry, Amber Schauer, Tessa Grotzinger, Lucy Anthony, Brianna Grotzinger and Autumn Majchrzak.
Additional Class 1A PIAA qualifiers besides the runners on the top two teams, Perry and Hunt were Northern Potter's Amanda Ford and Rebecca Morgan, Port Allegany's Rosey Thomas, Kane's Emily Peterson, Brockway's Sylvia Pisarchick, North Clarion's Haley Bauer and Rachel Bauer and Clarion's Katie Craig.
In addition to the St. Marys runners and Pennington, qualifying for the PIAA meet in 2A were Clearfield's Abby Laborde, Bradford's Hannah Lary and Bethany Bednez andPunxsutawney's Kate Horner