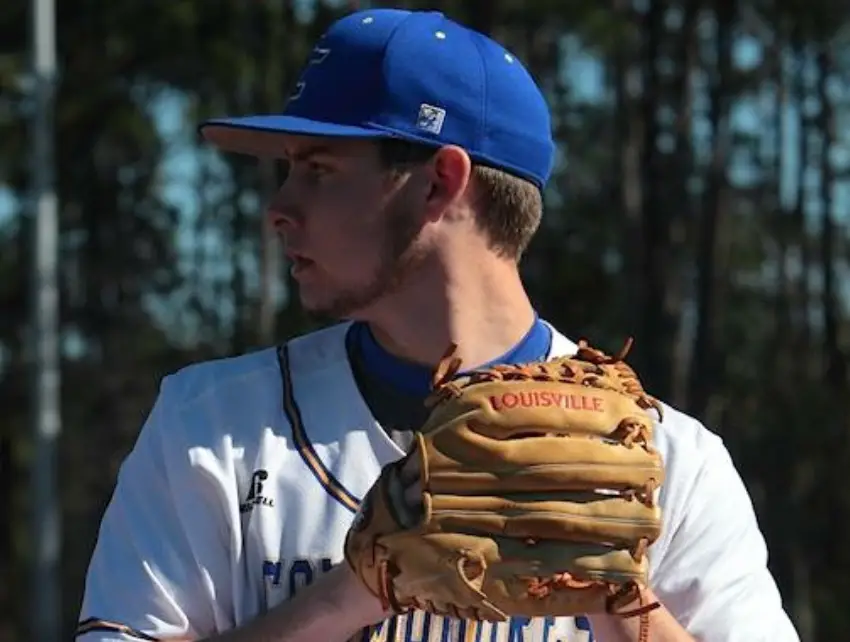 PANAMA CITY, Fla. – Dylan Cyphert's journey to big-time college baseball has taken another turn, this time for the positive, as the 2015 Cranberry graduate has committed to play at Alabama starting in the 2018 season.
(Cover photo of Dylan Cyphert pitching at Gulf Coast State College. Photo submitted by Dave Cyphert)
The Crimson Tide are the third Division I program Cyphert has committed to. He committed to Penn State while in high school before changing to Pitt. But after staying at Pitt for a semester, the left-handed pitcher decided to transfer to junior college going to Gulf Coast State College.
"I really liked all the coaches at Alabama," Cyphert said. "They were the ones that showed the most interest. The overall atmosphere in Tuscaloosa (the town the school is located in) is the kind of environment I want to be in. The fans are awesome. Their facilities are the best in the country, and I wanted an opportunity to pitch in the SEC."
Cyphert had a decent season at Gulf Coast going 6-4 with a 5.71 ERA. He had 52 strikeouts in 63 innings of work over 15 appearances, 11 starts.
"My game has matured a lot in the last year," Cyphert said. "I credit most of that to training out at Driveline Baseball in Seattle. Just overall, I'm a lot stronger and my velocity has increased as well as my off-speed pitches. I have a lot more experience under my belt going into Alabama rather than I did going into Pitt after my senior year in high school. Junior college baseball is no joke. There is a lot of competition down here."
Cyphert, who will spend the 2017 season at Gulf Coast, will have two years of eligibility left when he joins Alabama. The Crimson Tide went 32-26 in 2016 going 1-2 in the SEC Tournament.