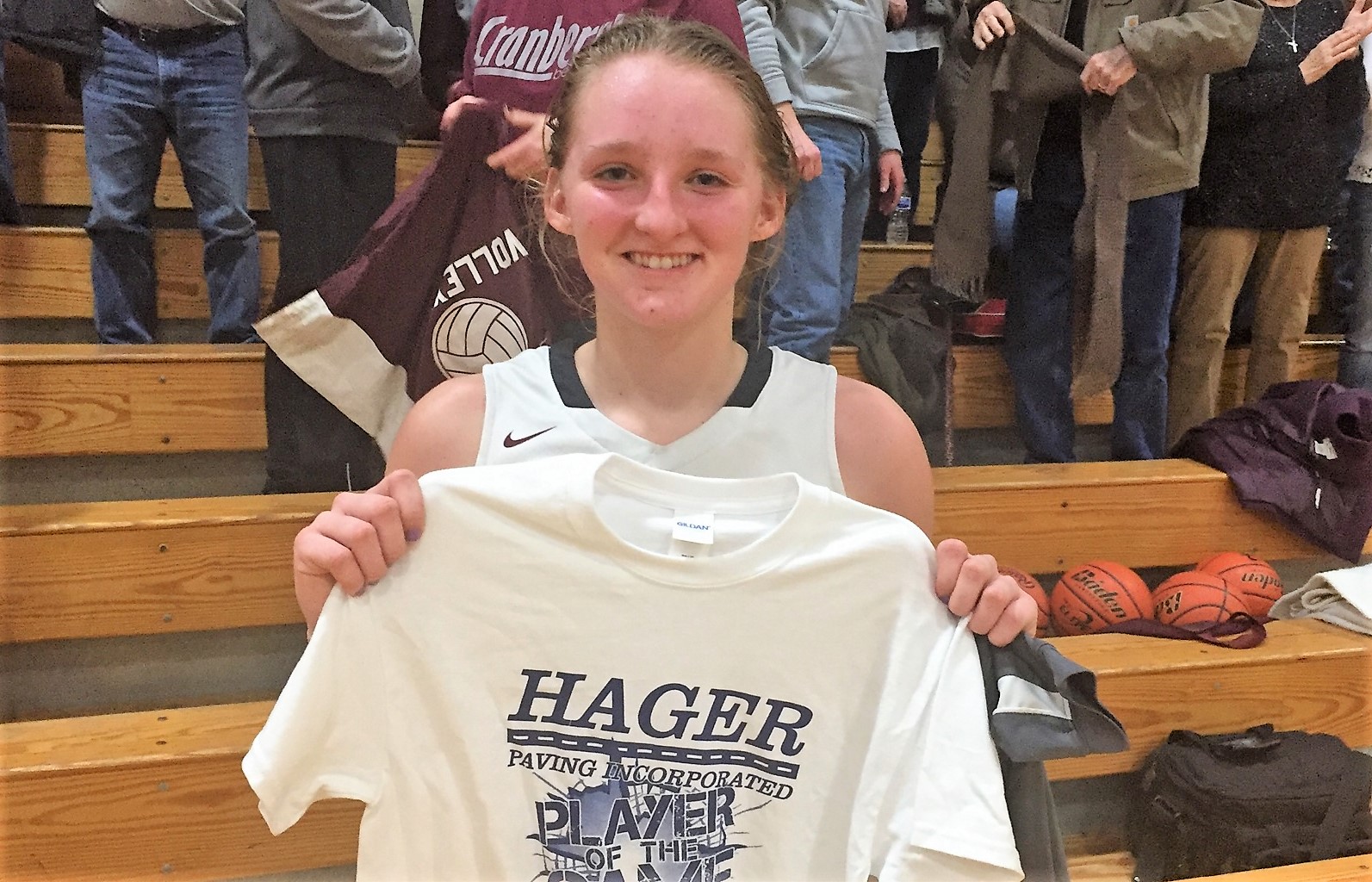 FRILLS CORNERS, Pa. – Down 11 with about four minutes to play, third-seeded Cranberry rallied past sixth-seeded Clarion for a 51-48 win in the District 9 Class 2A quarterfinals at North Clarion High School.
(Photo: Malliah Schreck, Cranberry. Photo by Bob Dunkle)
Down 42-31, Cranberry rallied behind five points each from Malliah Schreck and Maddie Cornelius and four points apiece from Hannah Duncan and Ellie Kahle.
Relisten to the game.
Schreck, who had a game-high 20 points, started the comeback with an old-school 3-point play that cut the lead to eight, 42-34.
But Wendy Beveridge, who tied Schreck for game-high honors with 20 points, put Clarion back ahead 10, 44-34 with a basket.
The Berries, though, followed with a 3-pointer by Cornelius, who came off the bench to score 12 points, including eight in the fourth quarter when she hit a pair of triples, to cut the deficit to 44-37. Cranberry then came up with a turnover, and Duncan scored to make it 44-39.
After another Lady Cats giveaway, Kahle scored to reduce the deficit to three, 44-41. She was fouled and missed the free throw but Duncan collected the rebound and Schreck scored to get Cranberry within one, 44-43.
Beveridge gave Clarion a temporary respite when she hit one of two charity shots to push the lead back to two, 45-43, but Kahle hit two free throws to tie the game at 45, and then Duncan scored to give Cranberry the lead for good, 47-45.
Beveridge was again fouled and made the first free throw to cut the lead to 47-46, but she missed the second and Clarion had to foul Ava Ferringer.
Ferringer made both her free throws to push the lead to 49-46.
Kait Constantino, who added 15 points for Clarion, then got the Lady Cats back within one when she hit a pair of charity shots to make it 49-48, but Cornelius drilled two free throws to set the score at 51-48, and Clarion wasn't able to get in position to tie the game.
Clarion had taken a nine-point lead, 33-24, after three quarters when it outscored Cranberry, 17-8, in the third quarter following a 16-all halftime tie.
Beveridge hit a pair of third-quarter three for Clarion while Constantino scored seven points in the quarter while going 5 of 5 from the free-throw line in the eight-minute segment. Constantino made just two shots from the floor in the game but was 11 of 15 from the free-throw line.
But behind Cornelius' eight points and Schreck's seven in the fourth quarter Cranberry rallied to move into the semifinals where it will face second-seeded Coudersport at a date, time and place to be determined. Cornelius' 12 tallies were a career high for the sophomore.
KEYSTONE 50, RIDGWAY 31
BROOKVILLE, Pa. – Trailing by one midway through the third quarter, fifth-seeded Keystone went on a game-deciding 20-2 run to beat fourth-seeded Ridgway in the District 9 Class 2A quarterfinals at Brookville High School.
Alyssa Kasmierski's basket at the 4:54 mark of the third quarter gave Ridgway a 28-27 lead, but the Elkers didn't score another basket until Emily Fullem connected at the 7:33 mark of the fourth quarter.
Relisten to the game
In the meantime, Keystone rolled off 10 straight points, including eight from Taylor Geer to go ahead 37-28.
Then, following Fullem's basket, Geer scored the game's next 10 points, part of a run that saw her score 17 straight tallies for Keystone, to push the Lady Panthers lead to 17, 47-30.
Geer, who finished with 31 points and 12 rebounds, talked about the win.
Fullem paced Ridgway with 13 points and 16 rebounds and finished the season averaging 20.4 points and 14.7 rebounds per game with 20 double-doubles, including 16 in her last 17 games.
Casey Woodford added seven points and Alyssa Kasmierski six for the Lady Elkers.
Makenzie Byerley chipped in six points for Keystone on a pair of 3-pointer while Tessa Weaver had three points, five rebounds and two blocked shots.
Keystone will take on top-seeded Kane in the semifinals at a date, time and place to be determined.