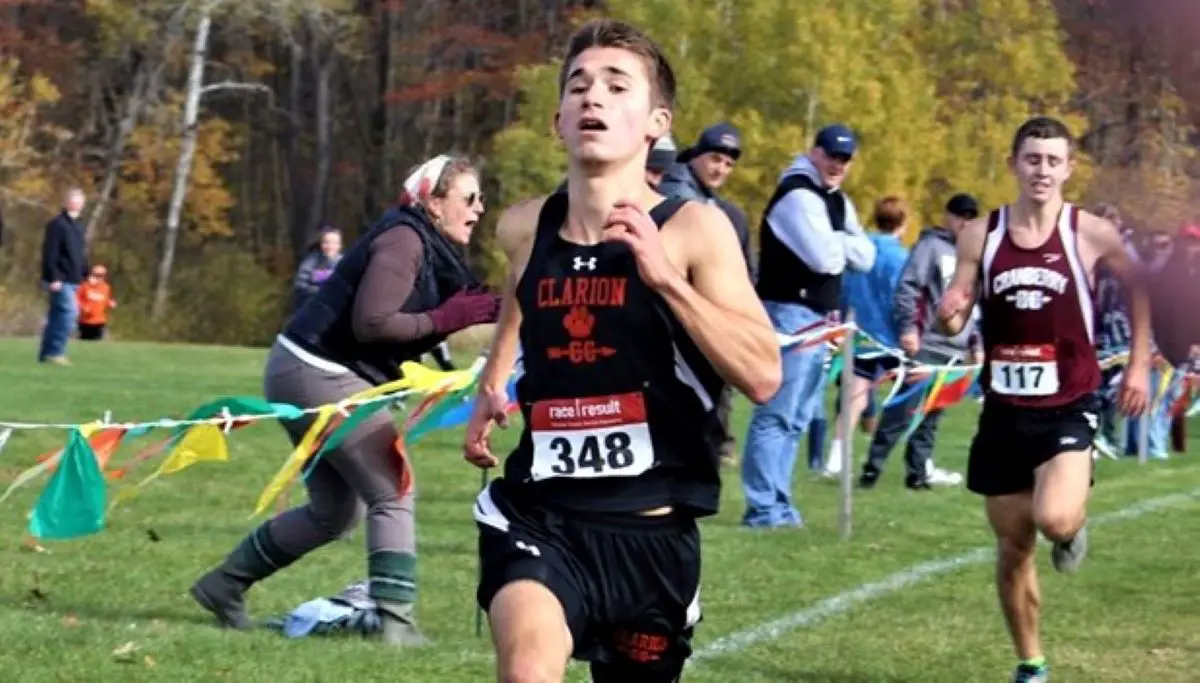 RIDGWAY, Pa. – Led by second-place finisher Matt Woolcock, Cranberry claimed the District 9 Class 1A boys' cross country title while Class 2A champion Owen Bartlebaugh helped Punxsutawney claim the Class 2A title.
(Photo: Clarion's Nathaniel Lerch heads to the finish line just ahead of Cranberry's Matt Woolcock. Lerch won the D9 1A cross country individual title Saturday with Woolcock coming in second while helping Cranberry take home the team title. Photo by Bill Mushrush)
Class 1A Results • Class 2A Results
Clarion's Nathaniel Lerch won the Class 1A individual title in a time of 16:50.7, while Bartlebaugh finished first in 2A in a time of 16:59.
Lerch's placing helped Clarion finish second behind Cranberry. The Berries scored 43 points to win the title with the Bobcats coming in a second with 78 points.
Members of both of those teams automatically qualified for the PIAA meet.
Joining Woolcock to help Cranberry to the title were Daniel Fisher (4th), Joey Fox (5th), Christian Miller (17th), River Perry (19th) and Avery Keenan (22nd).
Helping Clarion to the second-place ending in addition to Lerch were Gavin Hoover (14th), Donnie Cunningham (20th), Kaegan Phillips (25th), Nick Frederick (26th), Nate Datko (41st) and Alex Cussins (81st).
The top 10 finishers who weren't on either Cranberry or Clarion also qualified for the PIAA meet and included Elk County Catholic's Joe Wolfe (3rd) and Ben Hoffman (9th), DuBois Central Catholic's Jonny Risksick (6th), North Clarion's Jacob Bauer (7th), Coudersport's Dalton Keglovits (8th), Keystone's Koby Buzard (10th), Smethport's Jordan Pavlock (11th) and Ethan Nannen (12th), Northern Potter's Sean Baker (13th) and Clarion-Limestone's Braden Rankin (15th).
Teaming with Bartlebaugh to help Punxsutawney to the Class 2A title included Aiden McLaughlin (2nd), Corbin Heitzenrater (4th), Andrew Wehrle (5th), Emmet Jamieson (11th), Samuel Rodgers (18th) and Eric Surkala (20th).
All those runners automatically qualify for the PIAA Championship as do the next five top runners not on Punxsutawney. Those runners include Bradford's Ryan Cottillion (3rd) and Tyler Kraft (6th) and DuBois's AC Deemer (7th), McKellan Jaramillo (8th) and Joey Foradora (9th).
Bradford finished second in the team race with 51 points with Punxsutawney scoring 18 points.
Note that the places for the team champions are based on their overall finish and their scoring finishers might be different than their overall finishes.