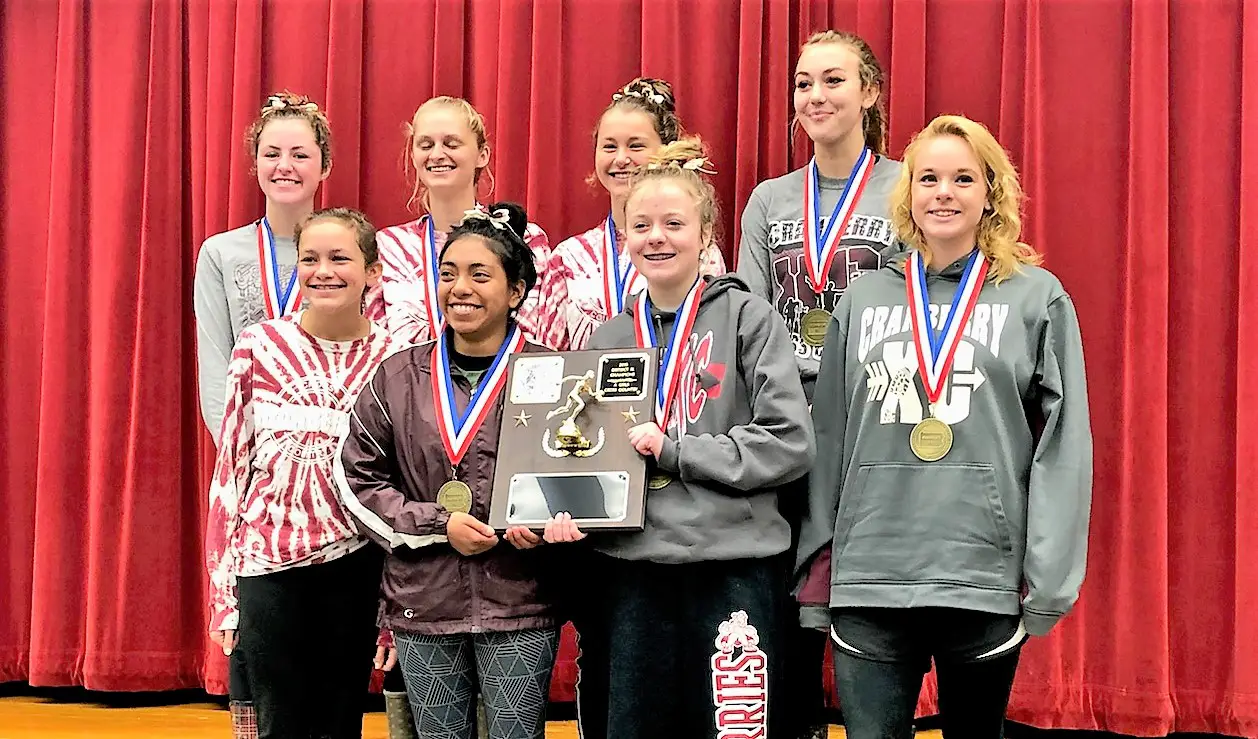 RIDGWAY, Pa. – Cranberry and St. Marys won District 9 girls' cross country team titles, while Clarion's Evelyn Lerch and St. Marys' Samantha Hayes won individual titles Saturday at Ridgway.
(Photo: District 9 Class 1A Girls' Cross Country Champion Cranberry)
Class 1A Results • Class 2A Results
Cranberry took home the Class 1A title with a score of 54 nine points ahead of second-place finisher Clarion, who scored 63 points. Both of those teams advance to the PIAA Championships.
St. Marys was the Class 2A champion in a three-way race running past second-place Punxsutawney, 19-38. The Lady Dutch are the lone team to advance to the PIAA Championships out of D9 in 2A.
Lerch, a freshman, turned into a Class 1A winning time of 21:21 18 seconds ahead of second-place finisher Amanda Ford of Northern Potter.
Hayes led a sweep of the top three Class 2A spots for St. Marys in a time of 21:30 just over a minute faster than second-place finisher and teammate Megan Quesenberry, who finished in a time of 22:31. Lucy Anthony was third in 22:35.
Rounding out the Top 10 in Class 1A were Courtney Martin of Northern Potter (3rd; 21:56), Chelsea Hunt of Elk County Catholic (4th 22:21), Jenna Gregory of Smethport (5th; 22:22), Lauren Varsek of Cranberry (6th; 22:32), Kane's Raeann Asel (7th; 22:47), North Clarion's Rachel Bauer (8th; 22:56), Ridgway's Adria Magnusson (9th; 23:05) and Northern Potter's Abigail Baker (10th; 23:13).
PIAA qualifiers in Class 1A included all members of Cranberry (Varsek, Carley Schreck, Samantha Woolcock, Chelsea McKissick, Kalynne Ziegler, Gabby Alman and Miranda Beichner) and Clarion (Lerch, Bella Scott, Katie Craig, Phylicia Hockman, Grace Adams, Gabriella Flemming and Aailayah Dittman) as well the above mentioned Top 10 finishers and Brookville's Emma Fiscus (11th; 23:14) and North Clarion's Haley Bauer (13th; 23:30). Scott finished 12th in a time of 23:24.
The entire St. Marys team (Hayes, Quesenberry, Anthony, Tessa Grotzinger, Brianna Grotzinger, Katherine Frontz and Amber Schauer) as well as Punxsutawney's Kate Horner (4th; 22:37), Olivia Roberts (6th; 22:49) and Elizabeth Gianvito (9th; 22:56) and Bradford's Hannah Lary (5th; 22:46) and Bethany Bednez (10th; 23:10) qualified for the PIAA Class 2A meet. Tessa Grotinzer finished 7th (22:51) and Brianna Grotzinger was eighth (22:54).