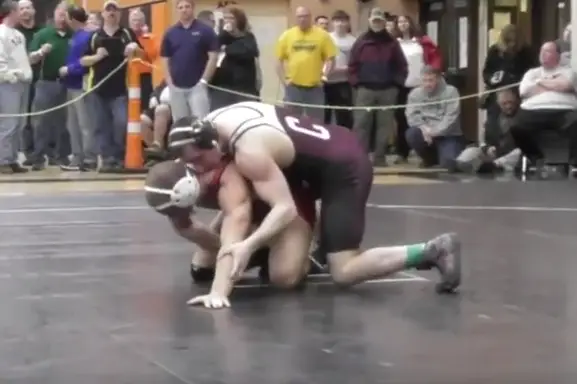 SENECA, Pa.- Making his dad proud is part of what drives Cranberry senior wrestler Paul Zacherl, who will make his second straight appearance at the PIAA Class AA wrestling championships this week.
Zacherl lost his father, also named Paul, early in his junior year. But even though the elder Zacherl has passed on he is still close to younger Paul's mind.
"I think I wrestle a little bit for my dad," Zacherl said. "He always cared about what I was doing. He would always drive me to places. After I lost him, I was like dad I'm going make you proud. I'm going to show you I haven't forgotten about you."
And if the older Paul was still around he would definitely be proud of his youngest son, his namesake.
Younger Paul won the District 9 Class AA championship at 160 pounds this year and was runner-up at the Northwest Regional meet. And according to Cranberry head coach Dustin Wenner has a shot to earn a state medal this week at the PIAA meet in Hershey.
"I feel very confident he can go down and win a state medal," Wenner said. "There are some tough kids there. I'm not going to lie. It's a tough bracket But if he wrestles to his potential, he's able to get in there and win some matches and bring home a state medal."
Wenner believes the death of Zacherl's dad has been a motivating point for Paul.
"He's a perseverer," Wenner said. "He's been through a lot with the loss of his dad. I've seen a lot of kids in that situation quit and walk out on everything. He's a kid who's stuck with it. It's actually been a motivation for him. His dad use to come into the weight room with him. He would lift with us. Then his dad is gone. I've seen a lot of kids quit. I lost my mom when I was in junior high, and I can't say I honestly stuck with everything I was doing. I quit on some stuff. But this kid has not quit on anything. He has persevered and actually used it for motivation. I think, in his mind, he owes it to his dad excel and do the best he can in the sport of wrestling because of the commitment his dad made to him in his early years.
Wenner said Zacherl doesn't shy away from his dad not being here to see him wrestle.
"We talk about it openly," Werner said. "I tell him if his dad could only see him now. He would be so proud of him. I keep that in his mind all the time. He thrives off it. I think it's actually motivated him to become what he is today."
It's only fitting that Zacherl's dad is still remembered, because wrestling has always been a family affair for the Zacherl clan, which includes older brothers, Joe and Ryan, and mom, Jodi.
"My older brothers, they started wrestling when they were in third grade," Zacherl said. "So, I said, hey I will give it a shot. I decided I liked it. In my first tournament, I lost my first two matches. Then, after that, I had 20 straight wins. I won JOs (Junior Olympics) as a third grader. That just got me hooked. I got that feeling of winning. I just loved that feeling."
It's a feeling Zacherl has experienced a lot this year.
In fact, the senior won his first 36 matches this season before being pinned by Eisenhower's Louis Head in the Northwest Regional Final.
"It definitely didn't go in my favor," Zacherl said about his matchup with Head. "I guess I was a little sleepy. I wasn't as well prepared as I thought I was. The other kid was ready for me. It's wrestling and anything can happen."
That anything could be meeting up with Head again in Hershey.
"I definitely have to crank it up a little bit," Zacherl said when I asked what he has to do to be success at the state meet. "Everything I have now, I definitely have to use that but perfect it more. And I have to bring more intensity and push the pace and just be more well prepared.
"Making it to states is the best feeling in the world to me. Just knowing you are one of the best going up there to compete with all of the other people. It's just an amazing feeling. I'm just glad I had the opportunity to make it to where I am."
Watch Zacherl wrestle at the Northwest Regional (video by Scott Shindledecker)
Zacherl believes his experiences last year have prepared him for the state meet this season.
A year ago, Zacherl finished second in District 9 when he had to injury default in the finals after suffering an ankle sprain in the semifinals. He then finished third at Regionals before going 1-2 at the state meet.
"I definitely have to be on my toes," Zacherl said. "I have to be ready for it. I have to take everything I have now and kick it up 10 notches. I have to be mentally and physically ready."
Wrestling in District 9 has prepared Zacherl well for anything he will see at the state meet.
"They say the Northwest (region) is the best of the best," Zacherl said. "Knowing I'm coming out of there as a district champ and second in the region, I think it shows I'm up there with one of the better ones in the state. I think it's going to prepare me for the best."
When Zacherl isn't wrestling or running cross country like he did this past fall or track, which he plans on doing after wrestling is finished, he loves to be outside.
"I'm a big gun collector and knife collector," Zacherl said. "I just love the outdoors, hunting and fishing and just taking walks outside in the woods."
Zacherl hopes to continue wrestling in college where he plans on majoring in something that will keep him outside.
"I want to study agriculture or something like that," Zacherl said. "Something that would get me outdoors.
"I would love to go to a Division 1 college and maybe wrestle for a D1 college. I haven't gotten any Division 1 scholarship offers but I have gotten a few letters, and Clarion calls me about every week. I have gotten a lot of Division 3 offers, and I was looking at Pitt also. I think they were interested."
No matter where Zacherl ends up, his dad will be right there to in mind and spirit.