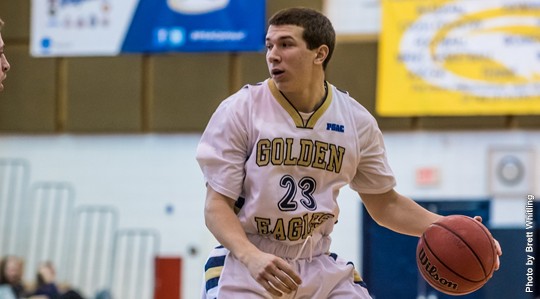 CLARION, Pa. – The NCAA announced that Cameron Grumley of the Clarion men's basketball team is the NCAA Division II statistical champion for free-throw percentage for the 2016-17 season.
(Photo courtesy of Clarion University Athletics)
During the 2016-17 campaign, Grumley was sent to the free-throw line 88 times, knocking down 84 shots for an impressive 95.5 free throw percentage. That ranked first in the nation in NCAA Division II, nearly two percent higher than second place. Across all divisions, Grumley finished second only to Jett Speelman of Division III Denison, who finished the year with a 96.5 free-throw percentage. Grumley's 95.5 free-throw percentage matched Phil Forte III mark at Division I Oklahoma State.
Grumley started in all 28 of his appearances for the Golden Eagles, tallying career bests in several categories, including 31.3 minutes per game. He was the only player to start and appear in all 28 games. The junior assumed a larger role for Clarion after playing off the bench for most of his previous two seasons. Grumley finished second in scoring for the Blue and Gold, averaging 13.5 points per game.
Grumley's 95.5 free throw percentage ranks second all-time in Clarion men's basketball history. Mike Sherry set the single-season record of 96.2 percent in the 2010-11 season. However, Sherry went 51-of-53 at the charity stripe that year, meaning Grumley attempted 35 more free throws. In comparison, Grumley needed to make just one more free throw to surpass Sherry's record.
Between January 6 and February 22, Grumley recorded a stretch of 43 consecutive free throws made, spanning 15 games, a school record. He also tallied a stretch of 39 consecutive free throws made between November 11, 2016, and January 3, 2017, spanning 12 games.