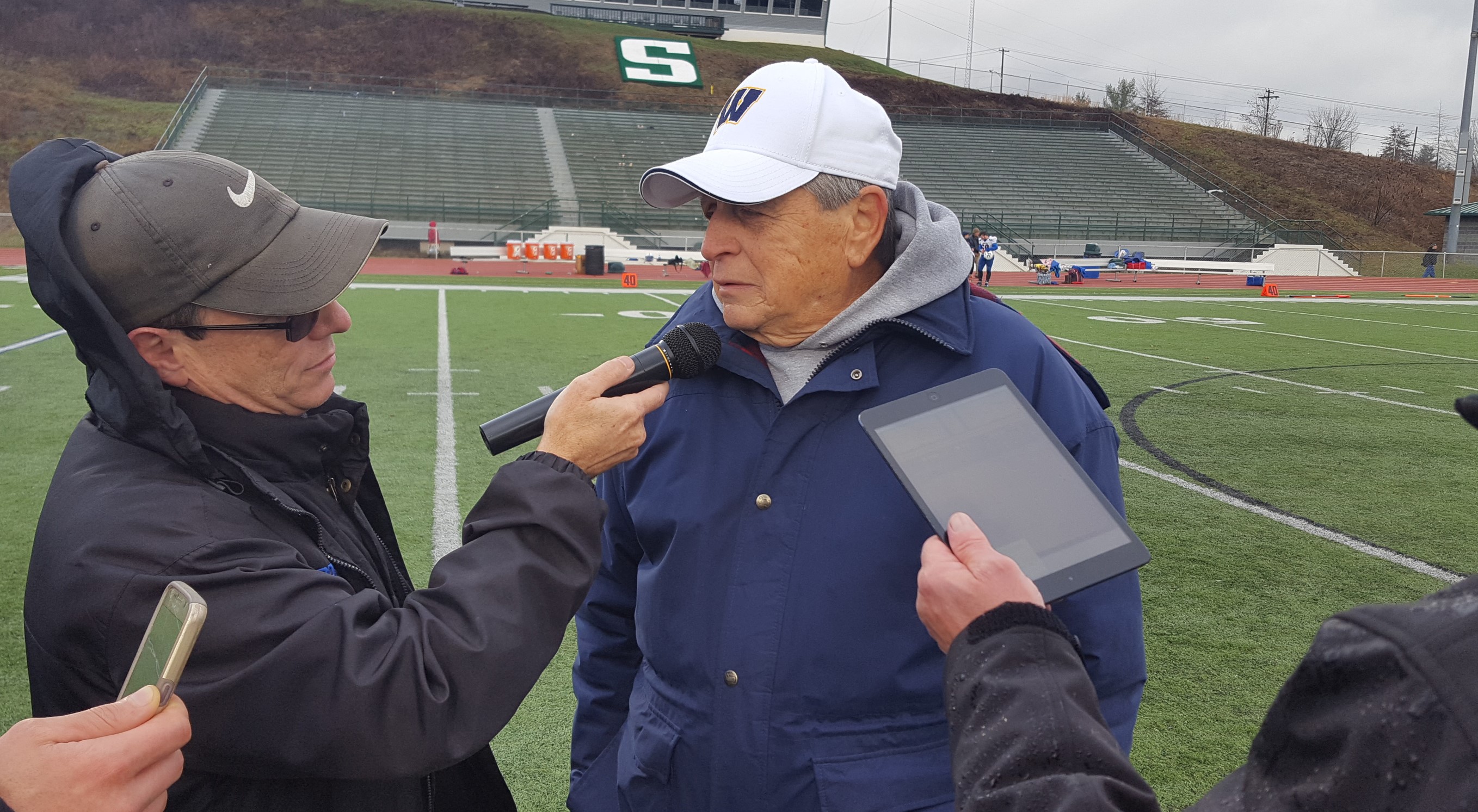 By Chris Rossetti
SLIPPERY ROCK, Pa. – Growing up in Curwensville, Terry Verrelli never thought someday he would stand among the greatest coached in Pennsylvania high school football history.
But that's exactly where Verrelli, a 1965 Curwensville graduate, is now after he won his 300th career game, 42-0 over Kane, in the PIAA Class 2A quarterfinals Saturday at Slippery Rock's Mihalik-Thompson Stadium.
"To be honest with you, never," Verrelli said when asked if he had ever dreamed of this moment when he was quarterbacking the Golden Tide. "When I was in high school, when I went to college, I wanted to be a teacher because I wanted to coach. Would I have ever imagined this, that I have been here this whole time at one school? Would I be here that long and coached that long> No, that's not something you think about for sure."
Verrelli, the 15th coach in Pennsylvania history to 300 victories said he learned a lot from all of his coaches at Curwensville.
"They were great guys," Verrelli said. "Your learned a lot from those guys about how to act and how you handle kids."
Verrelli, who has been at Wilmington since 1970 and the head coach of the Greyhounds since 1978 with a pair of PIAA title game appearances including win the 2008 2A title, has nothing but great memories of growing up in Curwensville.
"It's different here where I live now," Verrelli said. "But when I look back, I think of nothing but great times and friends that I have back there. It's pretty special, your childhood."
Verrelli was excited to be able to have his grandson, Bryson Verrelli, on this year's Wilmington team. Bryson had four catches for 118 yards including a game-sealing 70-yard touchdown late in the first half to help his grandfather to the milestone victory.
"It's pretty special," Terry Verrelli said. "I wanted to coach him. He's turned out to be a good football player. I'm so proud of him. That fact I could get 300 wins with him on the team is just special to me."